A Russia Scandal Q&A As Trump's Forces Of Evil Face Off Against Maximum Bob Mueller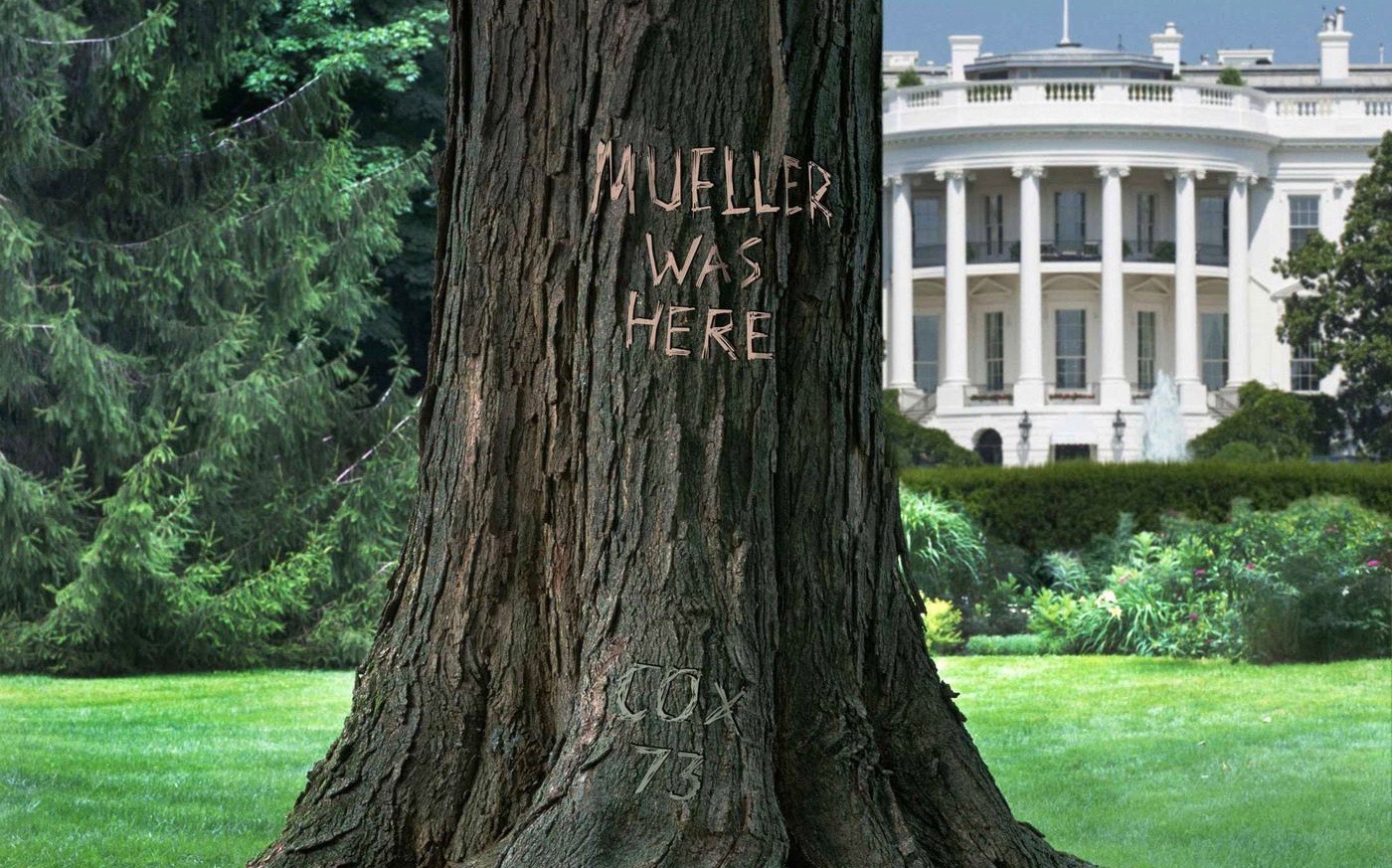 Has it really only been a year since Robert Mueller was named special counsel and took over the Russia election interference investigation begun by ousted FBI Director Jim Comey? What does Maximum Bob have to show for his labors? Will the powerful Forces of Evil lined up behind Donald Trump be able to derail him and save the president? Or not?
Herewith the answers to those questions and more at a time when, as critical junctures go, we're at an awfully big one.
WHERE DOES MUELLER GO FROM HERE?
Who the hell knows?
STOP BEING A SMART ASS!
Sorry. Even with 19 indictments, including four Trump associates, five guilty pleas and four cooperation agreements, Mueller is just getting started. Possible future perps include Michael Cohen, Hope Hicks, K.T. McFarland, Donald McGahn, Carter Page, Reince Preibus, Roger Stone, Donald Trump Jr. and Javanka — Jared Kushner and Ivanka Trump.
CAN THE FORCES OF EVIL CROWD STOP MUELLER?
Effectively no. First of all, they are pretty much in full panic mode because they know Trump and many of his associates are guilty as sin. Their claims that Mueller is engineering a deep-state coup to overthrow Trump and that an FBI rat . . . er, informant infiltrated Trump's campaign will get no leverage beyond the Fox News sycophancy, while their efforts to pervert the nations investigative machinery — the Justice Department, FBI and other investigative agencies — will backfire.
WHAT'S THE STORY ON THIS SO-CALLED INFORMANT?
Trump and the Forces of Evil claim that Comey planted a spy in the campaign to spring a "fatal October surprise" worse than Watergate that would hand the election to Lock Her Up Hillary. A couple three problems here. First, the informant was not planted, he merely sought out three officials over several months. Second, the FBI used an informant in an effort to keep the existence of its investigation secret. Third, there was no surprise and, to Clinton's and our lasting detriment, Comey kept his powder dry until after the election.
THEN WHY SO MUCH WHINING?
Because the informant provides Trump with a new alibi. Not only were campaign officials too disorganized and too dumb to collude, the FBI tricked them into doing bad stuff.
WHAT ABOUT COMPLAINTS REGARDING THE COST AND SPEED?
As Colonel Potter would say, horse hockey. The Forces of Evil have dropped any pretense of giving Mueller the time he needs, while the time expended and money spent by Mueller pale in comparison with the speed and cost of the Watergate, Iran-Contra and Whitewater probes.
CAN TRUMP FIRE MUELLER?
Effectively, yes. But even if Trump finds a way to do so, which would take us from a slow-motion constitutional crisis to a full blown one, Mueller's work product — the indictments and plea agreements — will stand, while it is a virtual certainty that the investigation will continue in one form or another, especially if Democrats retake the House and pick up a Senate seat or two and Congress can then leverage a renewed investigation with the force of Mueller's.

MEANWHILE, DOES MUELLER NEED TO TALK TO TRUMP?
Not really. Despite all the sturm und drang about a face-off, smart prosecutors — and Mueller certainly qualifies as one — don't need the guy at the top to make their cases. That said, Trump is uniquely positioned to have relevant information about the scandal that no one else may have.
DOESN'T TRUMP KEEP SAYING THAT COLLUSION ISN'T A CRIME?
He is wrong. As usual. One of Mueller's multiple charges against former campaign Manager Paul Manafort reads "Committed a crime or crimes by colluding with Russian government officials" in violation of U.S. law. (I expect Manafort eventually will cave and plead guilty.) Mueller's indictment of those 13 Russians and three Russian entities for using social media to help Trump win charges them with colluding with state-level campaign organizations through "conspiracy to defraud" the U.S.
WHAT WOULD MUELLER WANT TO ASK TRUMP?
Questions pertaining to obstruction of justice and potential campaign collusion with Russia. Both are questions to which Mueller already has answers, which sets up a super-sized perjury trap for Trump.
WILL TRUMP AGREE TO BE INTERVIEWED?
Almost certainly not, regardless of whether the interview is conducted under oath and regardless of Trump's belief that he can outsmart Mueller. The one constant among Trump's revolving door legal teams is the certainty that Mueller would eat him alive. His lawyers will prevail on this one.
CAN MUELLER FORCE TRUMP TO BE INTERVIEWED?
No and yes. Mueller cannot force Trump to appear for an interview, but he can subpoena him to appear before the special counsel's grand jury.
CAN TRUMP REFUSE A GRAND JURY SUBPOENA?
No. Trump believes he can do anything he damned well pleases, but it is established law (U.S. v. Nixon, if you must know) that a sitting president must honor a grand jury subpoena. President Clinton did in the Paula Jones lawsuit. So did Ford and both Bushes.
WHAT IF MUELLER DOES ISSUE A SUBPOENA?
Trump is screwed. Grand jury testimony is under oath, he would be examined by Mueller or one of his prosecutors without his attorneys being present, and lying (the crime in this context is called "making false statements") opens him to additional legal jeopardy.
CAN MUELLER INDICT TRUMP?
Justice Department legal opinions say a sitting president cannot be indicted criminally while in office. Rudy Giuliani is correct for once when he claims Trump won't be indicted, but that is because Mueller won't even try. Trying to break new legal ground would waylay his investigation. This takes Mueller's options for Trump out of the criminal realm and plops them squarely into the political realm.
SAY WHAT?
Impeachment.
HOW WOULD MUELLER RECOMMEND IMPEACHMENT?
Under the regulations governing appointment of the special counsel, Mueller would provide a confidential report explaining his conclusions to the attorney general — or, in this case, Deputy Attorney General Rod Rosenstein since AG Jeff Sessions kept lying about his contacts with Russians during the Trump campaign, and to the president's everlasting anger, recused his sorry self. If Mueller believes he has the goods on Trump, the report might lay out the case for impeachment.
WHAT WOULD HAPPEN THEN?
Rosenstein would decide whether to make the report public, but in any event he must provide the chairmen and ranking members of the House and Senate judiciary committees with an explanation about any decision to conclude the investigation, or at least an initial phase of it, whether in the form of a memo about the report or the report itself.
WHAT WILL ROSENSTEIN DO?
Rosenstein has aggressively pushed back against the Forces of Evil. He almost certainly will make the report public, which would lay the groundwork for impeachment if Mueller address that in his report.
WILL MUELLER ADDRESS IMPEACHMENT?
Dunno.
WHEN WILL ALL THIS HAPPEN?
Your guess is as good as mine, but the closer we get to the midterm election, the less likely big things will happen involving what Mueller has on Trump, notably obstruction of justice. Giuliani claimed on Sunday that Mueller will end his obstruction inquiry by September 1. Who knows? An alternative would be to wait until after the election.
WHEN WILL IMPEACHMENT HAPPEN?
Not until when and if Democrats regain control of the House in January, which is a real possibility. The new Democratic majority on the House Judiciary Committee would approve articles of impeachment, but the likelihood of a two-thirds majority of the entire House then voting to send the articles to the Senate for trial is slim.
SO HOW ARE WE GOING TO GET RID OF TRUMP IF MUELLER AND A DEMOCRATIC CONGRESS CAN'T?
Stormy Daniels.
Click HERE for a comprehensive timeline of the Russia scandal
and related developments.
PHOTO ILLUSTRATION COURTESY OF BLOOMBERG