Report: Trump's résumé has lots of mob connections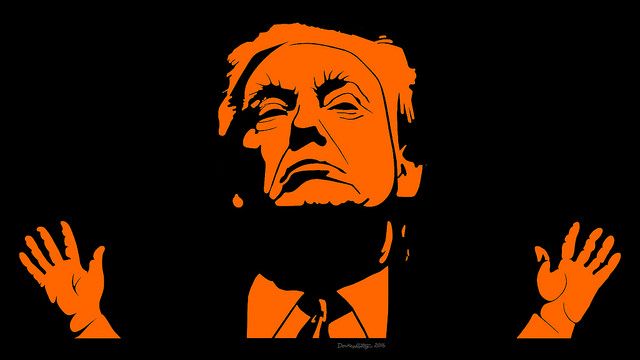 The Washington Post's David Von Drehle details how Donald Trump has a long history of being linked to mob figures or figures who were notably linked to mob figures. (I may find a horses head in my bed tonight, which is akin to Sean Hannity who is a horses'…you fill in the blank):
Walter Isaacson and Evan Thomas titled their classic group portrait of Harry S. Truman's foreign policy team, "The Wise Men." A book about Donald Trump's associations might be called "The Wise Guys."

Mario Puzo would've been just the man to write it. Martin Scorsese could option the movie rights.
He mentions former Trump campaign chief Paul Manafort, but here's where his piece gets more interesting:
If it seems harsh to compare Manafort to a mobster, take it up with President Trump, who got the ball rolling with a tweet before the trial began. "Looking back at history, who was treated worse, [Al] Capone, legendary mob boss .?.?. or Paul Manafort?" Trump mused.

And the president ought to know: He has spent plenty of time in mobbed-up milieus. As many journalists have documented — the late Wayne Barrett and decorated investigator David Cay Johnston most deeply — Trump's trail was blazed through one business after another notorious for corruption by organized crime.

New York construction, for starters. In 1988, Vincent "the Fish" Cafaro of the Genovese crime family testified before a U.S. Senate committee concerning the Mafia's control of building projects in New York. Construction unions and concrete contractors were deeply dirty, Cafaro confirmed, and four of the city's five crime families worked cooperatively to keep it that way.

This would not have been news to Trump, whose early political mentor and personal lawyer was Roy Cohn, consigliere to such dons as Fat Tony Salerno and Carmine Galante. After Cohn guided the brash young developer through the gutters of city politics to win permits for Trump Plaza and Trump Tower, it happened that Trump elected to build primarily with concrete rather than steel. He bought the mud at inflated prices from S&A Concrete, co-owned by Cohn's client Salerno and Paul Castellano, boss of the Gambino family.

Coincidence? Fuhgeddaboudit.
AND:
Trump moved next into the New Jersey casino business, which was every bit as clean as it sounds. State officials merely shrugged when Trump bought a piece of land from associates of Philadelphia mob boss "Little Nicky" Scarfo for roughly $500,000 more than it was worth. However, this and other ties persuaded police in Australia to block Trump's bid to build a casino in Sydney in 1987, citing Trump's "Mafia connections."

His gambling interests led him into the world of boxing promotion, where Trump became chums with fight impresario Don King, a former Cleveland numbers runner. (Trump once told me that he owes his remarkable coiffure to King, who advised the future president, from personal experience, that outlandish hair is great PR.)
AND:
But an even more accommodating laundromat came along: luxury real estate — yet another mob-adjacent field in which the Trump name has loomed large. Because buyers of high-end properties often hide their identities, it's impossible to say how many Russian Mafia oligarchs own Trump-branded condos. Donald Trump Jr. gave a hint in 2008: "Russians make up a pretty disproportionate cross-section of a lot of our assets."
He ends with this:
Obviously, not everyone in these industries is corrupt, and if Donald Trump spent four decades rubbing elbows with wiseguys and never got dirty, he has nothing to worry about from special counsel Robert S. Mueller III. But does he look unworried to you?
Read the piece in its entirety. That's an offer you can't refuse.
Completely. We know Trump is a racist scumbag. We need to talk about the RU/mob connections.

— Andrew C Laufer, Esq (@lauferlaw) August 11, 2018
1. Bravo to the WaPo.

2. Why did every newspaper not write about Trump's mob connections every day of the week in 2016?

3. Why are journalists STILL so cowardly about using words like "gangster," "money laundering," and "sexual assault"? https://t.co/NZjzyArNhg

— Matthew Greenfield (@mattgreenfield) August 11, 2018
Some of us thought this was important to cover before the election: https://t.co/uGqECtvUAi https://t.co/RecPTWAvVK

— David Corn (@DavidCornDC) August 11, 2018
Some of us thought this was important to cover before the election: https://t.co/uGqECtvUAi https://t.co/RecPTWAvVK

— David Corn (@DavidCornDC) August 11, 2018
Graphic by DonkeyHotey via Flickr