Kavanaugh's Hang Ups (Cartoon and Column)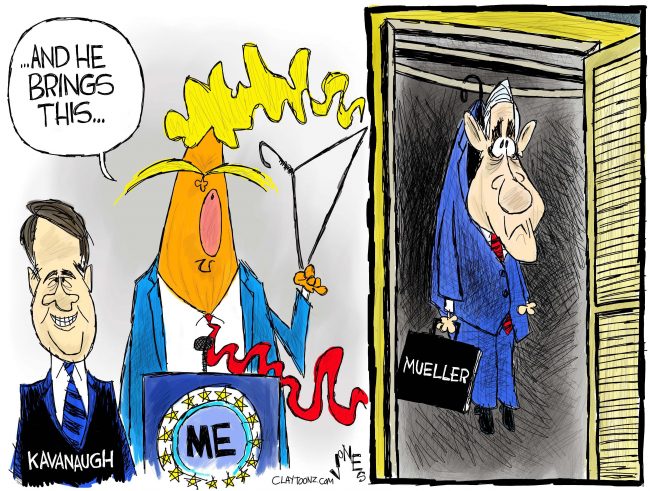 Leave it to Donald Trump to make a Supreme Court nomination that reminds us just how bad the Bush administration was.
Shortly after being nominated to the court, Bush issued a statement on Brett Kavanaugh. "President Trump has made an outstanding decision in nominating Judge Brett Kavanaugh to the Supreme Court," said the 43rd president.
Kavanaugh served as counsel in the Bush White House, and then as secretary before finally being nominated by Bush for the Court of Appeals for the District of Columbia Circuit. His confirmation was stalled for three years on accusations that he was too partisan. Why would be be viewed as too partisan?
Working in the White House for either party can be viewed as partisan. He also represented the Miami family of Elian Gonzalez, pro bono, in a losing battle to keep the boy from being reunited with his father in Cuba. Perhaps most partisan was working on Kenneth Starr's investigation of Bill Clinton and being one of the author's of Starr's report recommending impeachment of the president.
In contrast to the tight lips of Robert Mueller's investigation into Russian collusion and obstruction by Donald Trump, the Starr investigation was constantly leaking to the press. Republicans supposedly hate leakers. If it turns out that Kavanaugh was leaking to the press, will Republicans hold it against him? No. Republicans don't have problems with hypocrisy. Even if Kavanaugh may be deciding cases in the future on government leakers.
Speaking of hypocrisy, in 2009, the nominee wrote an article that presidents should be exempt from "time-consuming and distracting" lawsuits and investigations. Did I mention he worked on the investigation of Bill Clinton and recommended that he be impeached for lying? How does he feel about being nominated by the biggest liar-in-chief in history?
He may be the only candidate on Trump's list who is on public record with that opinion. Since the question of whether or not a sitting president can be indicted is not settled, it may land before the Supreme Court. Now, we have Donald Trump sending someone to the court who believes presidents shouldn't be investigated. He may argue that Trump shouldn't be distracted from golf and retweeting Nazis.
Kavanaugh should not be confirmed, at least not while the Mueller investigation is ongoing. Forget the election. Forget the abortion debate. Forget Mitch McConnell's hypocrisy of refusing to hold a hearing for Obama's nominee and allowing it to be stolen by Trump. What shouldn't be allowed is an appointment to the Supreme Court by a president who is suspected of collusion with Russian spies, thus potentially sending someone to the court who will protect him.
Trump has a history of asking everyone for their loyalty. Does anyone believe he's capable of not asking SCOTUS candidates for their loyalty?
Trump has the legal right to nominate for the court. But, he was elected by a minority of the people with help from a government hostile to the United States. He welcomed that help. Do we want his appointments sitting on the court for the next thirty years if it turns out he is guilty?
Religious Republicans and other assorted scary fundamentalists believe their deal with the devil will eventually give them a Supreme Court that will overturn Roe v. Wade. It just might, but that doesn't appear to be Trump's first concern with his nomination.
As exhibited by making the announcement at prime time, as if it it's reality television, Trump's first concern is for himself. Trump's selection may be what's best for Trump. It's no wonder that even the North Koreans believe they're dealing with gangsters.
The bar has been lowered for Trump. Even his nominees require fewer votes for confirmation than past nominees. The bar shouldn't be lowered for the rest of us.
Email Clay Jones at [email protected]