Lori Gayne, a Chicago-area mortgage banker and former Internet talk show host, got booted from the Republican National Convention on Wednesday after making a racist post on Facebook.
Our brave snipers just waiting for some N—- to try something. Love them.
Gayne confirmed to the Illinois Republican party and the Chicago Sun-Times that she posted a photo on Facebook of the Rock and Roll Hall of Fame, the site of the RNC welcome party, that showed law enforcement officials on the roof; it was accompanied by the abbreviated racial slur.
She issued a public apology.
She was one of the 39 Donald Trump delegates from Illinois attending the Republican National Convention. Before the convention, the Chicago Tribune had profiled Trump delegation members:
Take Lori Gayne, an admittedly outspoken former Internet talk show host from Chicago, who said she voted for President Barack Obama in his first bid for the White House in 2008.

One of Gayne's social media handles is "whitepride."

"With all the racism going on today, I'm very proud to be white. Just like black people are proud to be black and now, as white people, whenever we say something critical we're punished as if we're racists. I'm tired of it. I'm very proud," Gayne said.

"I'm so angry I don't even feel like I live in America. You can call me a racist. Black Lives Matter? Those people are out of control," she said.

"I'm all for closing the borders. I'm all for not allowing Muslims in this country. I'm all for keeping illegals out and get as many of them who are here out as soon as possible. … Why do I want my taxpayer money taking care of criminals and murderers who aren't supposed to be here?"
Gayne was not the only member of the Illinois Trump delegation who went on the (social media) record with racist remarks.
"If Trump wins the election, it'll be the first time in history that a billionaire moved into public housing vacated by a black family!" [Facebook post shared by Rita Gaus]
Not an abberation
Those Illinois delegate sentiments are not an aberration, although having them uttered by women might be.
Exit poll data suggest Trump supporters are much more likely to be male than female.
These tweets were directed at protesters at a Trump rally in Chicago in March:
https://twitter.com/whitewolfgeist/status/708540702922186760
You didn't build a damn thing.

Your ancestors were sold by other Africans. Much like they still do TODAY. https://t.co/zDc8LT8Lpf

— Leah the Boss (@LeahRBoss) March 12, 2016
Far-left thugs force shutdown of Trump rally https://t.co/uXuFA7N8AK

— Bill O'Reilly (@BillOReilly) March 12, 2016
Perhaps Gayne's only problem this week was one of timing.
Pastor Coon is prime example of a Black man who hates his race and will sabatoge Black people for a nickle. #RNCinCLE

— T (@truthrose1) July 22, 2016
RNC forced to close online convention chat after anti-Semites turn it into a Jew-bashing hatefest https://t.co/4tpXuff99I

— Laura B. Schutze (@schutzelb) July 21, 2016
Or not being quite high profile enough:
The three biggest threats to America according to Jerry Falwell Jr. at #RNCinCLE https://t.co/hrLtzk7G62 pic.twitter.com/RN3EQewyyh

— Annelize Bester (@AnnelizeBester) July 22, 2016
Racism is definitely at play.
What is racism?
Racism: prejudice, discrimination, or antagonism directed against someone of a different race based on the belief that one's own race is superior.

Harvard professor Danielle Allen compiled a Storify in February to document racist, anti-Semitic and sexist tweets she received from Donald Trump supporters in response to a Washington Post column critical of Trump's candidacy.
https://twitter.com/whitepagan/status/702134953111330817
@TFletcher @dsallentess I smell a jew. pic.twitter.com/Fww2BujBwz

— Gotta Doosumfin (@doosumfin) February 23, 2016
@DylanByers @dsallentess Hello affirmative action negress, would you be willing to take a live-stream IQ test to show your smarts?

— Gotta Doosumfin (@doosumfin) February 23, 2016
https://twitter.com/Terminator1563/status/702103589339140096
https://twitter.com/BadgoyNSF/status/702100752303525889
In March, the NY Daily News has posted emails it received from Trump supporters that reveal racism, bigotry and uncontrolled anger.
Those who express more resentment toward African Americans, those who think the word "violent" describes Muslims well, and those who believe President Obama is a Muslim have much more positive attitudes of Trump compared with Clinton (Vox).

Sadly, Trump supporters do not have a monopoly on racism. Reuters also reported that 1-in-3 Clinton supporters "described blacks as more 'violent' and 'criminal' than whites." And 1-in-4 believe black Americans are more "lazy" than whites.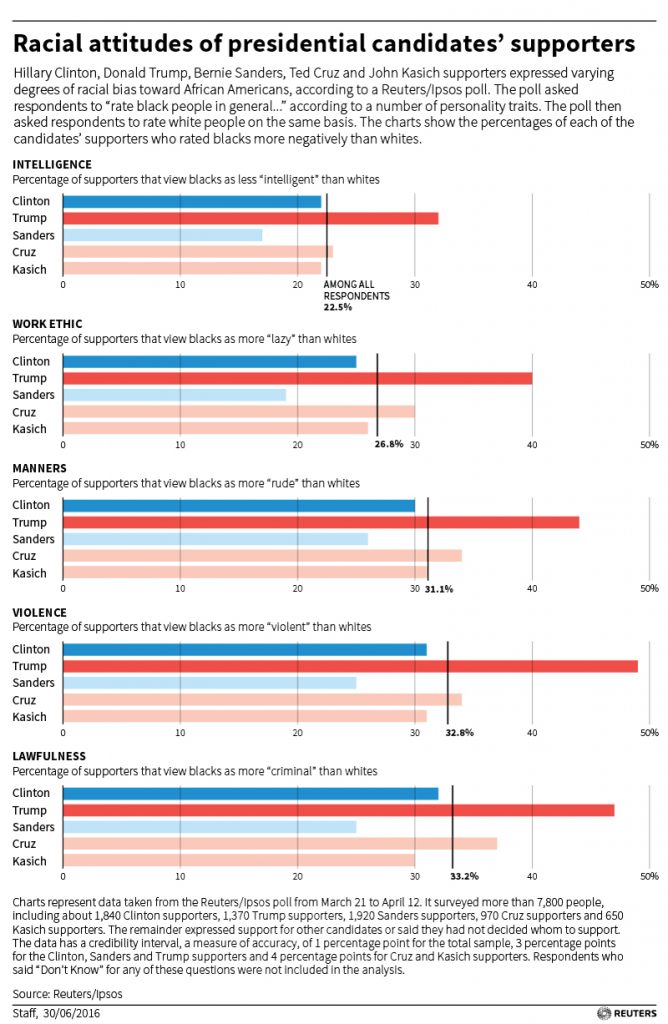 But so is a generalized fear of "the other".
National survey data about Trump supporters reveal a definite dislike/distrust towards those who are culturally different, which is a broader category of "other" than skin color. Reuters reported in June:
When asked about where they wanted to live, 36 percent of Trump supporters said, "I prefer to live in a community with people who come from diverse cultures," compared with 46 percent of Cruz supporters, 55 percent of Kasich supporters and 70 percent of Clinton supporters.
To liberals, immigration means opening the borders, ignoring visa restrictions & allowing the 12 million illegals to vote! #RNCinCLE

— Janie Johnson (@jjauthor) July 22, 2016
In March, Matthew MacWilliams, a PhD candidate in political science at the University of Massachusetts Amherst, told The Atlantic:
The best predictor of Trump support isn't income, education, or age, he says. In South Carolina, it was "authoritarianism … [and] a personal fear of terrorism" that best predicted Trump's support.
Which brings us full circle.
Because race is a social construct.
Race as a social construct…https://t.co/MoEG43hDM9

— Tshepo Machele (@TTMACHELE) July 18, 2016
More than 100 years ago, American sociologist W.E.B. Du Bois was concerned that race was being used as a biological explanation for what he understood to be social and cultural differences between different populations of people…Today, the mainstream belief among scientists is that race is a social construct without biological meaning… Assumptions about genetic differences between people of different races have had obvious social and historical repercussions, and they still threaten to fuel racist beliefs.
To answer my opening question, yes, Gayne is representative of a vocal sub-set of Trump supporters. How large a sub-set remains to be seen.

Updated with more recent Reuters/Ipsos chart that includes Sanders supporters.
Known for gnawing at complex questions like a terrier with a bone. Digital evangelist, writer, teacher. Transplanted Southerner; teach newbies to ride motorcycles! @kegill, wiredpen.com