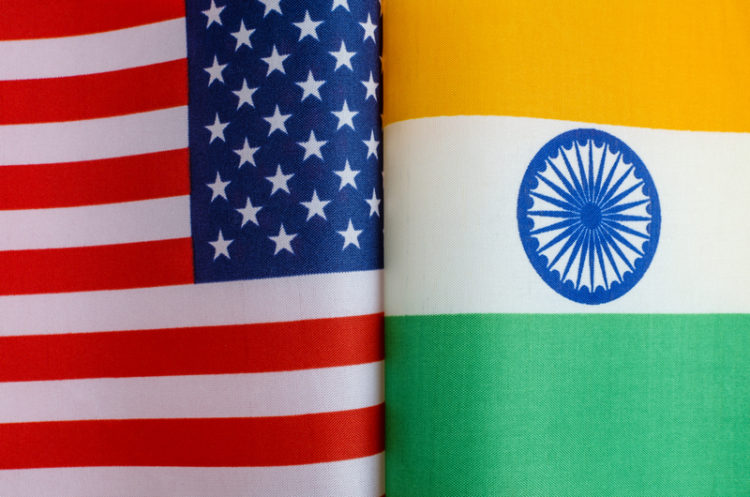 Whatever President Joe Biden's many critics allege, they should note that he is successfully standing firm against China, buttressing Ukraine to repel the Russian invasion, and drawing India to the US after decades of mutual suspicion.
Winning Delhi's trust is a feat in the current context of the intense US proxy war with Russia in Ukraine and steeply rising tensions with Beijing. It could be an inflection point in long-troubled US-India relations.
India has always been a fence sitter on Washington's priorities because of longtime confidence in Moscow and reluctance to rock the boat with Beijing. But Prime Minister Narendra Modi is now preparing for a remarkable security and industrial relationship with the Pentagon and Washington while maintaining access to both Moscow and Beijing.
This collaboration, especially if it includes weapons co-production, would be a Biden foreign policy triumph. It will bring large benefits to the US because of India's peaceful geopolitical influence in the Indo-Pacific, Middle East, central Asia and Africa.
It would also allow export from India of affordable US weapons, thus tying more countries into the American-led defense ecosystem and reducing space for Chinese influence in those regions.
Modi is leaning towards Biden because he knows that closer relations with India will continue to have bipartisan support and the November 2024 presidential elections will be fought against a backdrop of overall US strength. Despite bitter political divisions inside America, unemployment is low, real incomes are rising, manufacturing is booming, and inflation has eased for 10 straight months.
Biden's foreign policy priorities are to deter an armed conflict with China and its predatory trade practices, especially in high technologies like green energy, artificial intelligence and quantum computing.
Getting India, which is strong in information and green technologies but weak militarily, to definitely step down from the fence will bring major gains. India's democratic politics may not allow a military alliance but enmeshing its industrial capacities with American weapons is the next best thing.
Modi's key ambition is to create a "Self-Reliant India" by manufacturing weapons domestically. So, he emphasizes co-production and co-development with US arms giants.
He has already put in place a "Production Linked Incentive Scheme" to boost manufacturing and has cut regulatory hurdles. For instance, foreign ownership in the defense sector is allowed up to 74%, instead of 49%, through an accelerated route for companies seeking new industrial licenses. Ownership up to 100% will also be allowed as needed.
A signal of growing trust is Modi's state visit to Washington on June 22. It will follow a visit to Delhi by Defense Secretary Lloyd Austin on June 4 and recent visits by three other cabinet level officials: Secretary of State Antony Blinken, Treasury Secretary Janet Yellen and Commerce Secretary Gina Raimondo.
For decades anti-Americanism was a vote getter in India. Now, friendship with Washington could be a vote getter in the national elections of May 2024, which Modi is likely to win by convincing margins.
During Modi's state visit, several agreements are likely, expressing categorical support for co-production and co-development of defense systems in India. This will be a partnership, not aid since the Lowy Institute's Asia Power Index 2023 forecasts India's gross domestic product (GDP) at $17.9 trillion in 2030 at purchasing power parity (PPP), making it the world's third largest up from fifth. The institute also forecasts Indian defense spending at $183 billion in 2030.
Delhi is already the world's third largest military spender with a defense budget of 2.15% of GDP, which is a higher percentage than most of America's NATO allies. Its defense capital expenditure is expected to be $130 billion by 2025, including defense manufacturing turnover of $25 billion and a weapons export target of $5 billion.
India's defense needs are huge because of upgrades to its entire military, including land, air, sea, space, cyber and human talent training. It must deter military threats from China along its Himalayan border and the persistent enmity of Pakistan, which is turning into China's military dependency. These are also red flags at the Pentagon.
Modi wants to turn India into a global manufacturing hub for exporting critical components required for American weapons. His state visit may include discussion of how India can become an authorized and favored supplier of high-quality parts for US weapons systems.
Certification would make India a valuable partner for US weapons manufacturers since they must reduce costs and increase capacity to meet booming demand from America's allies in reaction to the Ukraine war.
For decades, India has relied heavily on Russia-made weapons but that share fell by 20% in the past five years and is declining further because of supply disruptions caused by the war. The US now supplies 11% of India's weapons.

Photo 162488036 / Us India Flag © Liudmila Lozovaia | Dreamstime.com