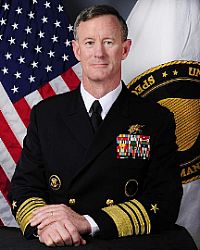 UPDATE:
Submissive and acquiescent to its Party leader, no matter what, the Republican National Committee (RNC) is defending Trump on his shameful attack on retired Navy Adm. William McRaven.
In a tweet, the RNC piled on the admiral for alleged political affiliations with Hillary Clinton saying the former Navy Seal and military hero is "hardly a non-political figure."
Trump and the RNC, in this instance, are hardly non-disgraceful figures.
Original Post:
In the disturbed mind of the man sitting in the White House, a highly decorated retired admiral who served his country meritoriously for 37 years, deserves to be derided because allegedly he is a "Hillary Clinton fan."
In the twisted logic of the president of the United States, a Navy SEAL, a former head of the U.S. Special Operations and the man who oversaw the daring 2011 operation that killed Osama bin Laden, deserves to be insulted because he is, or was, an "Obama backer."
Trump made those comments about retired four-star admiral William H. McRaven during an interview with Fox's Chris Wallace and – after interrupting Wallace several times – the Monday-morning quarterback lamely added, "…frankly, wouldn't it have been nice if we got Osama bin Laden a lot sooner than that?" No sh*t, Sherlock!
It is not the first time that Trump has disparaged our military or their families.
Examples are too numerous to list, but here are a couple of the most notorious ones.
We will never forget how presidential candidate Donald J. Trump mocked Senator John McCain, one of the nation's most respected veterans who endured more than five years of captivity and torture in North Vietnam, by claiming that the only reason McCain was a hero was "because he was captured." For good measure, five-deferments-Trump added "I like people who weren't captured."
How can we not remember candidate Trump's vile attacks on Gold Star parents Khizr and Ghazala Khan who lost their son in Iraq.
Or, as president, his "consoling words" to the Gold Star widow of Sgt. La David Johnson, a Green Beret who was killed in an ambush in Niger.
But back to Admiral McRaven.
It was McRaven who, in the wake of Trump's spiteful and vindictive decision to revoke former CIA director John Brennan's security clearance, wrote an open letter in the Washington Post decrying the president's action.
In the letter praising Brennan and harshly criticizing Trump's leadership and "McCarthy-era tactics," McRaven said, "Therefore, I would consider it an honor if you would revoke my security clearance as well, so I can add my name to the list of men and women who have spoken up against your presidency." He also said, "Through your actions, you have embarrassed us in the eyes of our children, humiliated us on the world stage and, worst of all, divided us as a nation."
Scores more former CIA and senior intelligence officers joined McRaven in condemning Trump's actions.
It is not the first time that McRaven has criticized Trump. In February 2017, the retired admiral slammed Trump for characterizing the media as "the enemy of the American people," adding, "This sentiment may be the greatest threat to democracy in my lifetime."
Today, Trump punched back, needlessly and disingenuously attacking the admiral for his right to like or dislike any politician.
In a statement to CNN's Jake Tapper, McRaven replied:
I did not back Hillary Clinton or anyone else. I am a fan of President Obama and President George W. Bush, both of whom I worked for. I admire all Presidents, regardless of their political party, who uphold the dignity of the office and who use that office to bring the Nation together in challenging times. I stand by my comment that the President's attack on the media is the greatest threat to our democracy in my lifetime. When you undermine the people's right to a free press and freedom of speech and expression, then you threaten the Constitution and all for which it stands.
Admiral McRaven's biography:
Admiral William McRaven's last assignment was as the ninth commander of United States Special Operations Command (USSOCOM), headquartered at MacDill Air Force Base, Florida.
McRaven served from June 2008 to June 2011 as the 11th commander of Joint Special Operations Command (JSOC) headquartered at Fort Bragg, North Carolina.
McRaven served from June 2006 to March 2008 as commander, Special Operations Command Europe (SOCEUR). In addition to his duties as commander, SOCEUR, he was designated as the first director of the NATO Special Operations Forces Coordination Centre.
McRaven has commanded at every level within the special operations community, including assignments as deputy commanding general for Operations at JSOC; commodore of Naval Special Warfare Group One; commander of SEAL Team Three; task group commander in the U.S. Central Command area of responsibility; task unit commander during Desert Storm and Desert Shield; squadron commander at Naval Special Warfare Development Group; and, SEAL platoon commander at Underwater Demolition Team 21/SEAL Team 4.
McRaven's diverse staff and interagency experience includes assignments as the director for Strategic Planning in the Office of Combating Terrorism on the National Security Council Staff; assessment director at USSOCOM, on the staff of the Chief of Naval Operations, and the chief of staff at Naval Special Warfare Group 1.
Admiral McRaven retired from the Navy on 1 September 2014 after a distinguished 37-year career.
After retirement, McRaven served as chancellor of the University of Texas but stepped down this year over health concerns. He has chronic lymphocytic leukemia, a type of slow-growing blood cancer that he was diagnosed with in 2010 while in Afghanistan, according to the Washington Post .
The author is a retired U.S. Air Force officer and a writer.