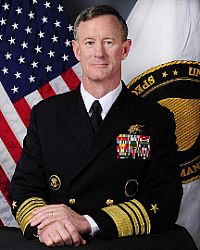 UPDATE III:
In yet a further rebuke to the autocrat's attempts to stifle free speech, to weaponize the security clearance process, to silence his critics, more than 175 former State Department and Pentagon officials have signed a third letter to Trump.
Read the letter here
UPDATE II:
As Trump reiterates his intention to strip Justice Department official Bruce Ohr of his security clearance — a vindictive action that will surely adversely impact Ohr's employment situation – – 60 more former CIA officials, both Republican and Democrats, have signed a letter warning Trump Friday that "the country will be weakened if there is a political litmus test applied before seasoned experts are allowed to share their views," according to CNN.
UPDATE I:
Thirteen former senior intelligence officers have joined Admiral McRaven in calling Trump's decision to strip former CIA director John Brennan, "inappropriate" and "deeply regrettable," CBS News reports.
The 13 officers signed a letter agreeing that "the president's action regarding John Brennan and the threats of similar action against other former officials has nothing to do with who should and should not hold security clearances – and everything to do with an attempt to stifle free speech."
The signers are:
Former Directors of Central Intelligence Robert Gates, William Webster, George Tenet and Porter Goss; former CIA directors Gen. Michael Hayden, Leon Panetta and Gen. David Petraeus; former director of national intelligence James Clapper; and former deputy CIA directors John McLaughlin, Stephen Kappes, Avril Haines, David Cohen and Michael Morell.
The letter can be read here.
Original Post:
In the wake of another scurrilous, desperate attempt by Trump to obstruct special counsel Robert Mueller's Russia investigation by seeking to silence his critics, a retired Navy admiral – a patriot who oversaw the Navy SEAL raid that killed Osama bin Laden — has written a powerful open letter to the president who never served.
Admiral William H. McRaven's letter in which the hero requests that Trump revoke his security clearance, "so I can add my name to the list of men and women who have spoken up against your presidency," speaks eloquently for itself.
It is published at the Washington Post
Dear Mr. President:

Former CIA director John Brennan, whose security clearance you revoked on Wednesday, is one of the finest public servants I have ever known. Few Americans have done more to protect this country than John. He is a man of unparalleled integrity, whose honesty and character have never been in question, except by those who don't know him.

Therefore, I would consider it an honor if you would revoke my security clearance as well, so I can add my name to the list of men and women who have spoken up against your presidency.

Like most Americans, I had hoped that when you became president, you would rise to the occasion and become the leader this great nation needs.

A good leader tries to embody the best qualities of his or her organization. A good leader sets the example for others to follow. A good leader always puts the welfare of others before himself or herself.

Your leadership, however, has shown little of these qualities. Through your actions, you have embarrassed us in the eyes of our children, humiliated us on the world stage and, worst of all, divided us as a nation.

If you think for a moment that your McCarthy-era tactics will suppress the voices of criticism, you are sadly mistaken. The criticism will continue until you become the leader we prayed you would be.
Admiral McRaven's biography:
Admiral William McRaven's last assignment was as the ninth commander of United States Special Operations Command (USSOCOM), headquartered at MacDill Air Force Base, Florida.
McRaven served from June 2008 to June 2011 as the 11th commander of Joint Special Operations Command (JSOC) headquartered at Fort Bragg, North Carolina.
McRaven served from June 2006 to March 2008 as commander, Special Operations Command Europe (SOCEUR). In addition to his duties as commander, SOCEUR, he was designated as the first director of the NATO Special Operations Forces Coordination Centre.
McRaven has commanded at every level within the special operations community, including assignments as deputy commanding general for Operations at JSOC; commodore of Naval Special Warfare Group One; commander of SEAL Team Three; task group commander in the U.S. Central Command area of responsibility; task unit commander during Desert Storm and Desert Shield; squadron commander at Naval Special Warfare Development Group; and, SEAL platoon commander at Underwater Demolition Team 21/SEAL Team 4.
McRaven's diverse staff and interagency experience includes assignments as the director for Strategic Planning in the Office of Combating Terrorism on the National Security Council Staff; assessment director at USSOCOM, on the staff of the Chief of Naval Operations, and the chief of staff at Naval Special Warfare Group 1.
Admiral McRaven retired from the Navy on 1 September 2014 after a distinguished 37-year career.
The author is a retired U.S. Air Force officer and a writer.