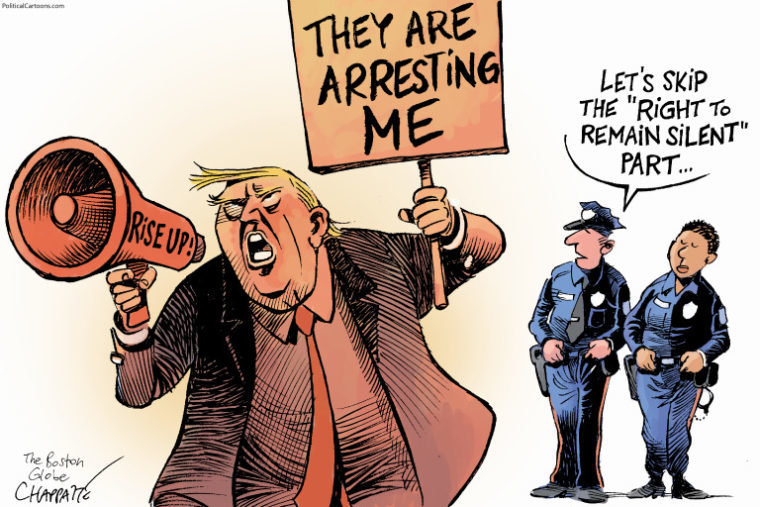 by Carl Golden
He's rude, crude, profane and insulting. He pins derogatory nicknames on his opponents, often ridiculing their physical characteristics. He accuses the media of corruption and "an enemy of the people." He's under ongoing Federal and state investigations into allegations of criminal behavior and stands in the shadow of an indictment.
And, as Americans prepare to elect a new president in 19 months, he's the leading contender for the Republican nomination.
He, of course, is Donald J. Trump, president from 2017 to 2021, and he is precisely where he has always wanted to be – at the center of the national political discourse, the dominating presence in control of the narrative.
He holds no public office and his single term as president is his sole experience in elective politics and public service. Yet, stories are not written nor broadcast without Trump as a central figure. He can single-handedly drive news coverage like no other who's come before him.
He can play the role of victim or victor with equal gusto and his force of nature personality has created a fervent band of followers dedicated to returning him to the White House and an equally fervent band of opposition dedicated to sending him to jail.
The prospect – some say certainty – of an indictment by the New York District Attorney for allegedly directing payments to buy the silence of a woman with whom he had an extra marital affair has failed to place even a small dent in standing.
He's made clear that he'll not be deterred, boldly declaring that his candidacy will continue even if he is criminally indicted.
While he's lost the support of major donors as well as that of Republican groups like the Club for Growth and Americans for Prosperity, his grip on his rank and file base remains as firm as ever.
His lead over potential challengers has been consistent in poll after poll – often reaching well into double digits – while in a handful of surveys he runs ahead of President Biden.
His challengers, along with a number of Republicans in Congress, have tip-toed around Trump, avoiding a confrontation while carefully couching their criticisms in language calling for a new generation of leadership to move on from the past.
Tip-toeing around Trump, though, is like tip-toeing around the lion's den at feeding time – he and the lion see it as an act of weakness and both will react accordingly.
As he declared in his 2016 primary contest, he's asserted that he will not pledge support to the nominee and upped the ante dramatically with a threat to run as a third party candidate if denied the nomination, a prospect horrifying to the party establishment as certain to deliver the election to the Democratic candidate.
His closest rival – though as yet unannounced – is Florida Gov. Ron DeSantis who has registered encouraging polling strength in the 20 and 30 percent range.
Hand wringing Republican leaders seem at this point to be unable or unwilling to confront Trump, even though they are convinced the baggage he carries will be so great that the entire 2024 Republican ticket will suffer a landslide defeat.
They understand his base of support will continue to accept his insistence that massive fraud cost him re-election in 2020 and that he is innocent of allegations that he encouraged the Jan. 6, 2021, assault on the U.S. Capitol, but believe the broader national electorate will reject those claims.
President Biden is, they believe, seriously vulnerable, beset by a public approval rating in the 40 percent range while inflation and economic turmoil have taken a major toll on the American people.
At the same time, they believe, the chaos and uproar which marked the Trump presidency, along with his post-presidency controversies, will negate the shortcomings of the Biden administration, that Americans – when pressed – will opt for calm and concerned government rather than constant disorder and strife.
Trump's style will not be altered, indictment or not. He cares not for the Republican establishment and it's only available response is to care not for him.
–
Copyright 2023 Carl Golden, distributed exclusively by Cagle Cartoons newspaper syndicate.
Carl Golden is a senior contributing analyst with the William J. Hughes Center for Public Policy at Stockton University in New Jersey. You can reach him at cgolden1937@gmail.
Related Cartoons
FOUR MORE YEARS by John Darkow
FOUR MORE YEARS
#27329404/01/23by John Darkow
#TRUMP INDICTED by Patrick Chappatte
#TRUMP INDICTED
#273293