Updated 17 Sept 2023 | Originally posted 05 Sept 2023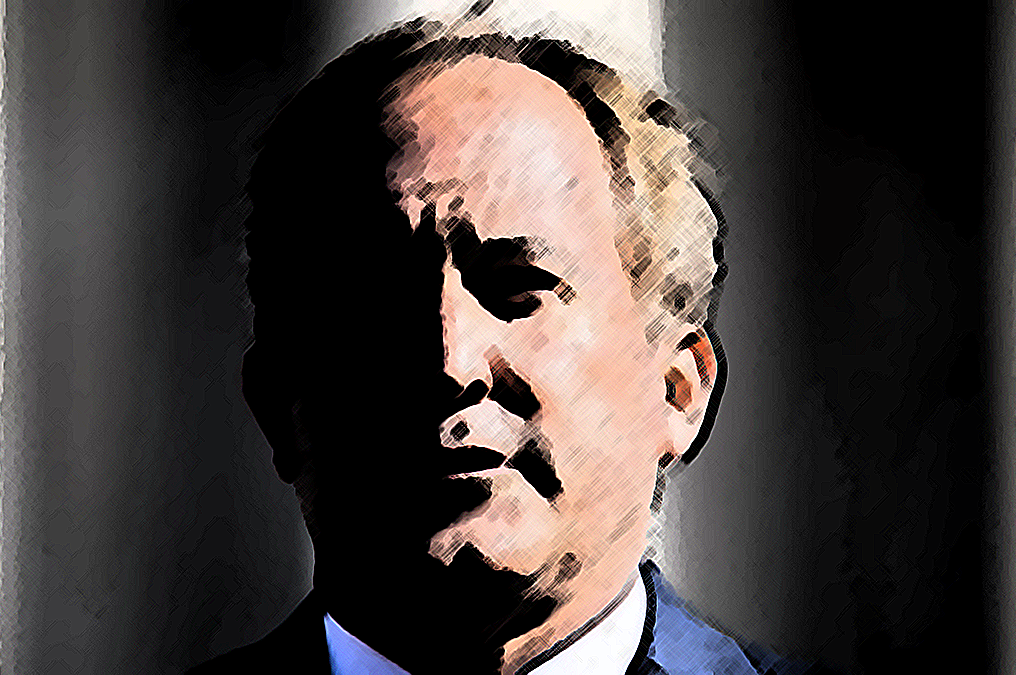 In May, the Republican-led Texas House of Representatives voted 121-23 to impeach three-term Republican Attorney General Ken Paxton, 60. The day after Labor Day, the Texas Senate began the impeachment trial for the suspended attorney general.
Twelve Republicans joined 12 Democrats in a 24-6 vote rejecting Paxton's motions for dismissal.
The state House charged Paxton with bribery, obstruction and abuse of office. He is the third impeached Texas official since 1876. The other two: in 1917, Gov. James E. Ferguson in 1917 and district Judge O.P. Carrillo in 1975. Each was removed from office.
Like Donald J. Trump, who was impeached twice during his last year as President and who faces felony charges in Florida, Georgia, New York and the District of Columbia, Paxton has claimed the trial as a "politically motivated sham."
Many Republicans agree, but not the rest of the state. Surprisingly, more Republicans hold no opinion than believe Paxton should not have been impeached.
A clear majority of voters who have an opinion about the impeachment believe it is justified, according to a University of Texas Politics Project poll of 1,200 registered voters (margin of error, +/- 2.83%).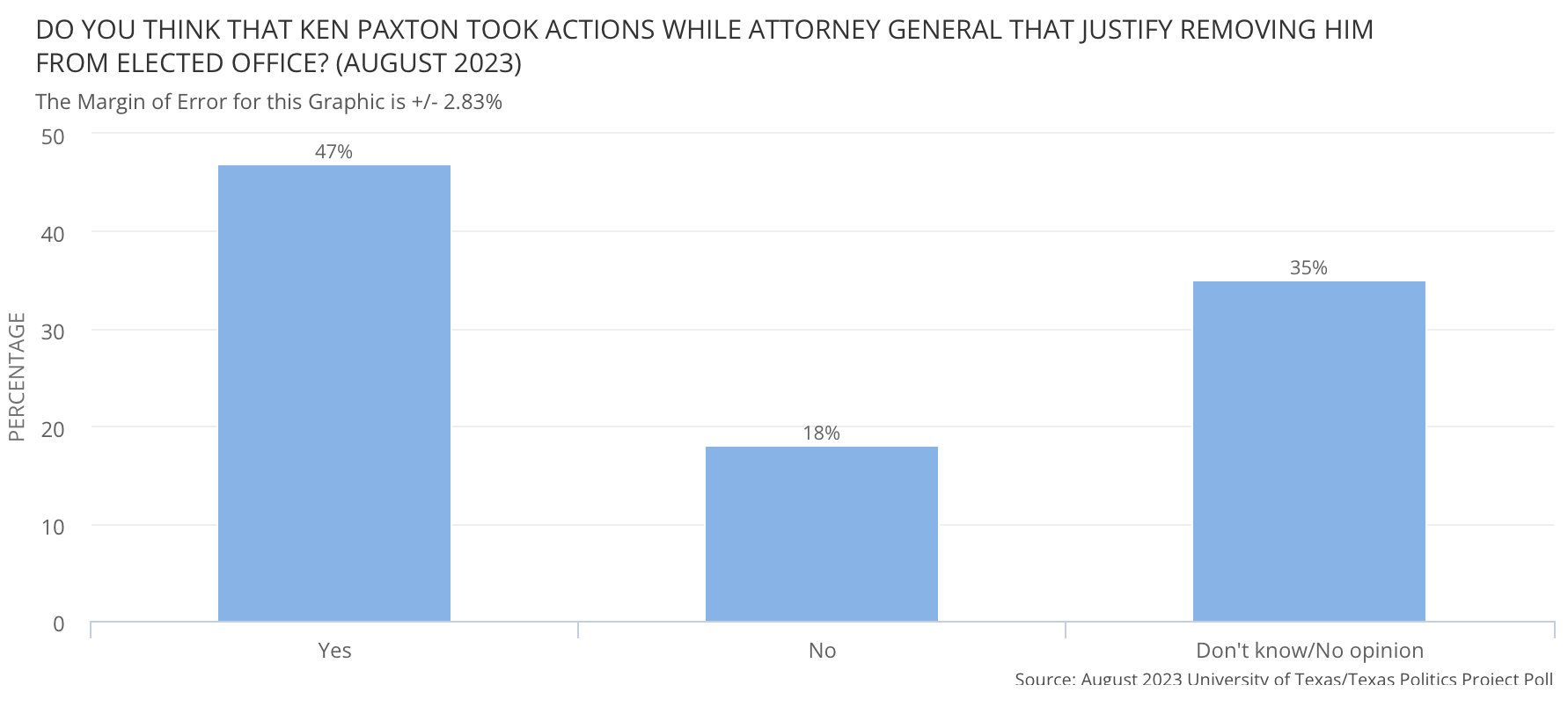 Although only 24% of GOP voters agree the impeachment was justified, 42% of independents and 71% of Democrats call it justified.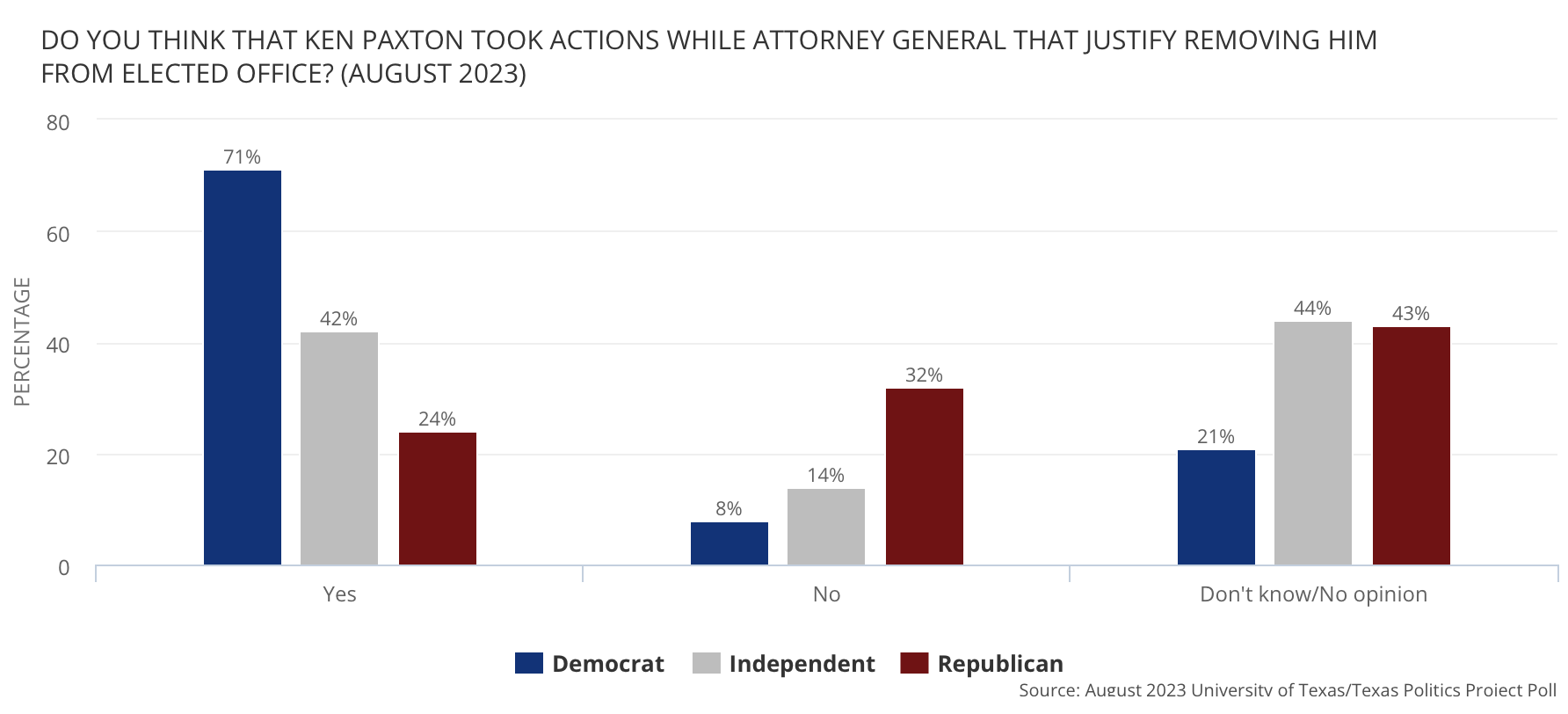 Republican-led process
Unlike Trump's impeachments, where Democrats were the majority party in the House of Representatives, in Texas Republicans hold an 86-to-64 advantage in the 150-member House chamber.
Paxton has been a fierce defender of former president Donald Trump — among his high-profile legal battles was his effort to overturn the 2020 presidential election — and a defiant opponent of the Biden administration. That made his impeachment at the hands of his own party all the more stunning.
In May, Texas Rep. Charlie Geren (R-Fort Worth) claimed that prior to the impeachment vote Paxton had "personally threaten[ed]" House members who supported impeachment "with political consequences in the next election."
Although his wife Angela Paxton is a state Senator, she "will not be voting" on the impeachment. The Senate is composed of 19 Republicans and 12 Democrats.
Why was Paxton impeached?
The articles of impeachment "accuse him of accepting bribes in the form of renovations to his home and [of providing] a job for a woman with whom he was having an extramarital affair," among other things.
According to the Texas Tribune:
Many of the articles of impeachment focused on allegations that Paxton had repeatedly abused his powers of office to help a political donor and friend, Austin real estate developer Nate Paul.
Federal prosecutors filed an eight-count, 23-page indictment against Paul, 36, in June 2023.
In 2017 and 2017, Paul allegedly secured more than $170 million in loans from mortgage lenders and credit unions by making false statements and using false reports. Each felony count has a maximum penalty of up to 30 years in prison and a maximum fine of $1,000,000, according to the Department of Justice.
Eight senior staff in the attorney general's office reported concerns about Paxton's relationship with Paul to both federal and state investigators in 2020.
Subsequently, all eight either quit or were fired. Many of their allegations were included in a lawsuit filed by four who claimed they were illegally fired (violating the Texas Whistleblower Act) in retaliation for reporting Paxton's actions.
The impeachment accuses Paxton of "misappropriation of public resources stemming from his effort to obtain $3.3 million in state funding to settle [that] lawsuit by senior aides."
Paxton indictment on securities fraud
In addition, a Collin County grand jury indicted Paxton for securities fraud after he started his first term of office in 2015.
Paxton is accused of defrauding investors in a tech startup called Server Inc., based in McKinney. The company gave Paxton 100,000 shares of stock for recruiting investors in 2011, and Paxton was promised to be paid 30% of the asset management fees collected.

However, Paxton is accused of not disclosing any of this to the investors when he was soliciting them… He faces two counts of securities fraud and one count of failing to register with state securities regulators. The charges carry a punishment of up to 99 years in prison.
A hearing is scheduled in Houston on Oct. 6 to set a trial date. The seven-year delay is the result of disagreement over where the trial should occur. Moreover, "prosecutors [have] not been paid since January 2016."
Read the (damning) 20 articles of impeachment passed by the House. The Senate Rules Committee set four aside.
Three articles relate to Paxton's 2015 indictment for securities fraud.
Five articles relate to Paxton's general conduct in office.
Twelve articles relate to the investigations of favoritism directed toward Paul and retribution directed towards members of Paxton's staff.
Since that May vote, Paxton has not served as state AG. The Texas Constitution requires he "be suspended from office pending the outcome of the Senate trial."
The trial may last two or three weeks.
Header image: sketch of Ken Paxton by Kathy Gill and MidJourney.
Known for gnawing at complex questions like a terrier with a bone. Digital evangelist, writer, teacher. Transplanted Southerner; teach newbies to ride motorcycles. @kegill (Twitter and Mastodon.social); wiredpen.com