SOTU, 2019 – live blog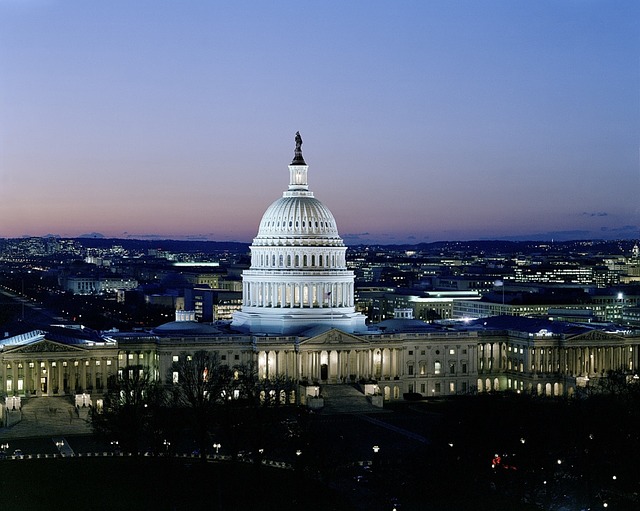 As we prepare for the 2018 State of the Union spectacle, it's important to note the ambiguous state of presidential appointments.
Acting Whitehouse chief of staff
Acting US Attorney General
Acting Defense Secretary
Acting EPA Administrator
Acting Interior Secretary
There is no chief technology officer.
Alexander Hamilton thought that confirmations of presidential appointees were important. From The Federalist Papers:
Confirmation provides an "an excellent check upon a spirit of favoritism in the President, and would tend greatly to prevent the appointment of unfit characters from State prejudice, from family connection, from personal attachment, or from a view to popularity. In addition to this, it would be an efficacious source of stability in the administration."
Acting EPA Administrator Andrew Wheeler has used his private social media accounts to interact with incendiary content online, including "liking" a racist image of former President Barack Obama and posts from conservative provocateurs. #StopWheeler https://t.co/cCaaREiT7P

— Defend Our Future | #ActOnClimate (@DefendOurFuture) February 4, 2019
Live blog
Trump began at 6:08 pm with thank you's (times are Pacific so that I don't have to think).
Seeing Democratic women in white squeezes my heart.https://t.co/AzDrTWWH8m#SOTU pic.twitter.com/LzwNNGHnTa

— ??Kathy E Gill (@kegill) February 6, 2019
Trump is referencing Eisenhower and now introducing three WWII veterans.
Let me remind you of Eisenhower's warning of the military-industrial complex in his 1961 address as he passed the office of president to Kennedy. He warned of the tremendous military establishment, whose "total influence–economic, political, even spiritual—is felt in every city, every state house, every office of federal government."
Trump, 6.17 pm:
"I ask you to choose greatness."
Now Trump is calling his two years an "unprecedented economic boom" – a claim regularly fact checked as false. He touted manufacturing jobs the same week that GM announced it was laying off thousands.
See this chart from VOX: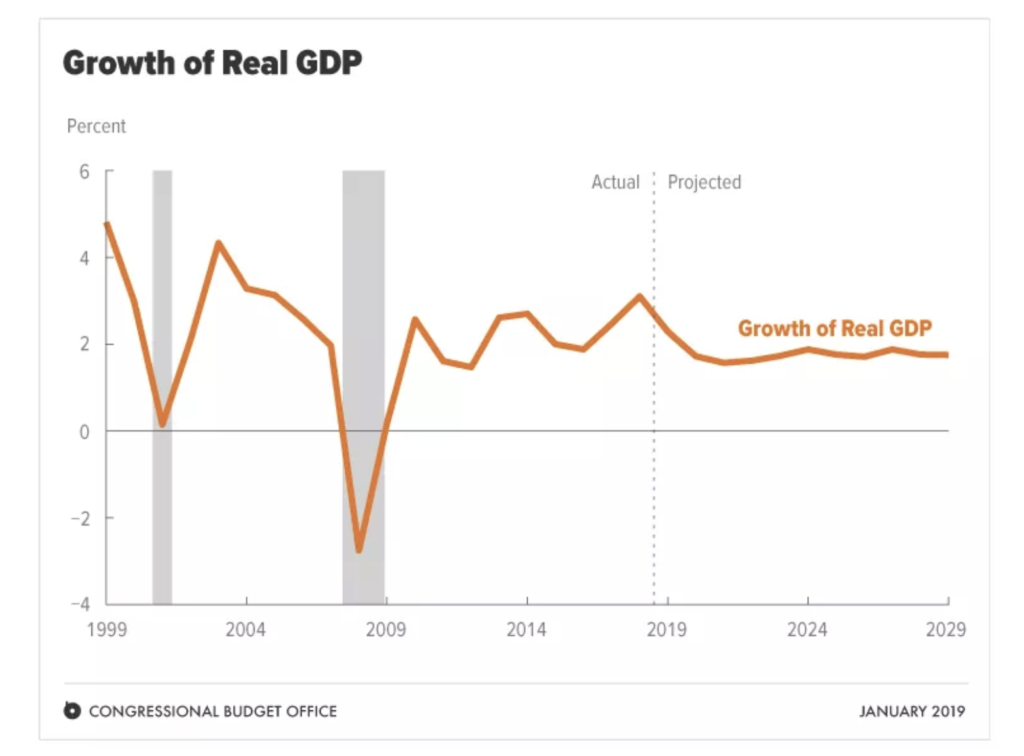 Trump is now claiming that Republicans have basically eliminated the "death tax" on small businesses and farms: "We virtually ended the estate, or death, tax on small businesses, ranchers and family farms."
The GOP did, indeed, ax the estate tax, but the beneficiaries are a relative handful of Americans.
One example: the estate tax.

There is NO rational explanation for average Americans to support its gradual repeal. NONE.

The GOP changed tax law in 2017, allowing couples with $22 million to pass on their estates without facing the tax.https://t.co/GpPfDhtKc8 pic.twitter.com/UHjnCoTOGf

— ??Kathy E Gill (@kegill) February 3, 2019
Mueller
At 6:25 pm, Trump alluded to the Mueller investigation as "ridiculous" and "partisan."
Here's The Guardian on everyone who has been charged in this "ridiculous" investigation.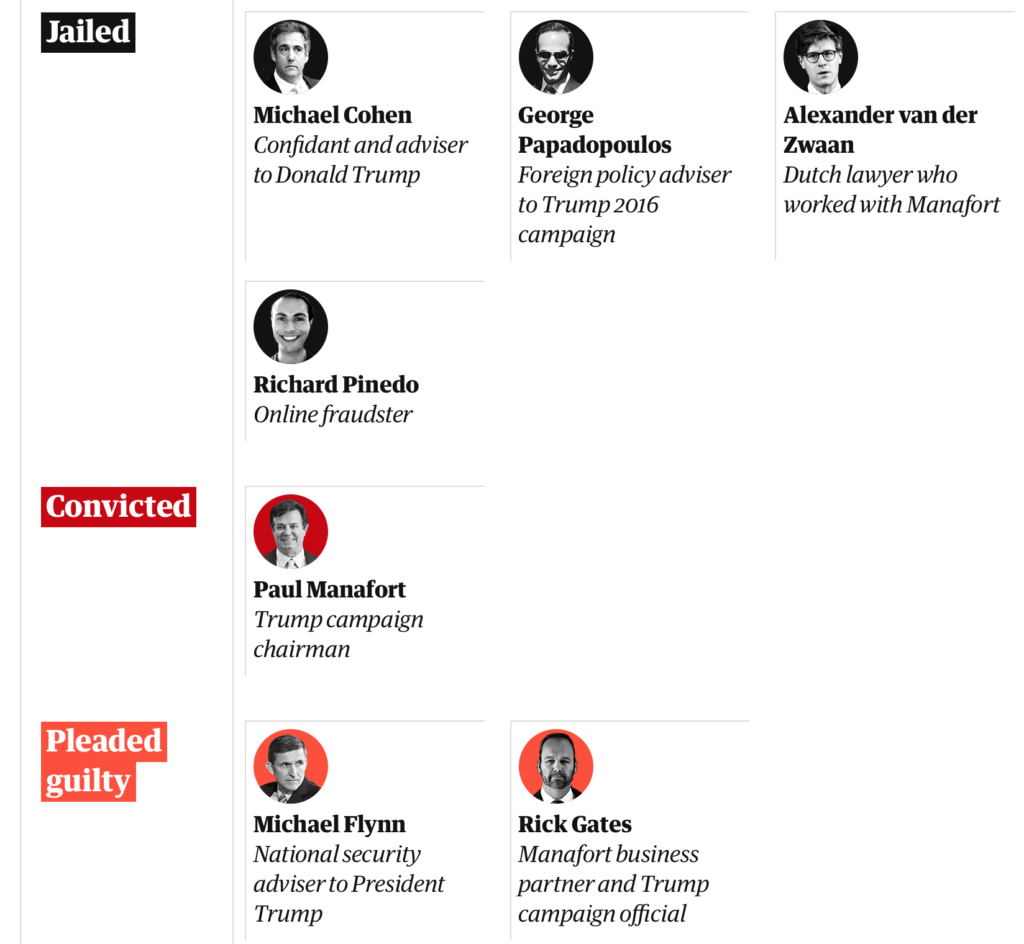 Trump: "If there is going to be peace and legislation, there cannot be war and investigation." (Some Democrats shake heads and one or two heckle.)

— David Smith (@SmithInAmerica) February 6, 2019
Just like Richard Nixon
"If there is going to be peace and legislation, there cannot be war and investigation." – Trump's SOTU, 2019

"I believe the time has come to bring that investigation and the other investigations of this matter to an end. One year of Watergate is enough." – Nixon's SOTU, 1974

— Philip Bump (@pbump) February 6, 2019
"I believe the time has come to bring that investigation and the other investigations of this matter to an end. One year of Watergate is enough."

-Richard Nixon, in 1974 https://t.co/EMszbMlTgo

— FiveThirtyEight (@FiveThirtyEight) February 6, 2019
Just like Richard Nixon did, months before he was forced to resign, #Trump used the #SOTU to plead for an end to investigations against him https://t.co/dgAyddhUc7

— David Beard (@dabeard) February 6, 2019
Rep. Gerry Connolly (D-MA), who sits on the Oversight committee, tells @Tierney_Megan that Trump's warnings about partisan investigations were "Nixonian" and "inappropriate." (membership required) https://t.co/f8UXbmGlqf via @TPM

— Josh Marshall (@joshtpm) February 6, 2019
"Urgent National Crisis"
6:33 – here we go, again.
Trump implied that all drugs and all illegal immigration and all human trafficking is due to the lack of a wall — although he has not yet uttered that noun.
It's a lie. The total number of people apprehended for illegally crossing the southern U.S. border has been steadily falling for almost two decades.
A reminder that the largest-ever U.S. fentanyl bust came at a legal entry point. Trump mentioned fentanyl at 6:38 and implied that it comes across the border with the MS-13 gang.
Trump has ordered 3,750 troops to the border and is calling it a "lawless" state. He claimed that El Paso was one of the most dangerous cities in the nation before "a wall".
This is not an academic exercise. @JonBarela1, who leads Borderplex economic development issues, just called me, furious. He says these repeated false claims are badly hurting El Paso's economy. He's a longtime Republican, FWIW. #sotu https://t.co/6R5DIOG9X0

— Bob Moore (@BobMooreNews) February 6, 2019
Here's another:
From the @TexasTribune and @elpasotimes, a border fence in El Paso did not reduce violent crime. #SOTU #facts #data #nhdata https://t.co/3zBK27KjIv

— Dan Pacheco (@pachecod) February 6, 2019
Trump says that 1-in-3 women are assaulted as they try to reach the US for asylum. From the Washington Post: "the statistic is derived from the experiences of 56 women and cannot necessarily be considered representative of all migrant women."
No mention that 2 Workers at Arizona Migrant Children Centers Are Charged With Sexual Abuse. Inside our borders. From people who were supposed to be keeping them safe.
Another fact-check:
'266,000 aliens arrested in the past two years': The number is right but misleading.
ICE does not break down arrests by type of crime, but 16 percent of the total charges and convictions (not arrests) in 2016 were strictly immigration offenses.
Trump lies
President Trump made 7,645 false or misleading claims since he took office, as of Dec. 30, 2018, according to the Fact Checker's ongoing database. That means he's averaging nearly 11 false or misleading statements per day. And of those statements, more than 1,000 were about immigration.
Touche:
My 7 year old: isn't he lying?
Me: yes
The kid: why are people clapping?
Me: no idea
The kid: this is a really weird show. #SOTU

— Ai-jen Poo (@aijenpoo) February 6, 2019
Incomplete and deliberately slated stories
From the Washington Post:
Trump confuses the issue and exaggerates the criminality
Any murder is tragic and I feel for that family. But why isn't POTUS mentioning all of the victims of native-born white men? Or that immigrants are far less likely to commit crimes than native-born? B/c this is all a racist effort to inflame hate & division for political gain.

— Senator Jeff Merkley (@SenJeffMerkley) February 6, 2019
White male fright?
Women filled 58% of jobs last year, Trump claimed. What?
Counterpoint:
The United States is now falling behind other high-income countries when it comes to female participation in the labor market.

The likely reason? A lack of policy support for women who work. #SOTU pic.twitter.com/KMmnw8tMkw

— Heather Boushey (@HBoushey) February 6, 2019
A reminder that women make pennies on the dollar when doing the same job as men.
More women serving in Congress – damn straight. But they are, in the main, Democrats. Here's Pew: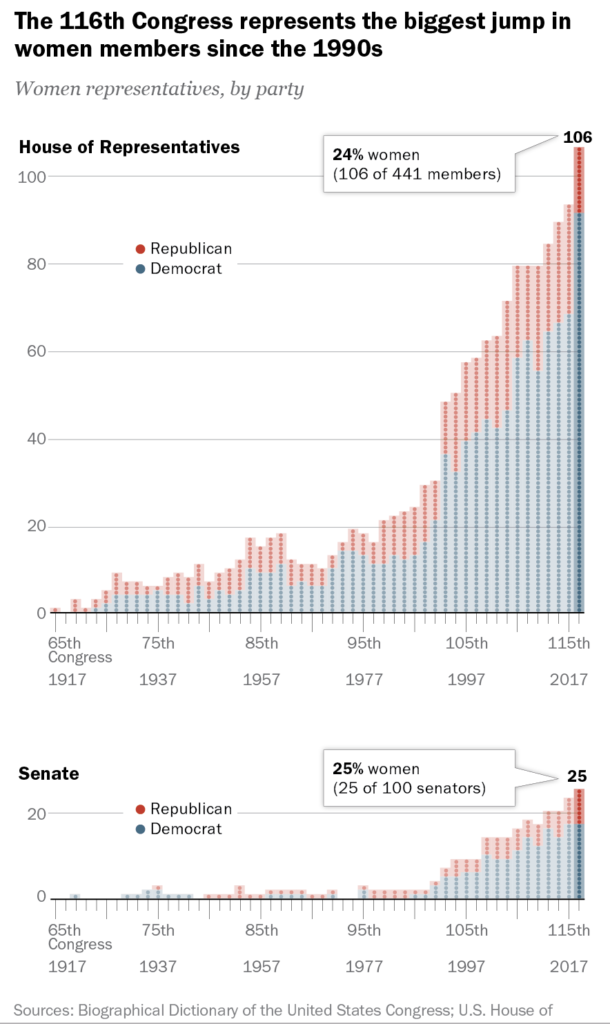 Trade war and tariffs
Trump is bragging about his imposition of tariffs as a way to protect American jobs. A reminder about GM.
Trump continues to misunderstand how tariffs work:
… exporters do not pay the tariffs; it is the importer, who in turn passes it onto to consumers. A study by the Council on Foreign Relations estimated that 115 percent of the money raised from tariffs is being used by the administration to aid farmers hurt by the tariffs, so it's a net loser.
Health care
Trump is now talking about the need for infrastructure, reducing the cost of health care and protecting people with pre-existing conditions.
Rhetoric does not match actions:
The Trump administration has refused to defend the Affordable Care Act against a lawsuit that would end protection for patients with preexisting conditions. When the district court ruled against the law, Trump celebrated the ruling.
While #SOTU is on the subject of sick kids…..This story about Trump cutting off health coverage for his sick nephew out of revenge will make you hang your head in shame https://t.co/Ie6veMCx5m via @MotherJones

— Suzanne Goldenberg (@suzyji) February 6, 2019
This might be a nice time to remind you all that Donald Trump once crashed a Pediatric AIDS charity dinner, took a real donor's seat at the podium, received lots of applause and praise, and left without giving a dime. Really.

— Peter Sagal (@petersagal) February 6, 2019
Trump pledges to end the HIV epidemic while standing in front of Mike Pence, whose anti-choice policies resulted in the worst HIV epidemic in Indiana state history. And in December, Trump ended an entire branch of HIV research b/c it used fetal tissue. #SOTU pic.twitter.com/8F15vcMYEM

— Caroline Orr (@RVAwonk) February 6, 2019
Remember when Trump funneled money from a children's cancer charity into his own business? He forgot to mention that as he spotlighted the child cancer survivor in the audience. #SOTUhttps://t.co/Qnvo8hTtdE

— Caroline Orr (@RVAwonk) February 6, 2019
7:01 pm – he just launched a salvo on public schools.
7:02 pm – Trump is proposing nationwide paid family leave. What?
Don't get caught up in Trump's virtue signaling aimed at women. Let's not forget that the United States is the ONLY developed nation in the world that doesn't guarantee paid maternal leave for women after childbirth. #SOTU https://t.co/DsRfxKw7oQ

— Kat Bee (@katbeee) February 6, 2019
In a divided nation paid family leave is an issue w/ broad bipartisan support, but it isn't just about parental leave – 80% of ppl who use #FMLA are using it to care for themselves, or a seriously ill family member. Families need a comprehensive policy. #SOTU #StateofOURUnion

— PL+US (@PaidLeaveUS) February 6, 2019
7:03 pm – Trump wants to prohibit late-term abortions. All children are made in the "image of God," Trump claims, forgetting that we are a multi-cultural and multi-religious nation.
From the Washington Post
Currently, all but seven states have prohibitions on gestational limits, from 20 to 24 weeks, or the point of "viability." (A woman is considered to have reached full term when she is between 37-42 weeks.) Indeed, only 1.3 percent of abortions — or about 8,500 a year — take place at or after 21 weeks, according to 2014 data from the Center for Disease Control and Prevention and the Guttmacher Institute.
I confess that I was lost with this line:
At SOTU Trump Falsely Claims Northam 'Stated He Would Execute a Baby After Birth' https://t.co/zsSNvkXePO pic.twitter.com/VcO0n61YRc

— Mediaite (@Mediaite) February 6, 2019
7:05 pm – other nations to pay "their fair share"
"We have secured 100 billion in increased spending from our NATO allies. They said it couldn't be done."
That's not how any of this works.#SOTU

— Tom Nichols (@RadioFreeTom) February 6, 2019
7:07 pm – nuclear treaty abandonment
A lot of members of Congress seemed uneasy after President Trump announced that we will withdraw from the INF treaty. I wonder if they think it will it make America safer or if it will begin an arms race? #govstiegeler #sotu

— Ryan Kendrick (@ryan_kendrick1) February 6, 2019
7:10 pm – the myth of the American individualist (aka "every man is an island")
"Great nations do not fight endless wars"
Then we haven't been great for a very long time.
This foreign policy section is completely nuts. I mean, more nuts than usual. Like Venezuela is landing socialist commandos, but we'll never bow to Red Dawn 2.0.#SOTU

— Tom Nichols (@RadioFreeTom) February 6, 2019
This is ridiculous: Trump claims that if he had not been elected we'd be in a major war with North Korea. Zero evidence. Trump was the one who terrified the Pentagon leadership with his talk of attacking North Korea. #sotu

— Nicholas Kristof (@NickKristof) February 6, 2019
7:18 pm – Trump brings up Pittsburgh
Although Trump talks about anti-Semitism, he does not speak out against white nationalism.
Remember the synagogue murderer was not from the Middle East, nor from Mexico, nor an undocumented immigrant…

He was a white man from America.#SOTU

— Tony Posnanski (@tonyposnanski) February 6, 2019
Speaking of the vile poison of anti-Semitism, wasn't that what those "very fine people" were doing in #Charlottesville when you placed the blame for civil unrest on "both sides?"#SOTU

— Bishop Talbert Swan (@TalbertSwan) February 6, 2019
7:30 pm – The End.
No mention …
Climate change
Guns and mass shooting
Furloughed employees
Voting rights
Trump's #SOTU by the numbers: pic.twitter.com/5f1jAbJsU2

— CAP Action (@CAPAction) February 6, 2019
Democratic response: Stacey Abrams
That's got to be the best SOTU response … ever?

— Kevin M. Kruse (@KevinMKruse) February 6, 2019
Best SOTU reply in my lifetime. Not meant to damn with faint praise.

— Jennifer Rubin (@JRubinBlogger) February 6, 2019
Stacey Abrams: "Under the current administration, far too many hard-working Americans are falling behind, living paycheck to paycheck, most without labor unions to protect them … the Republican tax bill rigged the system against working people." https://t.co/7aRnMJV1lu #SOTU pic.twitter.com/pHXTOyZPBX

— ABC News (@ABC) February 6, 2019
I have to say #StaceyAbrams gave one of the best #SOTU responses I've seen. Dem or Rep to be honest.
It was very well delivered, didn't seem forced or "hokey".
I don't have to agree with the policies to give her credit for doing a job well done.

— Tara Setmayer (@TaraSetmayer) February 6, 2019
My gosh, Stacey Abrams is intelligent, articulate, classy, can speak proper English, expresses real love for America, is passionate and is delivering one hell of a rebuttal. She's bringing it. ??

— Ricky Davila (@TheRickyDavila) February 6, 2019
SOTU background
Although Woodrow Wilson started the tradition of an in-person annual update on the state of the union in 1913, it wasn't until 1947 that this speech officially became known as the State of the Union Address.
The Constitution mandates that "from time to time [the President shall] give to the Congress information of the state of the union, and recommend to their Consideration such measures as he shall judge necessary and expedient…"
Article II, Section 3, Clause 1.
Impressions …
Trump does not read a teleprompter well. The pacing in this speech was painful to hear.
He needs the frenzy of his base to become animated. He was flat.
The speech seemed to have been written by committee – it was not a coherent message.
There were some Democratic-sounding soundbites that went nowhere (had no details) such as national paid parental leave. What?
Dammit, will he ever stop lying and fabricating?
SOTU and Technological Change
Presidential communications staff have been on the forefront of changes in communications technology.
1923 – first radio broadcast, Calvin Coolidge
1947 – first TV broadcast, Harry Truman
1965 – first TV broadcast in the evening, Lyndon Johnson
2002 – first live webcast, George W. Bush
2004 – first high definition TV broadcast, George W. Bush