Remembering Robert Novak — Interview
by Bill Steigerwald
Conservative columnist and CNN "crossfire" host Robert Novak died Tuesday at age 78 after a year-long battle with brain cancer.
Known as the "Prince of Darkness" – by his friends – because of his pessimistic persona, Novak was a tough political reporter from the old school who caused more than his share of bipartisan trouble for the powerful people in Washington, D.C.
In July of 2007, I interviewed him about his memoir, "Prince of Darkness," which was a candid account of his personal life and his 50-year career as a political insider whose columns made news.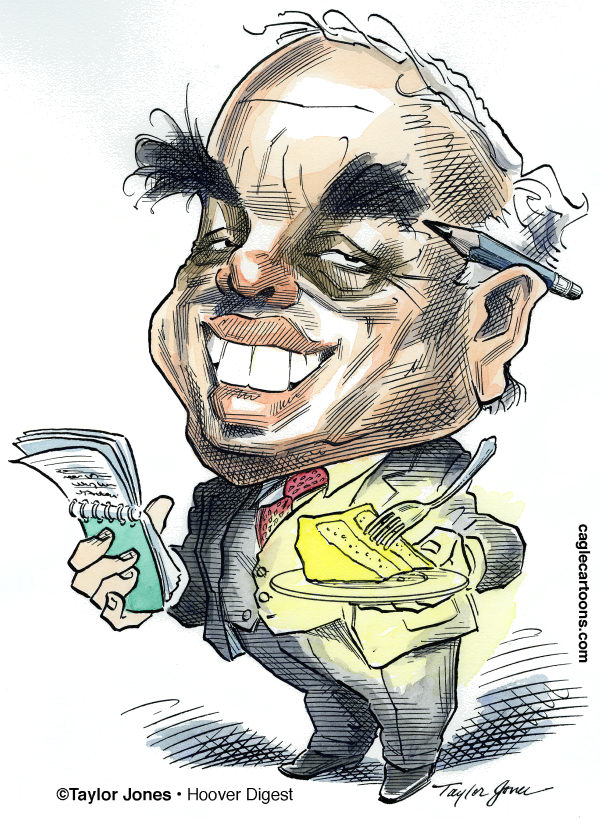 Novak, who was friendly and pleasant despite his reputation for being cranky and surly, said he wrote his book for two audiences. One audience, the smaller one, were his fellow insiders – the politicians, consultants, journalists and others involved in the political process.
The second audience, he said, were everyday people "who are interested in public affairs, interested in the great game of politics and don't know anything about it."
For them, he said, he tried to "reveal some of the mystery about how a journalist works" and show how much fun he had and the mistakes and successes he had on the way.
Novak began his book with his involvement in the Valerie Plame affair, the 2003 scandal revolving around his exposure in a column of CIA agent Valerie Plame Wilson. Novak cooperated with the special prosecutor and was not charged in the case that ultimately led to the conviction of Vice President Dick Cheney's chief of staff Lewis "Scooter" Libby on several charges.
In my phone interview, I asked Novak if there was any great lesson from the Valerie Plame affair or if it was just another typical Washington scandal?
A: I think the latter. I think the lesson is that when you take an issue and you get a lot of the news media and the politicians and other people insisting it's something more than what it is, it takes on a life of its own.
People don't really want to know the facts. They don't want to know that I was against the war in Iraq. They don't want to know that deputy secretary of state Richard Armitage, who leaked Valerie Plame's identity to me, was against the war — so it couldn't have been a plot to discredit war critics. They don't want those facts.
There was … a wire story the other day that came out which said that Karl Rove was my principal source. I think what it shows is that people — particularly the news media — will turn a fact into something that it's really not in order to serve an ideological purpose.
Q: You say that stirring up strife is the proper role for a journalist …
A: Well, my role, anyway.
Q: OK. Is there too much or too little strife being stirred up in D.C. these days?
A: I'm going to say something that most people would disagree with: I'm going to say too little strife because there's too much conventional thinking, too much group-think among journalists in Washington. Certainly they stir up strife on criticism of the Bush administration. But there are a lot of things going on in Congress, and I don't think there is a very good job being done of stirring up strife there. My late partner, Rowland Evans, more elegant than I, said once that what we do is intercept the lines of communication between politicians. I don't think there is enough of that being done.
Q: You were interested in both making news by digging up scoops for your column and advocating a political point of view, which was a decidedly non-liberal point of view. Were you being as fair and balanced a journalist as you should have been?
A: I think so. Obviously, the things that I was interested in I tended more to write about than other matters. But I still will write things that will seem to go against the grain of things that I stand for. A lot of times I get calls from people associated with this (Bush) White House and they say, "Why are you being so rough on 'em? Aren't you hurting the cause?"
Well, it's not my cause. My cause is the country and I want the president to succeed. But I'm not on his staff. And I'm not a yes man for him. So I think I have been fair and balanced in that respect.
Does it mean that I'm going to write things that take the argument that tax cuts are bad and that we need more government? No, I'm not going to do that. But if the president does badly, as he often does, and I get exclusive information on it, I write about it.
Q: How do you describe your politics?
A: I consider myself a conservative. I say so in the book. I say I've moved farther to the right. I am for a limited government, and I made clear in the book that I am for limited government in our international adventures, spilling the blood of our young people and our fortune. I think that's a conservative position.
I'm obviously a conservative in limited government. But also I think it's a conservative position to be for free trade and liberal on immigration. I don't like government restrictions. A lot of people think those are not conservative positions but I think they are.
Q: You had a gloomy attitude as a young reporter — and that's where the original nickname "Prince of Darkness" came from — but it's hard to believe that you have become less gloomy in the last 20 or 30 years in D.C.
A: Well, believe it or not, I have (laughs). There are two things: One is the supply-side agenda, which I didn't understand the need for and I never expected to happen. I believe it's been a blessing for our economy and has prevented the kind of chronic economic slumps that we had all through the Eisenhower administration.
The other thing that has made me less gloomy is the destruction of the Soviet Union. People talk about Russia today going back to the Soviet Union. That's not the Soviet Union. The winning of the Cold War is just something I didn't expect to see.
As I said in the book, in the second chapter, I read "Witness" by Whittaker Chambers when I was a young Army officer and it really changed my mind. Chambers was very gloomy. He said when he switched from communism to anti-communism, he thought he had switched from the winning side to the losing side. That was the view I took. But I think, too, that the fact that I have become a Catholic convert has made me less gloomy, less fearful and more faithful.
Q: As a Catholic, that means you're looking to the real, real, long run, right?
A: That's correct.
Q: What was your greatest scoop?
A: I think my greatest scoop was when I went to China in 1978 and reported on the "Democracy Wall" rebellion and got the interview with (China's top ruler) Deng Xiaoping.
Q: Who was your greatest source?
A: Probably the guy who gave me the most documents was a conservative operative named John Carbaugh, a former staffer for Sen. Jesse Helms. He didn't just give me tips; he gave me documents.
Q: Of all the people you've dealt with, does anyone stand out as "most principled"? Not so much as a source or as a wise guy, but someone who thought more like you did and wasn't changed or seduced by the power?
A: That's an excellent question and it's hard to come up with an answer, because "principle" is not a common commodity among politicians. I don't mean that sarcastically. I think that is a fact. I believe in term limits because I can think of a lot of people who started off as very principled but they kind of fell off in a short amount of time.
But somebody I think was very principled and always convincing — and I disagreed with him on his domestic policy and all his issues — was Sen. Henry M. Jackson, "Scoop" Jackson, of Washington. He was what they called a "Cold War liberal."
He was a strong anti-communist, strong on national defense, a very great battler against excessive arms-control treaties. And of course he was a liberal domestically and never wavered from that. I think he would have made a great Democratic president, but he never made it.
Q: How does the older, wiser "Prince of Darkness" see the future of the country?
A: Well, my future on this Earth is limited (laughs). I'm 76 years old. From my standpoint, I see the long Republican realignment ending and going into a period of Democratic supremacy. I think there will be a lot of mistakes and a lot of bad things done. But I do believe the American people are really up to making the best of their politicians.
When I am given a chance to address college students, I always tell them, "Always love your country but never trust your government." I believe that. And I believe that is the view the American people take and that's why I think we'll still be the shining city on the hill.
Bill Steigerwald is a former columnist and associate editor at the Pittsburgh Tribune-Review who's also worked at the Pittsburgh Post-Gazette and the Los Angeles Times. Distributed exclusively by Cagle Cartoons, Inc. This column is copyrighted and licensed to run on TMV in full. The cartoon by Taylor Jones, Hoover Digest is also copyrighted and licensed to run on TMV. All Rights Reserved. Unauthorized reproduction prohibited.