NY Times Bombshell: FBI Opened Probe Into Whether Trump Was Secretly Working for Russia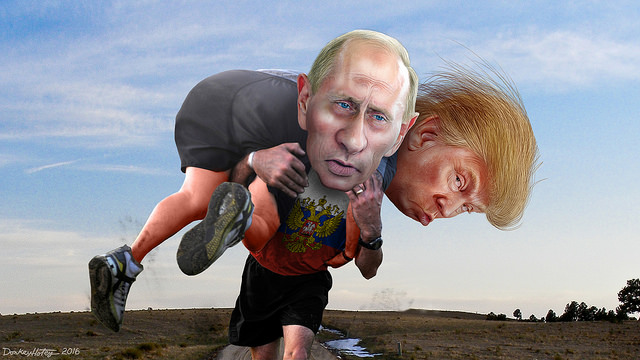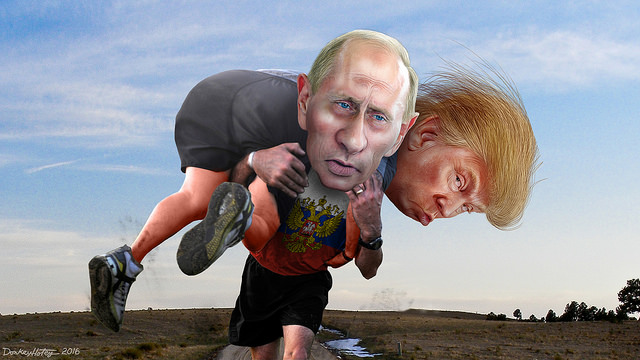 The New York Times has a bombshell of a report. According to the Times, after Donald Trump fired James B. Comey as F.B.I. director law enforcement officials began an investigation into whether was in fact a Russian asset — someone working for the interests of Russia's Vladimir Putin.
In the days after President Trump fired James B. Comey as F.B.I. director, law enforcement officials became so concerned by the president's behavior that they began investigating whether he had been working on behalf of Russia against American interests, according to former law enforcement officials and others familiar with the investigation.

The inquiry carried explosive implications. Counterintelligence investigators had to consider whether the president's own actions constituted a possible threat to national security. Agents also sought to determine whether Mr. Trump was knowingly working for Russia or had unwittingly fallen under Moscow's influence.

The investigation the F.B.I. opened into Mr. Trump also had a criminal aspect, which has long been publicly known: whether his firing of Mr. Comey constituted obstruction of justice.

Agents and senior F.B.I. officials had grown suspicious of Mr. Trump's ties to Russia during the 2016 campaign but held off on opening an investigation into him, the people said, in part because they were uncertain how to proceed with an inquiry of such sensitivity and magnitude. But the president's activities before and after Mr. Comey's firing in May 2017, particularly two instances in which Mr. Trump tied the Comey dismissal to the Russia investigation, helped prompt the counterintelligence aspect of the inquiry, the people said.
AND:
The special counsel, Robert S. Mueller III, took over the inquiry into Mr. Trump when he was appointed, days after F.B.I. officials opened it. That inquiry is part of Mr. Mueller's broader examination of how Russian operatives interfered in the 2016 election and whether any Trump associates conspired with them. It is unclear whether Mr. Mueller is still pursuing the counterintelligence matter, and some former law enforcement officials outside the investigation have questioned whether agents overstepped in opening it.

The criminal and counterintelligence elements were coupled together into one investigation, former law enforcement officials said in interviews in recent weeks, because if Mr. Trump had ousted the head of the F.B.I. to impede or even end the Russia investigation, that was both a possible crime and a national security concern. The F.B.I.'s counterintelligence division handles national security matters.

If the president had fired Mr. Comey to stop the Russia investigation, the action would have been a national security issue because it naturally would have hurt the bureau's effort to learn how Moscow interfered in the 2016 election and whether any Americans were involved, according to James A. Baker, who served as F.B.I. general counsel until late 2017. He privately testified in October before House investigators who were examining the F.B.I.'s handling of the full Russia inquiry.
The Daily Beast on the meaning of this story and the White House's (expected) reaction:
The White House is blasting as "absurd" a blockbuster new report that the FBI opened an investigation into the whether the president of the United States was working on behalf of the Kremlin. But respected former FBI special agents tell The Daily Beast such a momentous step would not be taken without "serious and substantial evidence."

They told The Daily Beast that the senior-most levels of the FBI and Justice Department would have known about an event they considered without precedent in bureau history.

"This is uncharted territory," said Ali Soufan, a retired FBI counterterrorism special agent. "I don't believe that it had happened before… Ever."

On Friday night, The New York Times reported that FBI agents opened a counterintelligence investigation in May of 2017 into whether President Trump had been operating "on behalf of Russia against American interests."

If the Times is correct, then the FBI overcame its reluctance to investigate Trump after he fired one of its own: former director James Comey, whom the president dismissed that same month. One implication of that timeline is that Robert Mueller, who was appointed as special counsel a week later, would have had access to their investigation for at least substantial portions of his own.

Sen. Richard Blumenthal, a Democrat on the committee that oversees the FBI, said the Times' reporting was intriguing, and "another powerful piece of the mosaic" on Trump's relationship with Russia.

The Times' revelations also may reignite Republican criticism of FBI officials who privately expressed concern about Trump while working on investigations concerning him. After text messages between former FBI lawyer Lisa Page and former counterintelligence agent Peter Strzok became public—revealing their criticism of Trump—congressional Republicans brought them in for grilling sessions. Page in particular faced protracted and ugly attacks from Fox News opinion hosts. And the president himself also tweeted numerous times about her, sarcastically calling her "the lovely Lisa Page." But the Times' reporting indicates they were far from alone in their concerns about Trump's posture towards Russia.

"There are a variety of ways to gather information about foreign efforts to influence a U.S. official that don't require the sensitive step of targeting that official's communications, and those who are criticizing the FBI for pursuing a counterintelligence investigation are doing so without any knowledge of what investigative steps were actually undertaken," a Justice Department trial attorney told The Daily Beast.
And then there's this important piece by Lawfare's Benjamin Wittes, which needs to read in full. Part of it:
Shortly before the holidays, I received a call from New York Times reporter Michael Schmidt asking me to meet with him about some reporting he had done. Schmidt did not describe the subject until we met up, when he went over with me a portion of the congressional interview of former FBI General Counsel James Baker, who was then my Brookings colleague and remains my Lawfare colleague. When he shared what Baker had said, and when I thought about it over the next few days in conjunction with some other documents and statements, a question gelled in my mind. Observers of the Russia investigation have generally understood Special Counsel Robert Mueller's work as focusing on at least two separate tracks: collusion between the Russian government and the Trump campaign, on the one hand, and potential obstruction of justice by the president, on the other. But what if the obstruction was the collusion—or at least a part of it?

Late last year, I wrote a memo for Schmidt outlining how I read all of this material, a memo from which this post is adapted.

Today, the New York Times is reporting that in the days following the firing of James Comey, the FBI opened an investigation of President Trump. It wasn't simply the obstruction investigation that many of us have assumed. It was also a counterintelligence investigation predicated on the notion that the president's own actions might constitute a national security threat
And:
Let's start by reexamining the most fundamental question: What is this investigation about? In his congressional testimony this fall, as Schmidt and Goldman had discovered, Baker made an arresting comment: the investigation "was about Russia, period, full stop." The purpose of the investigation, he explained, was to assess what the Russians were up to with respect to the 2016 election. The FBI was trying to learn what the Russians had done and whether any Americans had done things in support of those efforts, either knowingly or unknowingly, so that they could understand the full scope of what the Russians had sought to do.

This quoted testimony immediately above reminded me of a passage Baker had written elsewhere, a passing discussion in an essay on a different subject which Baker wrote for Lawfare but has not yet published. This passage was cleared in pre-publication review by the FBI some months ago when we at Lawfare thought the essay's publication was imminent. Here, too, Jim stressed that the investigation was about Russian activity. Here is the relevant passage:
Here's Baker's passage:
A lot of the criticism seems to be driven by the notion that the FBI's investigation was, and is, an effort to undermine or discredit President Trump. That assumption is wrong. The FBI's investigation must be viewed in the context of the bureau's decades-long effort to detect, disrupt and defeat the intelligence activities of the governments of the Soviet Union and later the Russian Federation that are contrary to the fundamental and long-term interests of the United States. The FBI's counterintelligence investigation regarding the 2016 campaign fundamentally was not about Donald Trump but was about Russia. Full stop. It was always about Russia. It was about what Russia was, and is, doing and planning. Of course, if that investigation revealed that anyone—Russian or American—committed crimes in connection with Russian intelligence activities or unlawfully interfered with the investigation, the FBI has an obligation under the law to investigate such crimes and to seek to bring those responsible to justice. The FBI's enduring counterintelligence mission is the reason the Russia investigation will, and should, continue—no matter who is fired, pardoned or impeached (emphasis added).
Go to the link and read this long and important piece in its entirety.

Why are we now reading a story about how the @FBI opened a counterintelligence investigation after @realDonaldTrump fired James Comey?

Is it because people at @TheJusticeDept are worried about what @MattWhitaker46 might do, or what Rosenstein's planned departure might mean? https://t.co/M3cbODKnQZ

— Ted Lieu (@tedlieu) January 12, 2019
Big takeaway: The FBI opens a counterintelligence investigation on the President of the United States if it has a reason to believe that his actions are putting the interests of a foreign country over those of our own.

Good night.

— Asha Rangappa (@AshaRangappa_) January 12, 2019
Plot line:
"The FBI is searching for a Russian mole in our government who turns out to be …the President."
5 years ago the fiction editor of every publisher would have tossed the manuscript, saying the plot was ridiculous.
5 years from now they'll send it to the history editor.

— Richard W. Painter (@RWPUSA) January 12, 2019
Stepping back for a minute: If no other reporting existed on Trump/Russia, the fact that the FBI started a CI investigation to determine whether or not the sitting president of the US was either comprised by or an agent of Russia, it would be the biggest political story…ever. https://t.co/RRenfxbgmH

— Natasha Bertrand (@NatashaBertrand) January 12, 2019
In five tweets already today, Trump tells a a series of lies to cover up the vast evidence that he colluded with Russia. As with so much about Trump, just substitute the exact opposite of everything he says, and you get the truth, laid out very clearly.

— Tony Schwartz (@tonyschwartz) January 12, 2019
Grim news. Trump is a traitor. They know. They've known for two years. #counterintelligenceinvestigation https://t.co/UkY0w1DJoA via rawstory

— Claude Taylor (@TrueFactsStated) January 12, 2019