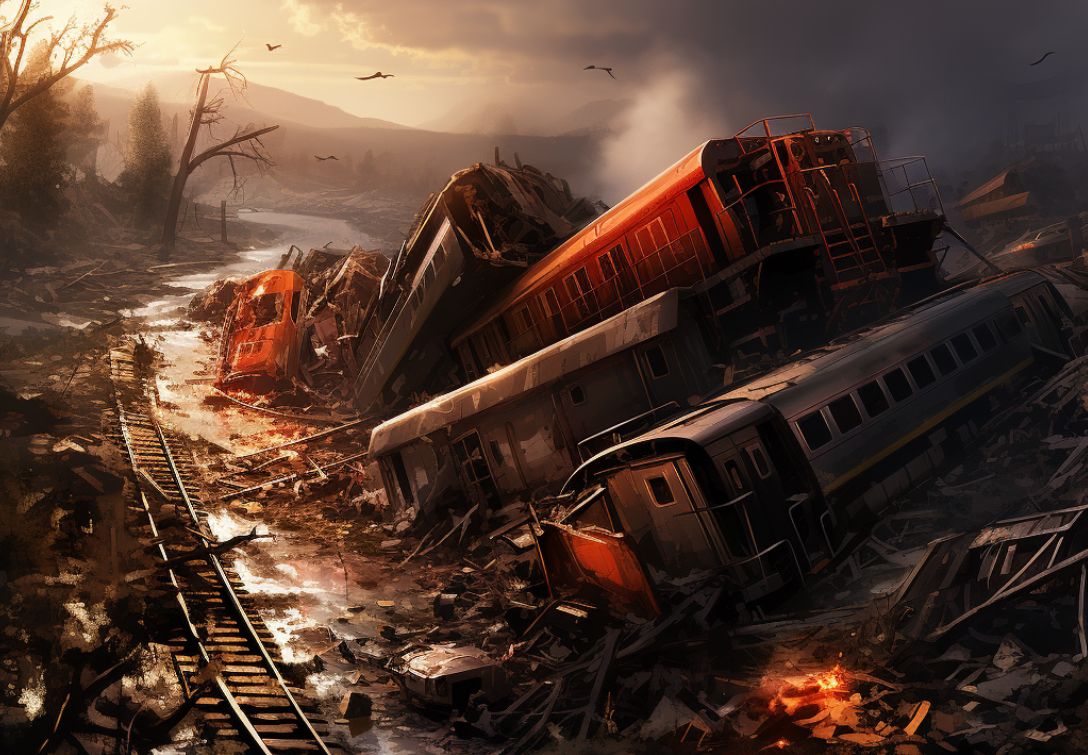 Both the Washington Post editorial board and the Associated Press (AP) engaged in slipshod journalism on Monday. They were joined by other organizations that seem unable to break from whatever spell Donald J. Trump has cast upon them.
Let's take the Post first, as it may be the more shocking.
1. On the 14th amendment
The Washington Post editorial board opined on Monday that any effort to use the 14th Amendment to prevent Trump from once again occupying the White House is folly.
I am not a lawyer, and I'm pretty sure no one on the editorial board is, either.
But J. Michael Luttig is.
Luttig is an esteemed lawyer, conservative, and former U.S. Fourth Circuit of Court of Appeals judge (appointed by former President George H.W. Bush). He took to Twitter in response (this link is to ThreadReader, not Twitter):
I apology [sic] for the length of this rejoinder. A "Letter to the Editor" seemed futile for the needs and purposes of this tweet. Thank goodness for Twitter!

This editorial today by @washingtonpost is perhaps the most journalistically incompetent and irresponsible editorial on the Constitution of the United States and a question of constitutional law by a major national newspaper that I ever remember reading…

The Washington Post never tells us why the American public should not rely on a provision of their Constitution of the United States because to do so would be foolish. But it is probably because, as we see in the newspaper's buried cynical lede in the concluding paragraph, the WP fears the current Supreme Court will never interpret the Constitution to disqualify the former president, no matter what the Constitution says (emphasis added).
Luttig is also a prominent proponent of using the 14th Amendment to the US Constitution to block a future Trump presidency.
Congress passed the 14th Amendment on June 13, 1866. (The Civil War ended on June 2, 1865.) The states ratified the amendment on July 9, 1868. Perhaps best-known for extending the Bill of Rights to formerly enslaved people, the amendment does more. Section 3 prohibits anyone who has taken an oath to support the Constitution of the United States but who subsequently commits an act of "insurrection or rebellion" from holding public office unless Congress removes the block.
Section 3.
No person shall be a Senator or Representative in Congress, or elector of President and Vice-President, or hold any office, civil or military, under the United States, or under any State, who, having previously taken an oath, as a member of Congress, or as an officer of the United States, or as a member of any State legislature, or as an executive or judicial officer of any State, to support the Constitution of the United States, shall have engaged in insurrection or rebellion against the same, or given aid or comfort to the enemies thereof. But Congress may by a vote of two-thirds of each House, remove such disability.
Lawsuits in Minnesota and Colorado seek to keep Trump off the state ballot based on Section 3 of the 14th Amendment.
2. On Trump's NY trial relating to business fraud
Almost 20 years ago, in his book Don't Think of an Elephant!, linguist George Lakoff urged progressive leaders to understand the power of framing issues. The book title makes his point: it does the opposite of its imperative!
Lakoff urged progressives to reframe their values rather than try to debate values as framed by conservatives. I grimace ever time I read yet another headline that reinforces Trump's lies by giving his "frame" legitimacy.
Last week, a New York appeals court rejected Trump's attempt to sue Judge Arthur Engoron, who is presiding over a civil fraud trial case brought by the New York attorney general, Letitia James. The state claims Trump "exaggerated his net worth in some years by as much as $2.2 billion to obtain favorable loan terms from banks."
Also last week, Judge Engoron found Trump "liable for fraudulently overvaluing his assets" and "[stripped] him of control over his New York properties."
Trump told reporters before the trial began that the case was a "scam," a "sham" and a political vendetta by James, and during a lunch break called the Democrat "a corrupt person, a terrible person. Driving people out of New York."
And they regurgitated it! In the bloody headline!
Do you see why AP caused more than a grimace when I opened Memorandum Monday morning: Trump says New York fraud case is a "scam." The Hill used that exact framing. They actively gave credence to a lie, yet they do not report his many calls to violence.
Why? My only guess is that it's easier to do the "same old thing" than to acknowledge that how driving through ruts on auto-pilot validates Trump lies. Daily.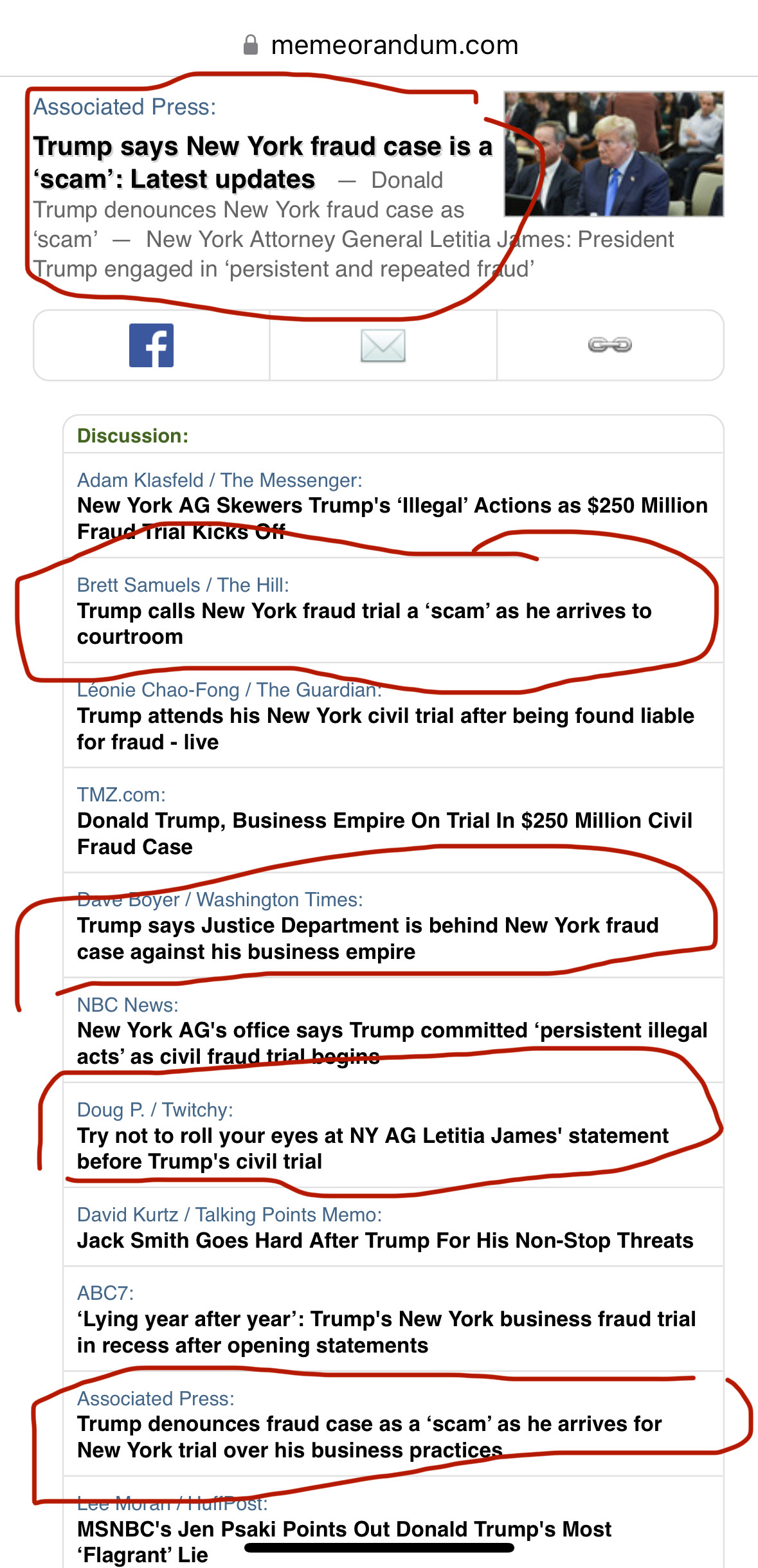 ~
Talk to me: Facebook | Mastodon | Twitter
Featured image: Kathy E. Gill and MidJourney
Known for gnawing at complex questions like a terrier with a bone. Digital evangelist, writer, teacher. Transplanted Southerner; teach newbies to ride motorcycles. @kegill (Twitter and Mastodon.social); wiredpen.com