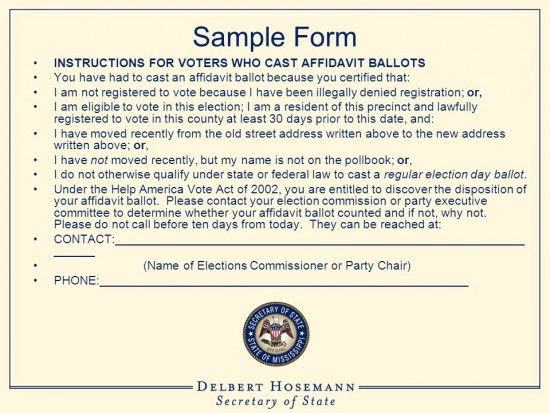 Just moved? Lost your ID? The Affidavit Ballot is your Friend
by David Anderson

This moment is the final countdown. We are speeding towards the event horizon of our nation's destiny. A lofty metaphor for sure, but life on the ground is rarely so prosaic. Registrations are lost, people move at the last minute, or IDs are forgotten or unavailable. Because countless folks think they can't vote, they don't, when actually they can. The bureaucracy moves slower than the individual lives of citizens, and there's a knowledge gap there which results in disenfranchisement. Many eligible voters don't bother turning up because they don't think their "papers are in order."
Fortunately there's a solution, or as the kids today say: a "Life Hack." It is known as an affidavit or provisional/emergency ballot and all polling places have them. This method is not voter fraud, it is not unethical, and the majority of affidavit ballots are accepted and counted. It is as American as computer glitches and forgotten IDs. Ours is an expansive and inclusive system. Affidavit ballots were codified by the 2002 Help America Vote Act (HAVA), introduced after all the shenanigans of 2000.
You do not always need an ID to be given an affidavit ballot. While other I.D. rules differ by jurisdiction (and generally aren't as strict or uniform as everyone seems to think) – if you do have it, as with any aspect of American life, it's advisable to bring your ID along. Don't let it stop you turning up, though. Maybe a signature is missing or illegible in your square on the voter rolls, maybe your name is misspelled or the official record of your happy existence is somehow defective. Maybe the election supervisor is a super stickler and legally in the wrong. Enter the affidavit ballot.
Most commonly, affidavit ballots are used because registered voters are in the state, but not physically in the county where they are registered to pull the lever. Sometimes, apparently, with all this election madness they have run screaming from their homes and families into the hills where they're not registered locally. In that event they can also ask for an affidavit ballot.
Remember, our democracy is as inclusive as possible, and given the vanishingly rare instance of voter fraud outside Republican conspiracy theories, the system is set up to let people vote. These facts mean there really isn't any excuse to not turn up, even if you're worried about your polling place, registration, or ID.
Abusing the system is a felony, of course, and anybody trying to game the system is in trouble. That is almost unheard of though, and also pointless because affidavit ballots are ultimately reconciled with voter lists to be counted. In that worst-case scenario – the ballot can't be reconciled with the master state voter registration list which isn't always available on-site – it is rejected. Rejects represent a minority of affidavit ballots. In the event your affidavit ballot is rejected, the authorities usually write to you as it is your right to find out why your affidavit ballot was rejected.
For specific questions, iwillvote.com and canIvote.org are an excellent resources, and both parties have toll-free voter rights facilities in the various states and in New York City. Trump's is online from Trump Tower (citizensfortrump.com/contact), and its Democrat equivalent is a hotline at Clinton HQ in Brooklyn: 1-844 464-4455 (844-IM4HILL).

David Anderson is an Australian-American (retired) attorney in New York City with a background in venture capital, criminal defense, and M.& A. He writes for counterpunch.org and themoderatevoice.com and consults for an M.& A. firm.