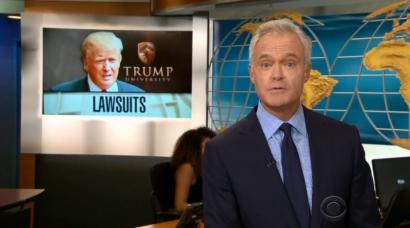 When Republican 2016 presumptive Presidential nominee Donald Trump was in San Diego, he stunned even many seasoned political observers by his long and personal attack on the judge hearing the lawsuit against him centering on complaints about the Trump University real estate program. (Read Don Harrison's detailed report from the scene HERE). The federal judge has now noted the attacks and unsealed the files so public can get to see what's in them.
It's clear now that Trump's unusually long riff about the lawsuit (where he referred to a judge born in Indiana as a "Mexican") was a pre-emptive strike.
A federal judge blasted by Republican presidential candidate Donald Trump Friday has taken note of the fact that Trump isn't happy with the way the judge is handling lawsuits over alleged fraud by the Trump University real estate seminar program.
Just hours after Trump used a campaign speech at a San Diego convention center to unleash a remarkable verbal fusillade against U.S. District Court Judge Gonzalo Curiel, the judge — who also happens to be based in the same southern California city — acknowledged a much more measured fashion of the criticism Trump has aimed at the court.
"Defendant became the front-runner for the Republican nomination in the 2016 presidential race, and has placed the integrity of these court proceedings at issue," Curiel said in an order unsealing a series of internal Trump University documents that Trump's lawyers asked be kept from the public.
The judge's order didn't make reference to Trump's 12-minute tirade Friday afternoon in which the all-but-certain Republican nominee called Curiel a "hater" and again invoked his Latino heritage. However, the judge cited a series of news stories from earlier in the campaign, including an NBC story which noted Trump called Curiel "extremely unfair" and an Associated Press story titled, "Trump: Judge's ethnicity matters in Trump University suit."
The judge's reasoning:
…….Curiel said in his order Friday that Trump's presidential campaign and his criticism of the court were reasons to overrule his objections to the release of so-called "Playbooks" describing Trump University's operations. The judge also noted that one version was published by POLITICO in March. "The entire 2010 Playbook has been posted online by Politico," Curiel wrote.
It's unclear whether the judge knew of Trump's latest volley of attacks when the judge issued the order Friday afternoon, but it seems possible. Curiously, the Republican candidate laid into the judge at about the same time the judge was holding a hearing less than a mile away on a motion by the Washington Post seeking unsealing of the Trump University-related files. The judge's order was released a couple hours after the hearing.
SOME REACTION:
—The conservative blog Red State:
This is an extraordinary election year. The Democrats will nominate an elderly and very unwell woman who has been monumentally incompetent at everything she has turned her hand to and is incapable of recognizing the truth should it leap out of the tall grass and bite her fat, dimpled ass.

The Republicans have rather managed to do much the same.

Where the Democrat candidate stands in jeopardy of being indicted for compromising national security, the GOP candidate will give testimony, under oath, in fraud trial where he is the star.

What did our poor nation do to deserve this?
–The Right Scoop:
If el Trumpo had the intelligence of a common 8-year-old he'd learn to keep his trap shut about the Trump University lawsuit underway, but he isn't blessed with that level of intellect, so his infantile yelling and screaming might have just cost him.

….Good job, genius!!

Basically, the judge heard Trump's insults and said, "hey, you know that lawsuit? It just got 10 times harder!"
Oops #TheMexican RT @thehill: Judge attacked by Trump orders Trump University docs unsealed: https://t.co/h4CYtswAV2 pic.twitter.com/cTcXpxRWF2

— George Lopez (@georgelopez) May 29, 2016
Trump disregard for court proceedings impacts judge in Trump U case https://t.co/uSKVsWISut

— AWomanCalledHaberman (@maggieNYT) May 28, 2016
What would #FoxNews say if Hillary spent 12 mins of a campaign speech trying to intimidate a federal judge? https://t.co/dL9yJTldw4 via @WSJ

— The Daily Edge (@TheDailyEdge) May 28, 2016
Joe Gandelman is a former fulltime journalist who freelanced in India, Spain, Bangladesh and Cypress writing for publications such as the Christian Science Monitor and Newsweek. He also did radio reports from Madrid for NPR's All Things Considered. He has worked on two U.S. newspapers and quit the news biz in 1990 to go into entertainment. He also has written for The Week and several online publications, did a column for Cagle Cartoons Syndicate and has appeared on CNN.