(UPDATED) James Comey Helped Elect Donald Trump, But Could He Now Be His Greatest Foe?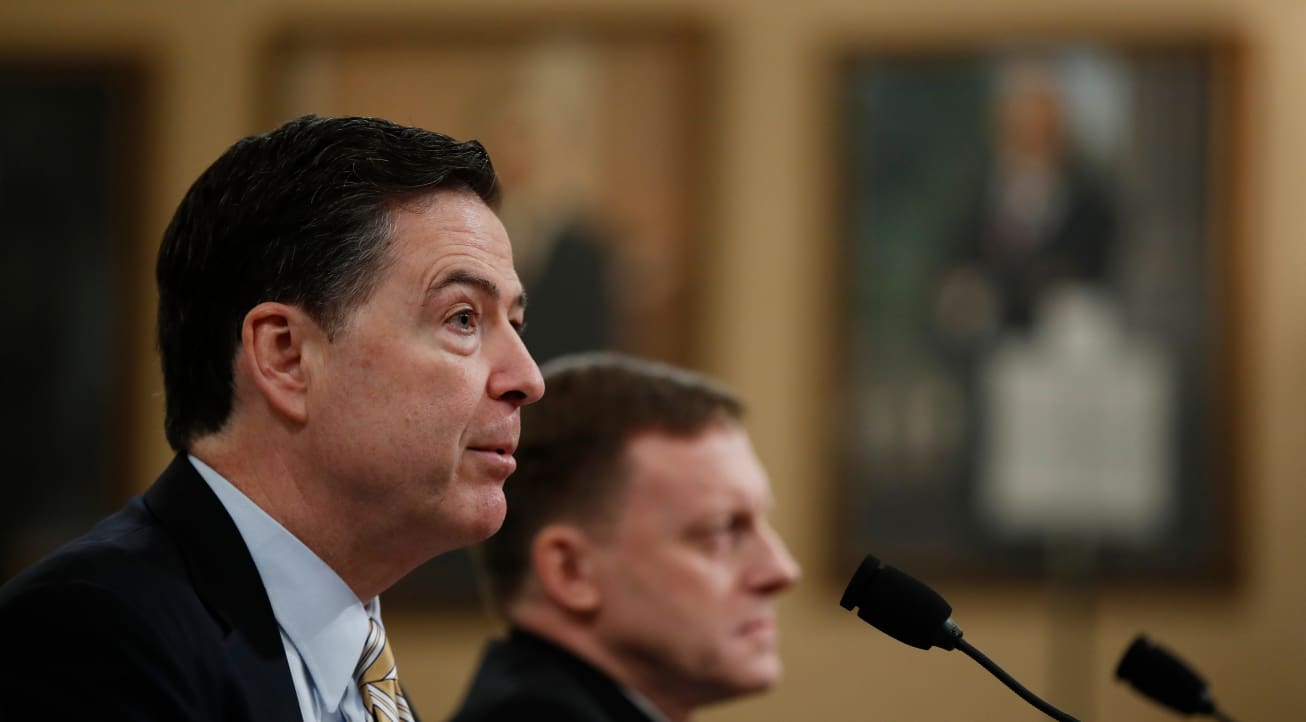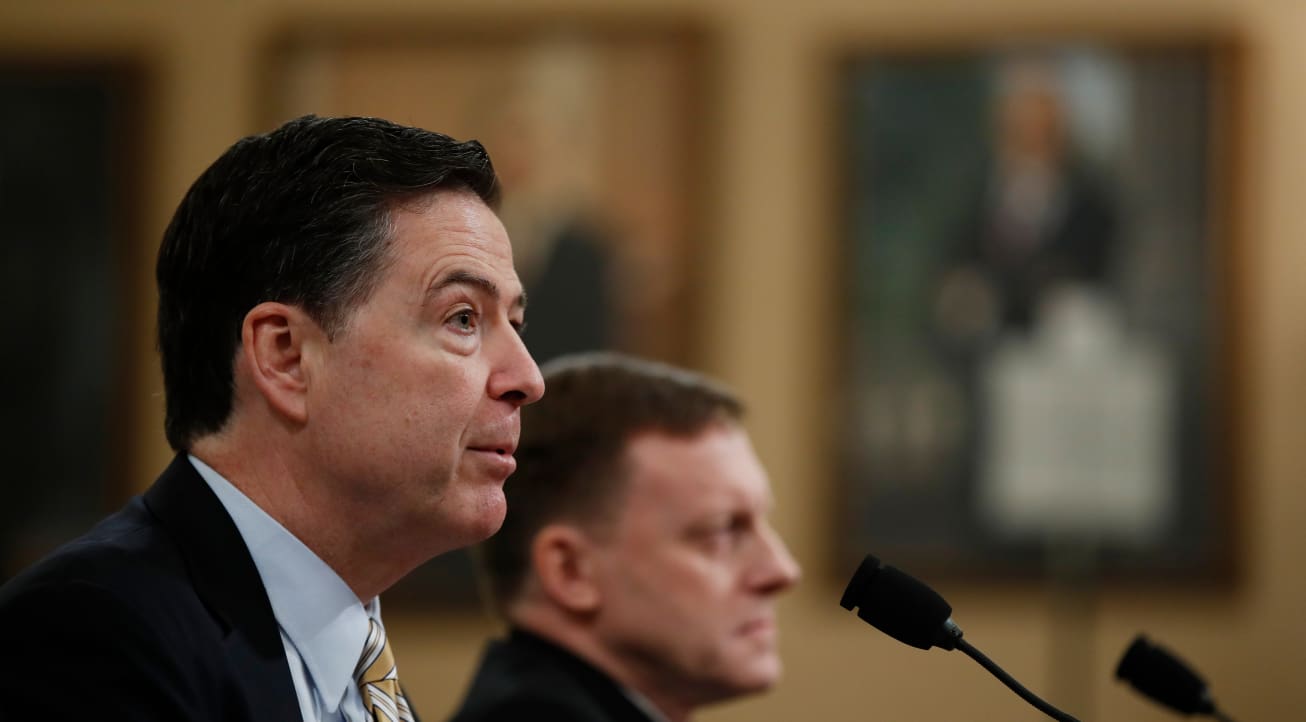 There is little doubt that American intelligence agencies have long believed that Donald Trump's inner circle and perhaps the man himself aided and abetted Russian efforts to throw the 2016 presidential election. How long they have believed that is germane because it helps explain why the Russia scandal that now engulfs the White House has taken so long to come to a boil.
The conduct of the FBI is hugely relevant in this regard because it is the lead investigative agency on domestic intelligence concerns, not the Justice Department or CIA, let alone congressional intelligence committees, and the deportment of its director, James Comey, raises troubling questions.
Let's be clear from the jump that I'm not suggesting Comey is a Russian agent or is in the bag for Trump. He's not, but he doesn't have to be because his actions — and inactions — behind the scenes and publicly arguably were the coup de grâce that enabled the least qualified man in modern presidential history to improbably beat an unpopular but eminently qualified opponent. At this point, it matters not that Trump lost to Hillary Clinton by nearly three million popular votes. There will be no redo.
The consequences of Trump's Electoral College victory have been disastrous, and he's only been in office less than three months, while getting to the bottom of the Russia scandal may go far toward determining how long we have to live under the Trump kleptocracy.
§
As early as 2013, U.S. intelligence agencies were aware of contacts by Trump's inner circle with Russians with ties to the Kremlin's intelligence services, as well as Trump's own dealings with Russians, including mobster Felix Sater, and his admiration for Russian President Vladimir Putin.
A timeline of the FBI's involvement in the Russia scandal — that is, the information we have on which to judge Comey and the bureau — has slowly come into focus. This timeline is by no means complete, and there are outlier accounts, notably one in Newsweek magazine, but there is a consensus of a sort as detailed in a recent New York Times story, among several others, that this is what has happened over the last 10 months:
* In early June of 2016, the CIA concludes in an internal report that Russia is actively engaged in meddling in the presidential election, and that includes the goal of getting Trump into the White House, not merely disrupting the U.S. political system.
* On July 5, Comey rebukes Clinton for being "extremely careless" but recommends no criminal charges in connection with her handling of classified information, including emails on a private server, as secretary of state, lifting a cloud from her presidential campaign.
* On July 19, Trump is nominated for president at the Republican National Convention after he and surrogates declare, in what becomes an oft-repeated campaign theme in the coming weeks, that Clinton should be "in jail" for her use of the private email server.
* By late July, the FBI has opened a counterintelligence investigation to examine possible links between the Trump campaign and Russia, but its existence is kept secret even from high ranking members of Congress colloquially known as the Gang of Eight.
* In the course of that investigation, the FBI obtains and then renews a FISA Court warrant allowing it to monitor Trump campaign foreign policy adviser Carter Page, whom it believes is in touch with Russian agents and had been used in previous years by spies for Moscow to obtain information.
* By August, the CIA concludes that unnamed Trump campaign advisers might be working with the Russians to interfere in the election by sabotaging the Clinton campaign through a multi-pronged attack approved by Putin that includes email hacking, disinformation and false news stories.
* By late August, CIA Director John Brennan is so concerned about Trump-Russia links that he initiates urgent, one-on-one briefings with the Gang of Eight — four Democrats and four Republicans — who by law are to be briefed on important intelligence matters.
* On August 25, Brennan briefs Senate Majority Leader Harry Reid, then the highest ranking Democrat. With Congress in recess, Brennan explains to Reid over a secure phone link that the FBI and not the CIA would have to take the lead in what is a domestic intelligence matter.
* In late August, Reid writes to Comey without mentioning the CIA briefing. He expresses great concern over what he calls mounting evidence "of a direct connection between the Russian government and Donald Trump's presidential campaign."
* By September, intelligence shows that although Republican sites also are being hacked by Russian hackers, only Democratic emails are being publicized by Putin ally Wikileaks, but the FBI apparently still has not found conclusive evidence of Trump-Russia connections.
* On September 22, two other Gang of Eight members — Dianne Feinstein and Representative Adam B. Schiff, the ranking Senate and House intelligence committee Democrats — release a statement stating that Russian intelligence agencies are "making a serious and concerted effort" to influence the election.
* In late September, Senate Minority Leader Mitch McConnell, at the behind-the-scenes urging of the Obama administration, is asked to warn state election officials of possible attempts to penetrate their computer systems by Russian hackers. McConnell resists, questioning the veracity of the intelligence.
* On September 25, McConnell writes to state election officials. He does not mention the Russian connection, but warns of unnamed "malefactors" who might seek to disrupt elections through online intrusions. Reid and Gang of Eight Democrat Nancy Pelosi and Republican Paul Ryan also sign the letter.
* On October 28, Comey tells Congress that the FBI is reopening its Clinton investigation because of emails found on a computer belonging to former Congressman Anthony Weiner, whose estranged wife is a top Clinton aide, throwing the Clinton campaign into crisis only 10 days before the election.
* On October 30, Reid writes an angry letter to Comey accusing him of a "double standard" in renewing the Clinton investigation so close to the election while sitting on "explosive information" on ties between Trump and Russia. Comey's response, if any, is not known.
* On November 6, Comey announces that after a intensive review of the "new" emails, they were found to be either personal or duplicates of those previously examined, and that the FBI had not changed the conclusions it reached in July in exonerating Clinton.
* On November 8, Trump defeats Clinton decisively in the Election College but loses the popular vote in a close race that pundits widely agree was decided by voters who were influenced by Trump's repeated characterization of Clinton as being a criminal and Comey's October 28 announcement.
* By early January, the CIA and FBI have "high confidence" that Russia was trying to help Trump through a hacking campaign, while the NSA has only "moderate confidence." The agencies also believe that Russia gained election board computer access in a number of states.
* On January 5, President Obama's national security director releases a report stating that the CIA, FBI and NSA believe that Russians hacked Democratic email accounts and then passed the emails on to WikiLeaks to try to tip the election to Trump because he would be friendlier to Russian interests.
* On January 20, Trump becomes president. He insists that the Russia scandal is "false news" while naming several people to key positions who had secret contacts with Russians involved in the election meddling effort, including his national security director, who is soon cashiered and later threatens to tell what he knows.
* On March 20, Comey in effect calls Trump a liar in publicly acknowledging for the first time in testimony before Congress that the FBI's investigation into Russian election meddling includes Trump associates' contacts with Russians who were working to sabotage Clinton.
Meanwhile, on April 7, Spanish authorities arrested Pyotr Levashov at the request of U.S. authorities, who believe he is one of the Russian election meddlers who distributed pro-Trump "fake news" to try to influence voters. Levashov, who was vacationing in Barcelona with his family, has been identified by private cyber-crime analysts as possibly the man behind the moniker Peter Severa (Peter of the North in Russian), who under that name has specialized in employing spambot engines that can infect tens of thousands of computers with billions of spam messages.
If a Spanish court agrees to the U.S. request to extradite Levashov, he would become the first person charged in connection with the election meddling.
§
Why did Americans go to the polls on November 8 without knowing what was really going on? And why did Comey remain silent until over four months after the election?
The short answer to these questions is that while intelligence agencies raced in the final weeks of the campaign to understand the scope of the Russian meddling, the Democrats and Republicans who were privy to classified intelligence briefings saw the intelligence through an acutely political lens — and consequently missed the elephant in the room — while sparring endlessly over whether the intelligence showed that the Russians were helping Trump.
President Obama feared that a public statement about Russia's pro-Trump efforts would look like a "partisan" attempt to help Clinton, while Comey separately had a similar concern. In Obama's case, this was an enormous failure of leadership, while in Comey's case it doesn't add up because the FBI director exhibited no such restraint in telling Congress 10 days before the election that an investigation into Clinton's emails had been reopened.
The least worst rationale for Comey's actions is this: The FBI director was still smarting from attacks from the Republican leadership and relentless criticism from candidate Trump for closing the initial Clinton investigation without drawing blood and believed he had no choice but to let Congress know of developments that he was unable to walk back eight days later when they turned out to not be new at all but almost certainly gave Trump an 11th hour bump.
These answers and explanations are deeply unsatisfactory because of that elephant in the room:
The Russian effort to elect Trump was an unprecedented assault from the U.S.'s greatest foe on the bedrock of American democracy and is the most explosive scandal since Soviet spies stole atomic bomb secrets over 70 years ago.
That should have overridden the partisan nattering, but did not. The consequent failure of leadership in the White House, FBI and Congress was immense, and something insightful historians will be dining out on for years to come.
Yet it may turn out that Comey, who would seem to be the good guy turned villain in this drama, could become its hero.
This is because Republicans have build a protective wall around Trump that not even the supposedly nonpartisan leaders of the Senate Intelligence Committee may be able to surmount in investigating the Russia scandal. The House intel committee, of course, has been deeply compromised because of its now recused chairman's efforts to not just protect Trump, but to be a willing pawn in the White House's ham-handed efforts to push back against the scandal and try to change the subject, which certainly was a factor in the April 6 cruise missile attack on a Syrian air base.
Only the FBI may be capable of sorting through a scandal deeply complicated by sensitive and often secret information involving international espionage and electronic spying to accumulate the damning evidence that would stand up in a court of law against Trump's inner circle. And perhaps the president himself.
PHOTOGRAPH COURTESY OF CNN
GO HERE to read some recent posts on the Russia scandal