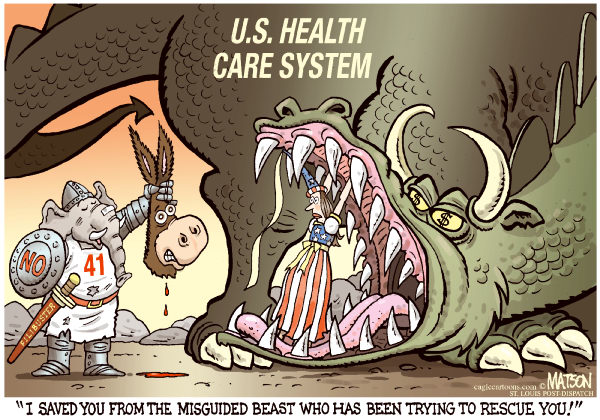 The question of the day now becomes: despite officials statements, is President Barack Obama's actual leadership role in efforts to salvage health care reform lacking? According to a report by The Huffington Post's Sam Stein it is:
Despite urging Democratic senators on Wednesday to forge ahead on health care reform, President Obama and his aides have been largely hands-off in guiding the legislative process, Senate aides tell the Huffington Post. And on Thursday a leading Senate progressive called out the White House publicly for abandoning the leadership role that is needed to get legislation passed.

"The president was weighing in pretty heavily on the discussions between the House and Senate before the Massachusetts special [Senate] election," Sen. Sherrod Brown (D-Ohio) told Huffington Post. "It's dried up since."

"I think the president needs to work out with House Democrats and leaders in the Senate what we've got to do in reconciliation and what we can pass in reconciliation," Brown added. "And I think we can do a lot. I'm not a minimalist here, that we just do the minimum, do the little bit that's required. I think we can do some significant improvements on the Senate bill. We need to because House members are not exactly trusting of the Senate these days,

Brown's lament was echoed in conversations with several high-ranking Senate aides this past week, many of whom agreed that the administration's involvement in health care negotiations has declined since Scott Brown's victory in the Massachusetts Senate race. Part of the toned-down engagement seems tactical. The main hurdle to getting reform passed is an absence of conviction among House Democratic lawmakers that the Senate will amend their bill using reconciliation. And it's debatable how much the president can do to generate that trust.
The first year of the Obama administration, Obama's push to do something on what is clearly now established as the politically suicidal mission of trying to reform health care when such efforts run into a buzzsaw of political partisan and industry opposition, and Democrats in Congress acting as if they had all the time in the world to pass a bill will surely go down in political history as a lost opportunity.
Obama and the Democrats made a decision that rather than make the main message of 2009 jobs jobs jobs they would expend political capital to enact health care reform — and they wanted to do it in the worst possible way.
They partially succeeded:
They expended political capital.
And they did it in the worst possible way.
It seems that now the goal seems to be to avoid expending political capital — which, if done ham-handily could be in the worst possible way, too…
The copyrighted cartoon by RJ Matson, The St. Louis Post Dispatch is licensed to run on TMV. Unauthorized reproduction prohibited. All rights reserved.
Joe Gandelman is a former fulltime journalist who freelanced in India, Spain, Bangladesh and Cypress writing for publications such as the Christian Science Monitor and Newsweek. He also did radio reports from Madrid for NPR's All Things Considered. He has worked on two U.S. newspapers and quit the news biz in 1990 to go into entertainment. He also has written for The Week and several online publications, did a column for Cagle Cartoons Syndicate and has appeared on CNN.