Great Music Chapter 5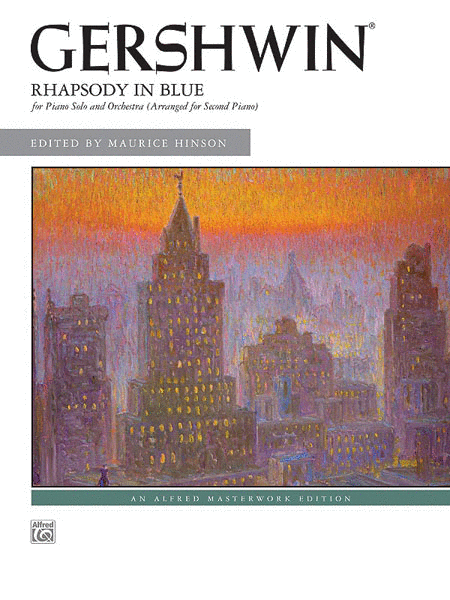 This chapter of great music will focus on an American composer, George Gershwin. Many consider Gershwin to be the greatest of American composers, although Aaron Copland, Edward MacDowell and Scott Joplin would also get many votes. George was born in 1898, two years after his musician brother, Ira Gershwin. The Gershwin family moved to Brooklyn, New York in the early 1890's escaping the anti-Jewish hostilities in Russia.
George Gershwin was a New Yorker through and through. When asked where he got his musical ideas, he replied – there is music in the air all the time, people talking and yelling, horns honking, jackhammers pounding away, the subway cars screeching and the like. Every sound is like a note in music, the sounds just have to be organized. While both George and Ira took piano lessons as kids, it wasn't until they were through with High School and had to make a living that they put their musical talent to work. Both worked in New York's "Tin Pan Alley" composing short musical ditties and making piano rolls for player pianos that they could sell.
Being a musician in New York meant being around, and influenced by, many other musicians. It was a friendship with Jazz band conducter, Paul Whiteman, who pushed Gershwin to write an American Rhapsody. The initial composition was primarily George on the piano with relatively few additional instruments. It was during a rehearsal of this shorter Jazz version that clarinetist, Ross Gorman, as kind of a joke opened the piece with the now famous glissando ( a musical term illustrating a run of playing all the notes 2 or more octaves so quickly that only the first and last notes are identifiable). Everyone loved this addition, and it became the signature of the Rhapsody in Blue. The term Rhapsody in music refers to a collection of different musical ideas woven into an overarching theme.
This initial jazz version of Rhapsody in Blue met limited success and it was not until 1942 when Gershwin's friend Ferde Grofe orchestrated the piece and this is the version that has become famous in movies and TV commercials. In many ways the success of Rhapsody in Blue has overshadowed the breadth of Gershwin's composing talents. Gershwin composed a number of musicals including the famous, "Porgy & Bess" along with dozens of shorter compositions. His "Three Preludes" is a staple of music that our own piano students learn to play. Unfortunately, not too many of our piano students want to tackle the difficult 28 pages that constitute just the piano part of the Rhapsody in Blue.
Unfortunately, Gershwin died of a brain tumor in 1937 at the same too young age of 39 as Chopin. Like Chopin one wonders what great music might have been composed in his 40's and 50's, the age when composers are usually at the height of their creative abilities. One interesting sidelight, Gershwin moved to Paris in the mid 1920's to study with famous composers like Maurice Ravel. They all told him to go back to New York and build on your unique musical insight rather than become a typical classical composer. Gershwin did, America and the rest of the world is grateful.