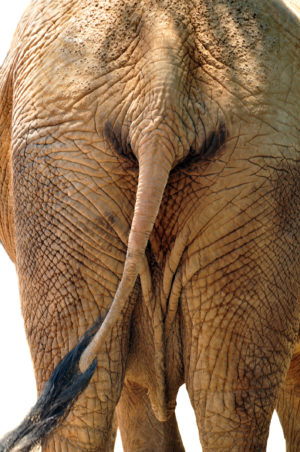 The latest development in the saga of Republican George Santos, a modern day Pinnochio whose nose now reaches across the ocean to Madrid, continues with the latest news: Santos is stepping down "temporarily" from his new House committee assignments. In case you've been living on the planet Puto, Santos has been pitchforked into the headlines as a fabulist and liar who's usually seen in news and TikTok videos scurrying into his office or staring steadfastly ahead as he bolts down a corridor trying to avoid reporters' questions.
Some say Santos is now becoming "the face of the Republican Party."
Actually, when you hear the name "George Santos" an elephant's face isn't the part of its anatomy that comes to mind.
In this early part of the 21st century, where misinformation, fabrications and lies are so blatant that a can of Chef Boyardee Ravioli on the shelf at Safeway screeches "LIE!", Santos stands out as seemingly having sunk to standards even lower than the array of liars in politics and in political entertainment media.
Go back 20 or 30 years and even with lies being told in those quainter times a member of Congress who produced more whoppers than Burger King would have been drummed out of Congress
Santos isn't being drummed out of Congress. He's being tamborined out.
Embattled Rep. George Santos (R-N.Y.) told House Republicans on Tuesday that he will step down temporarily from his committee assignments amid multiple investigations into his campaign finances after he lied about key aspects of his biography.

Santos, who has admitted to fabricating details about his education, work, religion and heritage since his election in November, said in a closed-door meeting of House Republicans that he would remove himself from his assignments on the House Small Business Committee and the Science, Space and Technology Committee.

The temporary retreat from committees marks Santos's first major concession after weeks of maintaining a steadfast resistance to any consequences over his fabrications.

Santos told the meeting that he will step down because "he's a distraction," according to a Republican lawmaker who spoke on the condition of anonymity to discuss the private meeting. The conversation comes one day after Santos met with House Speaker Kevin McCarthy (R-Calif.).

House Small Business Committee Chairman Roger Williams (R-Tex.) said he understood that the withdrawal is temporary, until Santos is cleared of ongoing investigations. The 34-year-old freshman Republican has faced increased scrutiny, including a federal probe into his campaign finances and local investigation into his résumé fabrications, since the revelation of his misrepresentations of his experience, personal life and education.

"It took me by surprise but it was probably the right decision," Williams said.

"Without the ethics investigation being complete, I think it's the right decision," said Rep. Michael Lawler (R-N.Y.), who had also called on Santos to resign.

To get scoops, sharp political analysis and accountability journalism in your inbox each morning, sign up for The Early 202.

Emerging from the meeting, Santos declined to comment, saying, "I think you should talk to leadership if you want details pertaining to committees." Later, when asked whether McCarthy asked him to step down, Santos answered that it was his decision.

"Nobody tells me to do anything," he said. "I made a decision on my own that I thought best represented the interest of the voters."
I wonder: did a poll of voters from his district released today have anything to do with his decision?
In resisting calls to push out embattled Rep. George Santos (R-N.Y.), House Speaker Kevin McCarthy has insisted that it's up to the voters.

Well, the voters have spoken, and they clearly want him out. In fact, they have expressed that preference by a rather historic margin.

A Newsday/Siena College poll finds that 78 percent of voters in Santos's congressional district want him to resign.

This builds on a previous Siena poll last week which showed 59 percent of voters statewide calling for the resignation of the freshman congressman, whose myriad lies and legal liabilities have loomed over his extremely young tenure. (Even that poll suggested the numbers might be higher in his Long Island-based district; 71 percent in the New York City suburbs called for him to resign.)

The numbers from the new poll, specific to the 3rd Congressional District, are roundly brutal for Santos…
Santos is an adept golfer. His favorite part is playing it where it lies.
George Santos has stepped aside (with a push or two) from the House Small Business Committee and the Science & Technology Committee. Is that any way to treat the founder of Walmart and the inventor of the iPhone?

— Larry Sabato (@LarrySabato) January 31, 2023
After Santos refs the Super Bowl and shoots White Lotus 3, his time should open up to fulfill committee assignments. https://t.co/tGEBM2d2ZB

— Kenny Mayne (@Kenny_Mayne) January 31, 2023
McCarthy knows the writing is on the wall for Santos. I'm 100% certain the decision to step down from his committees was NOT made by George Santos.

— Mueller, She Wrote (@MuellerSheWrote) January 31, 2023
NEW: George Santos reported meals at a Miami Beach diner. The diner found no record of them.

He reported parking at a Miami Beach lot. The city says the dollar amounts would be impossible.

Retracing Santos' steps in South Florida:https://t.co/yY6xQvAGso

— Aaron Leibowitz (@aaron_leib) January 30, 2023
Why are House Republicans continuing to coddle serial fraudster George Santos?

— Hakeem Jeffries (@hakeemjeffries) January 31, 2023
You can be pretty sure that McCarthy forced Santos to step down from committees not based on what we already know, but on what he knows we're going to find out.

— Harry Litman (@harrylitman) January 31, 2023
Victoria and Jonathan Regor each contributed $2,800—the max amount—to George Santos' first bid for a House seat. Their listed address was 45 New Mexico Street in New Jersey.

Various databases suggest those names don't exist. Neither does that address. ?https://t.co/ZVIGYjoqYY

— Abby Vesoulis (@abbyvesoulis) January 30, 2023
I don't believe Santos is doing this to avoid distraction. I suspect he is doing this to potentially avoid the same outcome as a result of House rules… https://t.co/E2zsjhcYlN

— Marc E. Elias (@marceelias) January 31, 2023
Kevin McCarthy: Your constituents want you to resign, George.

George Santos: How about I promise not to do any work instead?

McCarthy: Works for me.

— Jack E. Smith ?? (@7Veritas4) January 31, 2023
If MTG says it was Santos' decision, that definitely means it wasn't. https://t.co/ivDKysjxDF

— Mueller, She Wrote (@MuellerSheWrote) January 31, 2023
BREAKING: Bombshell new investigation discovers that over a dozen "donors" who contributed to George Santos' 2020 campaign do not exist and some of their addresses are not even real places — suggesting the possibility of criminal behavior. RT TO DEMAND A FEDERAL INVESTIGATION!

— Occupy Democrats (@OccupyDemocrats) January 30, 2023
Photo: Dreamstime
Joe Gandelman is a former fulltime journalist who freelanced in India, Spain, Bangladesh and Cypress writing for publications such as the Christian Science Monitor and Newsweek. He also did radio reports from Madrid for NPR's All Things Considered. He has worked on two U.S. newspapers and quit the news biz in 1990 to go into entertainment. He also has written for The Week and several online publications, did a column for Cagle Cartoons Syndicate and has appeared on CNN.