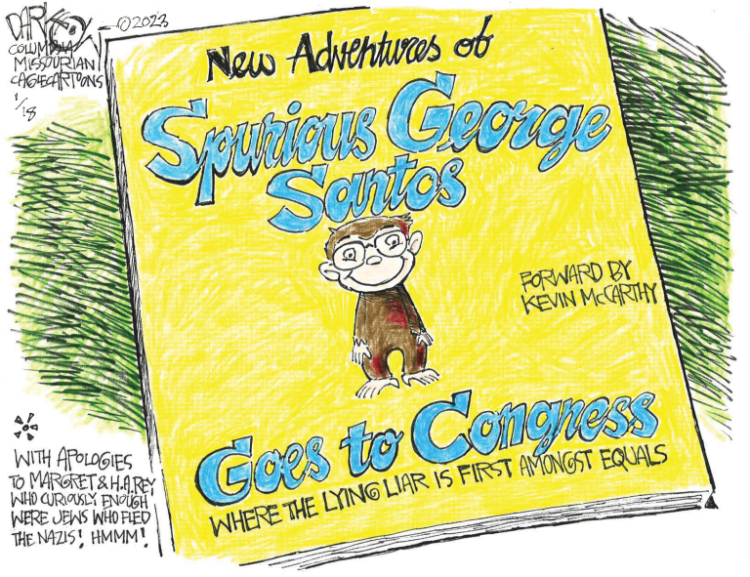 It seems that each day there's a new revelation about a new Congressman named George Santos, AKA George Devolder, AKA Anthony Devolder, AKA George or Anthony Zabrovsky AKA drag queen Kitara. Santos/Devolder/Zabrovsky/Kitara was recently awarded two plum committee appointments by GOP Speaker of the House Kevin McCarthy, who sorely needed Santos' vote to get his dream job.
If the saying "Liar Liar pants on fire" was reality, then Santos would be totally naked by now and suffering from third degree burns.
The portrait emerging of Santos resembles a more insidious version of Professor Harold Hill from the musical Music Man. But instead of Santos singing "Trouble right here in River City" he means trouble to American politics, since he has been given a blessing and pass by Kevin "Power at all Costs" McCarthy.
You wonder: can American politics sink any lower? Then you think of the past few years and you quickly have your answer.
Former Republican Congressman Peter King thinks Santos/Devolder/Zabrovsky/Kitara has a rough road ahead:
In the latest twist in the surreal saga of George Santos, this mystery man congressman has been named to seats on the House committees for small business and for science. As a former chairman of a House committee, I can envision the scene. Seating location is determined by seniority. As a new member, Mr. Santos will be seated on the distant end of the dais, which in a normal situation means zero attention from fellow members and minimal media coverage. But in Mr. Santos's case, every time he speaks, every time he asks a question, the media spotlight will be on him — putting shame on him and unwanted glare on the committee and the Republicans who put him there. How do committee witnesses take his questions seriously? How do committee members sit still for this guy in their midst?

For a member of Congress to be effective, be it through legislation or committee work or deal-making or favor-trading or helping out a constituent, you have to have relationships. It's very hard to get anything done alone. Meaningful achievement begins with some measure of cooperation with colleagues based on friendship, ideology, party affiliation, shared interests, previous collaboration or some combinations thereof. And almost always, mutual trust is a bedrock part of those relationships.

Having served in Congress for 28 years, I cannot imagine how Mr. Santos possibly thinks he can be effective as a member of the House, if he thinks about it at all. In modern politics, I can't recall another freshman lawmaker who took office so completely lacking the trust and respect of his colleagues. Except perhaps for a few ineffective congressional outliers, I can't imagine a member of either party working or cooperating with Mr. Santos. And when you don't have that, you're just faking your way through the workday — something Mr. Santos is apparently pretty good at.

What's it like to be shamed and shunned as a member of Congress, to be a walking outcast among your peers? We have so few examples — Mr. Santos takes us into new territory. New members of Congress get to know one another by sharing stories about where they come from and where they went to school and exploring areas of common interest; Mr. Santos apparently made almost all of this up. New members meet with senior members who can show them the ropes, help them get some early legislative wins; what senior members will want to work with this guy?
Meanwhile, the many lies of Santos/Devolder/Zabrovsky/Kitara are keeping journalists quite busy.
For instance, his claim that his mother was in New York on 9/11. Not!
Rep. George Santos (R-N.Y.) has said his mother was inside one of the World Trade Center towers when they were attacked on Sept. 11, 2001, but immigration records indicate that Santos's mother wasn't in the United States on that day.

The congressman's mother, Fatima Devolder, applied for a visa to enter the United States from her home country of Brazil in February 2003, and on that application she stated that she had not been in the United States since 1999.

But Santos's campaign website tells a different story: "George's mother was in her office in the South Tower on Sept. 11, 2001, when the horrific events of that day unfolded."

The site goes on to say that "She survived the tragic events on September 11th, but she passed away a few years later when she lost her battle to cancer."

The Washington Post previously reported that Santos's mother died in December 2016, after which her son solicited donations to pay for her funeral.
Then there's the report that he kept money he raised to help a gravely ill dog get surgery. Without the money, the dog died. .
As first reported by Patch, Rich Osthoff, who is homeless, said Santos helped him raise $3,000 for his dying dog through Santos' pet charity. But Osthoff said he never got the money from Santos, and his dog died six months later.

In a text message allegedly between the two, Osthoff told Santos: "My dog is going to die because of god knows what. That … fatty deposit is benign. It needs removal, and I'm sick of being jerked around. I'll take her to another vet, but the cash was raised on her behalf. It's … 3x the size it was in April."

"It diminished my faith in humanity," Osthoff told CBS News.

Santos denied the story to Semafor.

"Fake," Santos texted the news outlet. "No clue who this is."
CBS News also spoke with Santos' former roommate, Gregory Morey, who claims Santos stole his Burberry scarf — which he later wore to a "Stop the Steal" rally.
No matter what happens to Santos/Devolder/Zabrovsky/Kitara legally and politically, I'm betting Santos/Devolder/Zabrovsky/Kitara winds up being an extremely wealthy man.
Just watch Hollywood eventually offer him for a bundle for making a movie–or even Netflix series–about him.
Pinnochio, move over.
Joe Gandelman is a former fulltime journalist who freelanced in India, Spain, Bangladesh and Cypress writing for publications such as the Christian Science Monitor and Newsweek. He also did radio reports from Madrid for NPR's All Things Considered. He has worked on two U.S. newspapers and quit the news biz in 1990 to go into entertainment. He also has written for The Week and several online publications, did a column for Cagle Cartoons Syndicate and has appeared on CNN.