Further On Down The Russia Scandal Road: Is That Paul Manafort Finally Going To Flip?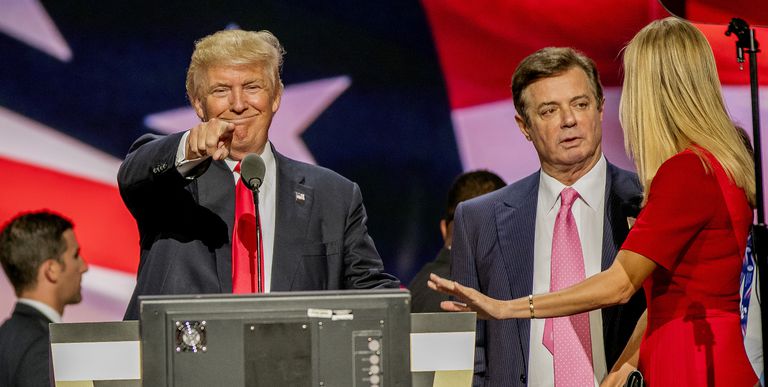 A NOTE FROM THE AUTHOR: I value your comments, especially when
they add to or smartly counter my arguments. Dissenting views always
are welcome. But I am no longer able to reply because of a well-known
glitch in the Disqus system that Joe and Tyrone have been unable to
interest the clowns at Disqus in addressing. My sincere apologies.
News that lawyers for former Trump campaign chairman Paul Manafort have entered into plea deal discussions with prosecutors for the special counsel is intriguing for less the stated reason — to avoid a second costly criminal trial — than the possibility of a huge unstated reason. Manafort knows where the campaign collusion bodies are buried and if he has decided to flip it would give Robert Mueller a potent ace in the hole as he wraps up his Russia scandal investigation with a recommendation that the president be impeached. Or so we hope.
The entire purpose of the Manafort prosecution has been to get him to become a so-called cooperating witness, as have short-lived national security adviser Michael Flynn and Rick Gates, Manafort's longtime business partner, among others.
Through squeezing Manafort on the bank and tax fraud charges for which he was (mostly) found guilty after his first trial last month and the money laundering charges he faces when his second trial begins on September 24, prosecutors have sought to wear down his sorry 69-year-old ass.
But there is another actor in this high-stakes drama: Donald Trump, and few observers expect him to not pardon Manafort.
The question is when, whether before the November 6 midterm election, after Mueller completes his investigation, or whenever. But a federal-level pardon is complicated by two other matters — whether Manafort flips and Trump consequently flips him the bird after praising him for being "such a brave man" by not cooperating, and the probability that some of the pardonable charges could be refiled at the New York state level, which would be beyond the president's reach.
Manafort is the key to unlocking the collusion puzzle for Mueller:
* Trump was one of the first clients retained by Manafort, Roger Stone and Charlie Black when they founded a lobbying business in 1980. Spy magazine was to name the firm the "sleaziest of all in the Beltway" in 1992.
* In 2005, Manafort began a long business relationship with Konstantin Kilimnik, a Ukrainian with extensive Russian intelligence connections, who has been indicted by Mueller.
* In 2006, Manafort bought a condo on an upper floor of Trump Tower for $3.6 million and subsequently bought a brownstone in Brooklyn and a Trump SoHo condo using shell companies and paying with cash for the properties.
* By 2016, Manafort had taken at least 14 trips to Moscow and his ties to the Kremlin through his Vladimir Putin-allied clients in Ukraine were extensive.
* In February 2016, Stone recommended to Trump that he hire Manafort, who curiously offered to work for Trump's campaign for free although he was in dire financial straits, suggesting the possibility he already was working for Moscow in its nascent effort to interfere in the presidential election.
* On June 6, 2016, Manafort attended the infamous Trump Tower meeting with a Russian cut-out promising "dirt" on Hillary Clinton and took contemporaneous notes later seized by FBI agents working for Mueller.
* On June 20, 2016, Manafort, who had been under FBI surveillance approved by the FISA Court, became Trump's campaign manager.
* In late July 2016, former British spy Christopher Steele stated in one of the memos that were to make up his dossier that one of his Russian sources had determined that Manafort "managed" the campaign side of a Russian-campaign collaboration to interfere in the election by cybersabotaging Clinton.
* On August 19, 2016, Manafort was dismissed by Trump son-in-law Jared Kushner on Trump's orders after The Washington Post reported that he had been paid millions of dollars by a pro-Moscow Ukrainian political party.
* The FISA Court warrant was renewed a few days before Trump took office on January 20, 2017, and includes a subsequent period when he was known to still talk to then-President Trump.
This may seem like a convincing case for collusion, but it's largely circumstantial.
Moving that case from circumstantial to provable in a court of law might not require Manafort. But if the man once called "The American Hustler" by a news magazine is haunted by the looming possibility he will spend the rest of his life in orange prison jumpsuits and not garb like the $15,000 silk-lined ostrich leather bomber jacket to which he had become accustomed, he might just talk.
Click HERE for a comprehensive timeline of the Russia scandal
and related developments.