FORKED TONGUE: In 1996 NEWT GINGRICH authored long lists of INSULTS HE URGED be spewed TOWARD OTHERS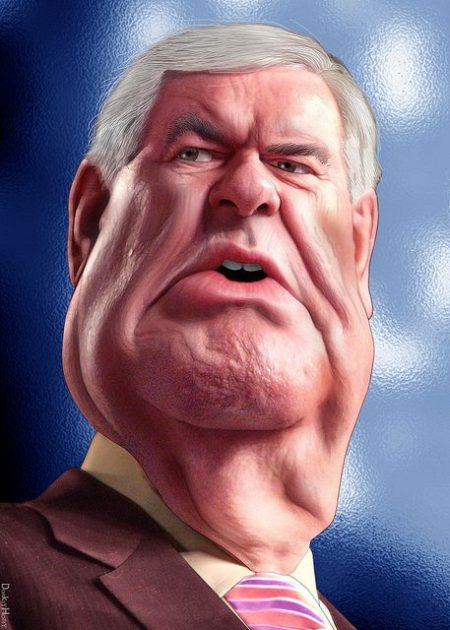 I'm sorry to bring this to you, for before the presidential elections I had written an article for themoderatevoice calling for several prominent elected officials to speak out against the seeming solicited, hooting, violence breaking out at Trump rallies. Every person I asked to condemn 'violence fluffing' responded. Except Newt.
Now I see why. Gingrich seemingly the father of acid throwing, today, 'forgot' it was he himself who literally called publicly over and over –for screed and acid, namecalling, incivility and mocking to be thrown legislatively, publicly and personally…in the faces of persons who were not him nor like him.
It was 21 years ago in 1996 when Newt sat down and wrote out his list of base insults he wanted others to unleash against whomsoever Gingrich saw as not mirroring himself. He published his list of hateful insults in a GOPAC memo [1996] and also a bit later in one of his books distributed across the nation. Not even going to go into detail about Gingrich's censure by his own colleagues.
Today, Gingrich opined about the egregious shootings at a Republican baseball [findraiser] practice in a park in Alexandria Va.. Instead of saying concern only and trying to understand what happened, he again jumped to conclusions without proofs, made a tragic event into a shabby showcase for "Newt Will Now Speak" by saying the shootings were "part of a pattern" of behavior on the left.
As Gingrich has done before in trivializing /insulting the persons who died and were maimed for life in the Columbine High School massacre in 1999, making trite the slaughter of souls at Virginia Tech, privileged Gingrich has a long record of hateful one-inch-deep thoughts about tragedies, His ranting trying to huff and puff his way to tie murderous shooters to the 'left' as he sees/screeds it–  is his now flaccid war cry for others to see it his way. That Newt piles on with his politics before the bodies are healed or buried: Desecration of decency is Newt Gingrich.
Today is no different for Newt than 21 years ago when he wrote his insult list urging others to unleash his hostile words; not different than 19 years ago in his deeply indecent remarks about Columbine; and not different from even six years ago when in a Politico report Newt criticized liberals, feeling they blamed conservatives over the devastating head wound a shooter made on Arizona House Representative Gabrielle Giffords [D] at a constituent gathering in Tucson Az. Then, Gingrich said "There's no evidence that I know of that this person was anything except nuts."
Hold that thought Newt.
What has gone wrong in a man, now old, who 'suddenly forgets' he is 'THE Father of Screed, Discourtesy and Hostility' in public and legislative discourse — that he WROTE the screed himself, that he CALLED for others to join in, that he BELLOWED that his hostile words be unleashed endlessly. And that he PUBLISHED and DISTRIBUTED the lists of his hateful-hostile words — that now stand as proof that if there is a bacterial INFECTION in Congress and elsewhere in political 'discourse' that Newt is the giant Jabba the Hug host and leperous carrier of that pernicious infection, starting 21 years ago. And keeping up the spreading of the hate-sickness, ad infinitum.
Today, white haired Gingrich is all about 'forgetting' what abject and purposeful sewage he personally poured and poured into OUR nation. For Newt, there's no balance. Just praise for his mirrors. And condemnation and screed for those who do not reflect himself.
Here is the article I wrote for themoderatevoice in 2012, re Newt's List of Hateful Words. It still stands as clear evidence of who concocted the tar, who poured it liberally, infecting far too much of our once peaceful 'live and let live' culture– to all our detriment. Except Newt's.
ARTICLE FROM 2012:
Below is the list of negative words Newt proposed be used by potential candidates against their opponents: It is from Newt Gingrich's 1996 GOPAC memo.
[pullquote] I remember reading a nearly identical list of negative words in one of his books and wondered why he would broadcast his strategy that then could so easily be boomeranged back on him by his opposition.

It's odd now, all these years later, his language has not matured over these last 16 years, for many of these same negatives he touted years ago, still appear in his weakest protestations and condemnations.

And too, many of these words from his very own list of things to call others… are used against him now: disgraced, lie, bizarre moods, corrupt, self-serving.

I just think of Old Laertes in Greek mythos who was wise enough to know when to put up his sword, for he was so out of shape he could no longer keep up. He was instead filled with blather about what he did, what he thought, how things should be. But, he never listened to what others did, thought, wanted. Therefore, he forfeited being a true leader.

So, instead he then sat by the fire telling whatever young men would listen about all his carefully inflated adventures when he'd once been in his prime– and in his narratives, it was always himself and no one else, who played the hero.

For people who have no new, consistent, reliable ideas, who are past prime of aspiring to be a great leader but failed because of putting oneself before all others (except dead heroes), It seems a good way to go: stop trying to keep up, go sit by the fire, be at peace in harmless blather about oneself, one's creaky ideas, one's outmoded strategies. Above all, do not become a caricature of 'horatio hornblower.'

The day comes for all of us to go into the freeze of winter and melt into the sun.

Here are Newt's words…

"Often we search hard for words to define our opponents. Sometimes we are hesitant to use contrast. Remember that creating a difference helps you. These are powerful words that can create a clear and easily understood contrast. Apply these to the opponent, their record, proposals and their party.
abuse of power
anti- (issue): flag, family, child, jobs
betray
bizarre
bosses
bureaucracy
cheat
coercion
"compassion" is not enough
collapse(ing)
consequences
corrupt
corruption
criminal rights
crisis
cynicism
decay
deeper
destroy
destructive
devour
disgrace
endanger
excuses
failure (fail)
greed
hypocrisy
ideological
impose
incompetent
insecure
insensitive
intolerant
liberal
lie
limit(s)
machine
mandate(s)
obsolete
pathetic
patronage
permissive attitude
pessimistic
punish (poor …)
radical
red tape
self-serving
selfish
sensationalists
shallow
shame
sick
spend(ing)
stagnation
status quo
steal
taxes
they/them
threaten
traitors
unionized
urgent (cy)
waste
welfare"