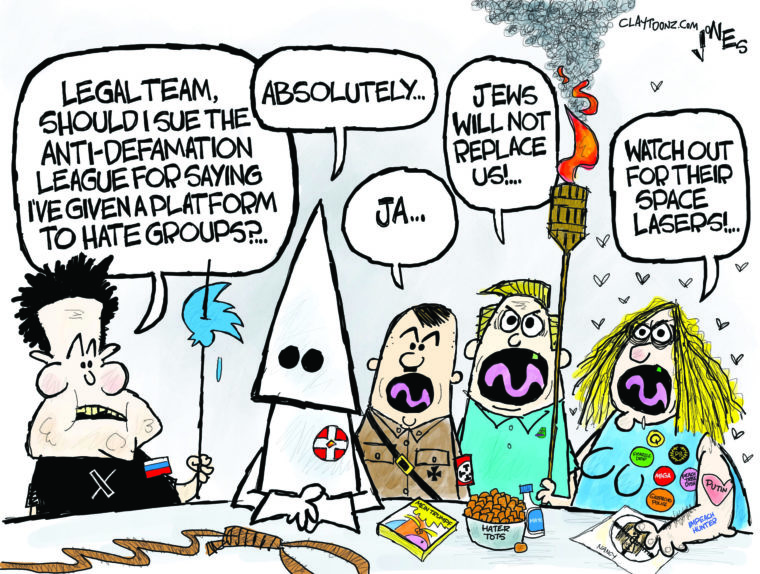 Adolf Hitler built his political career by wrongly blaming Jews for everything wrong in Germany. Elon Musk is now wrongly blaming Jews for a huge drop in Twitter/X's advertising revenue, which is his fault.
The Anti-Defamation League (ADL), an anti-hate group that monitors extremism, has criticized Elon's platform for its permissive content moderation policies. You know, opening the gates for the returns of Nazis, Qanon conspiracy theorists, racist MAGAts, white nationalists, etc, etc. Instead of being critical of the hate groups, Elon is attacking Jewish people. Elon has accused the ADL of orchestrating a coordinated attack to push advertisers away from Twitter/X.
Hitler's book, "Mein Kampf," means "my struggle." Hitler sounds just as whiny as Elon and every other MAGAt like Donald Trump who claims he's being persecuted for being white.
Elon tweeted, X'ed, posted, whatever, "Since the acquisition, The ADL has been trying to kill this platform by falsely accusing it & me of being anti-Semitic. To clear our platform's name on the matter of anti-Semitism, it looks like we have no choice but to file a defamation lawsuit against the Anti-Defamation League … oh the irony!"
Elon recently filed a lawsuit against a different anti-hate group that tracks online bigotry, the Center for Countering Digital Hate.
Elon hasn't just allowed haters to return to Twitter/X, like Donald Trump. He's dallied with them. A few days ago, he replied approvingly to an account claiming "Jews support censorship," which used a survey of college students from 2018.
I criticized Elon for his love of hate groups a couple days ago and you know what happened? A bunch of Nazis tweeted outrage at me, calling me a "Marxist" and a hater of free speech. One accused me of being on my period…twice because accusing a man of having periods is the sort of sexist humor MAGAts find funny. But, Twitter/X has nothing to do with free speech.
Twitter/X is not a government platform. It can ban whatever it wants. When the previous regime banned Donald Trump and white nationalist terrorists, that wasn't censorship. You do NOT have a right to use your speech to coordinate violence. You don't have the right to express racism on a private platform. If I owned a yogurt shop, you would not have a constitutional right to enter and start shouting the n-word. That's not how free speech works. In fact, I've used my right to remove hate speech, lies, and conspiracy theories left by Nazis, Qanon jerks, and MAGAts on this very website. You don't have a constitutional right to comment here. That's a privilege.
Elon doesn't understand free speech. He also doesn't understand irony. It's not "ironic" that the ADL has spoken out against hate groups being allowed to slime all over Twitter/X. Elon is not being defamed, but maybe he should be.
It's come to light that Elon recently turned off satellites so Ukraine couldn't coordinate drone attacks against Russian troops. Elon has chosen sides. He's chosen Putin, conspiracy theorists, and hate groups.
It's not defamation to say that Elon supports bigotry. Recently, Elon removed the account of my friend and colleague Marc Murphy (it's back now), but Donald Trump, a racist conspiracy theory-spreading white nationalist, is still there.
Elon, stop using Hitler's tactics to appeal for sympathy. It's not the fault of Jews that Twitter/X is being destroyed. It's all yours.
Watch me draw:

Visit Clay Jones' website and email him at [email protected].