Donald Trump Says Democrats Not Clapping At State Of The Union Were 'Treasonous'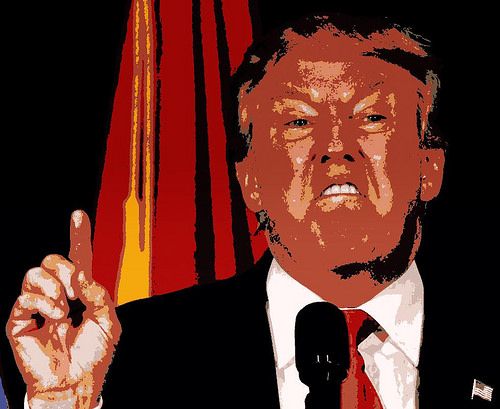 Lest you're one of those who've pooh-poohed the idea that President Donald Trump has (as some prominent historians and psychologists point out) authoritarian and downright anti-democratic tendencies, Trump, in one of his blistering campaign-style speeches, has just accused Democrats who didn't applaud at his State of the Union address as being "treasonous."
President Donald Trump accused Democrats on Monday of being "un-American" and "treasonous" in a campaign-style speech in Cincinnati that was actually meant to tout the recent GOP tax bill and the economy.

"Can we call that treason?" Trump said, referring to Democrats who did not clap for him during his State of the Union address last week. "Why not? I mean, they certainly didn't seem to love our country very much."

At the State of the Union address, it is typical for politicians of the president's party to enthusiastically applaud, while lawmakers in the opposite party usually have a muted response.

A handful of Democratic lawmakers did not attend last Tuesday's address to protest Trump.

Trump suggested on Monday that Democrats were "very selfish" in not clapping for him. "They would rather see Trump do badly, OK, than our country do well," he said.

Earlier in the speech, the president claimed that he was "non-braggadocious" after bragging about his first year in office.
It's grimly fascinating to see Trump violate all of the "givens" and "norms" of our politics, and see how the once at-times great Republican Party doesn't even respond with a whimper. It's a major shift of how our democracy operations, heavily weighted to there being less of the attractive qualities of American democracy that appealed to the rest of the world. Unless I'm forgetting something, I didn't hear President Barack Obama call South Carolina Republican Rep. Joe Wilson a traitor after he shouted "You lie!" at Obama during a joint session of Congress in 2009, or the Democratic Party officially call him a traitor. Although last year some of Wilson's constituents shouted his words back at him.
Here's the video. Note some of the approving faces as Trump now suggests that not clapping during his speeches is basically treason (we're getting back to the old "Why does XYZ hate America?" that some bitter partisans have hurled at members of an opposing party rather than debate with them on specific policy points).
Here we go again. Writes @jonathanchait, "It is the logic and rhetoric of authoritarianism in its purest form. But if Trump does it in the middle of a Don Rickles–style riff, does that make it better? Worse? Just weirder?" Last two out of three, I'd say. https://t.co/DCZdUcT4fx

— Jamil Smith (@JamilSmith) February 5, 2018
I've always liked Jack Kingston but why won't he agree with Bill Kristol that it was wrong for Donald Trump to call Democrats "treasonous"? What are Republicans NOT willing to do for this autocrat-in-waiting?

— Joe Scarborough (@JoeNBC) February 5, 2018
"The President of the United States calling the other party treasonous? That is literally the definition of what it means to be a third-world country" – @BillKristol on Trump's remark towards some Democrats https://t.co/XTxywu6Kqu pic.twitter.com/FhtmNLrUfB

— The Lead CNN (@TheLeadCNN) February 5, 2018
There you go America – fascism staring y'all right in the face! "Trump Calls Democrats 'Treasonous' for Failing to Applaud Him" #ImpeachTrump #gapol https://t.co/ySTEj1OBfS

— Gary Ray Betz (@GaryRayBetz) February 5, 2018
Trump has—

-accused Democrats of treason for not giving him a standing ovation

-called reporters "enemies of the people"

– questioned the authority of federal judges, &

-declared war on law enforcement officials investigating him

Trump is acting like an autocrat.

— Joe Scarborough (@JoeNBC) February 5, 2018
The president of the United States suggested that dissent is treasonous todayhttps://t.co/zRwGoaFoLJ

— Chris Cillizza (@CillizzaCNN) February 5, 2018
Calling Democrats treasonous for not applauding is classic Trump trolling and while it's disgusting, it's not where Democrats should focus their messaging.

— Dan Pfeiffer (@danpfeiffer) February 5, 2018