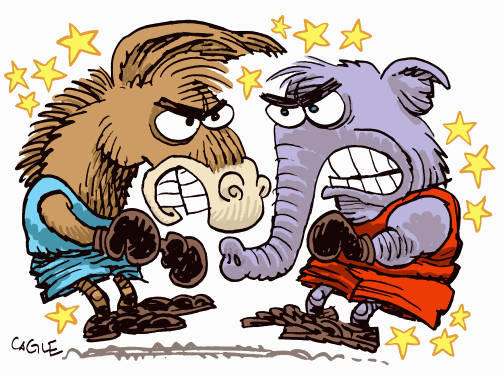 As another year draws to a close, it's time for that bi-annual tradition. Two criteria. One, while politics and policy are not always mutually exclusive, this column was devoted to political players and happenings that were generally meant for the campaign trail. Second, in an effort to avoid a single-domination of a category(s), presidential company was excluded. And that is my Christmas gift to Donald Trump.
My choices are listed alphabetically, and my attempt to pick a winner (or loser) among the crop is spelled explained at the end.
Winner of the Year
Charlie Baker (R-Massachusetts)
TJ Cox (D-California)
Larry Hogan (R-Maryland)
Steny Hoyer (D-Maryland)
Beto O'Rourke (D-Texas)
Nancy Pelosi (D-California)
Adam Schiff (D-California)
Long before it became obvious that Baker was going to face but nominal opposition for a second term, his status as the most popular governor in the nation – and in a legendary lopsided Democratic state, was nothing short of amazing. Hogan performed a similar feat and did so as a conservative, law and order chief executive. Cox's presence on this list is noticeable because he is the smallest fish surrounded by many big ones but, the fact is, switching from the donnybrook in California's 10th District to a more uphill 21st probably gave Democrats both seats because it prevented the party from getting shut-out in the race to challenge Denham. Conversely, Schiff has already established a national presence but the Democratic takeover will give him official teeth as Intelligence chair. So Beto didn't win – it wasn't expected that he would and he came closer in a red state than most thought possible even at the end. But he not only started a movement that gives him a future in politics but he nearly single-handedly did the impossible: chipping away at Texas's granite Republican dominance which moved a few counties to the Democratic fold. And consequently, that proved secondary importance to an undeniable success by friends and foes alike.The near octogenarian Hoyer could have either been collateral for Pelosi keeping her job or a victim of the demand for generational change. But Pelosi takes the category far-and-away.Considered dead-woman walking in her caucus as recently as the summer, something happened on the way to Pelosi's removal: Democrats won back the House. Before the dust even cleared, she was using her loyal network to bluff the rebels seeking her head, and with it, an opponent who never even surfaced. And making mince-meat out of the president in a protracted impromptu television appearance leas me to believe Republicans might be rethinking their strategy toward the way they caricature Pelosi come election time.
Departing Public Servant Who Will Be Most Missed
Joe Donnelly (D-Indiana)
Jeff Flake (R-Arizona)
Luis Gutierrez (D-Illinois)
Orrin Hatch (R-Utah)
Claire McCaskill (D-Missouri)
Bill Nelson (D-Florida)
Ileana Ros-Lehtinen (R-Florida)
Even Hatch's many friends on both sides of the aisle concede his likability but Flake's frequent voice of calmness and reason was often overlooked when he opted to side with his party nearly every time. Agree or disagree with Gutierrez, his sincerity has been a hallmark characteristic during his quarter-of-a-century in the nation's capitol. Donnelly's approachability and even regular-guy persona was noteworthy and everyone loved the welcoming Ros-Lehtinen. The soft-spoken, non-ideological Nelson made him a last link to old-time Florida. But McCaskill's refreshing candor, willingness to converse with the most hostile of audiences (deep-red Missouri), assiduous oversight that never lacked at hearings and solution oriented creed that allowed her to live up to the creed a hometown paper once bestowed on her. That she is a true "Truman in a Skirt." In these Congresses, that's a nearly non-existent quality that will be costly to nearly every area of sound government.
Y'all Don't Come Back Now
Elizabeth Esty (D-Connecticut)
Reuben Kihuen (D-Nevada)
Kris Kobach (R-Kansas)
Jason Lewis (R-Minnesota)
Bruce Rauner (R-Illinois)
Bill Schuette (R-Michigan)
Scott Walker (R-Wisconsin)
Rauner never even tried fitting in with his state and the voters noticed. Lewis had a radio-trail of tempestuous statements that proved bigotry. Kobach's entire agenda was antithetical to a functioning democracy and even tight-of-center Republicans chafed. Schuette's temperament during the last couple of years proved so questionable that Michigan Republicans almost begged the state to go blue by nominating him for governor. It's not an exaggeration to call his slogan, "Schuette (Shoo-tey) on Duty" the high point of his campaign. Departing governments of both parties typically try to get their goodie-bags of spoils before leaving (appointments, etc.), but reinventing the wheel to advantage your party seems to go hand-in-hand with most of Walker's tenure. Still in all, that can't hold a candle to sexual harassment and the taking part and cover-up of such give Esty and Kihuen the cake, not to mention a self-deprived opportunity to serve in a new Democratic majority.
Brightest Future
Stacey Abrams (D-Georgia)
Dan Crenshaw (R-Texas)
Katie Hill (D-California)
Alexandria Ocasio-Cortez (D-New York)
Mikie Sherrill (D-New Jersey)
Lauren Underwood (D-Illinois)
Gretchen Whitmer (D-Michigan)
There are so many candidates for honorable mention – Sharice Davids, Abigail Spanberger. We'll just have to see how the years play out. In Abrams's case, losing doesn't necessarily inhibit a bright future if there are other fish to fry (a rematch in 2022 seems hers for the asking) but while she will be making up for lost time, Whitmer will be busy governing as a fresh face who will surely achieve national notoriety. While it may appear as though Patrick is the token Republican on the list, he did seem to be a rare new member of the House minority going places even before Saturday Night Live sealed his win. As the years progress, Crenshaw can anticipate an electoral avalanche of opportunities. Underwood won a district against great odds while Sherrill's Navy pilot/prosecutor background garnered her much attention. Meanwhile, Hill seems to be beloved by all. Her disposition seems to be as sunny as the Golden State itself. But AOC? Ah, AOC. Her accomplishment in the June primary, while not perhaps "Man on the Moon," certainly defied major odds but, at the end of the day (or the beginning of the year), she will still be one freshmen among 435 members. Still, so long as the media chronicles her every move and she finds herself green and growing, one can hardly blame her for running with the ball.
Just Plain Lucky
Ted Cruz (R-Texas)
Brian Fitzpatrick (R-Pennsylvania)
Laura Kelly (D-Kansas)
Martha McSally (R-Arizona)
Steve King (R-Iowa)
Robert Menendez (D-New Jersey)
Donna Shalala (D-Florida)
Even Democrats acknowledge Kelly's win in heavily Republican Kansas was due to her odious and unappealing GOP rival, Kris Kobach. McSally would have been out of job following her loss to Krysten Sinema had Arizona's other Senate seat not been vacant -and had she not made nice with the McCain family. Fitzpatrick almost certainly would have joined the casualties of his 21 other Republican colleagues who sat in districts Hillary Clinton carried, had his opponent not been a complete buffoon. Menendez can thank his lucky stars that he was seeking re-election in a state that was perhaps more antithetical to Trump than almost any other while King conversely may know deep down that for his voters, ideology trumped his own views. Cruz has to be lucky that Texas is just Texas enough that he was able to limp to a three point victory. But Shalala is far more of a policy wonk that campaigner and in an even slightly more hospitable GOP year, would almost certainly have lost.
Worst Candidate
Leslie Cockburn (D-Virginia)
Ron DeSanits (R-Florida)
Lena Epstein (R-Michigan)
Kristie Noem (R-South Dakota)
Kyrsten Sinema (D-Arizona)
Scott Wallace (D-Pennsylvania)
Scott Wallace (D-Pennsylvania)
And did I say Scott Wallace?
The fact that DeSantis eked out a win against an opponent at least portrayed as ethically tarnished is not lost on the fact that even Republicans seriously questioned both his campaign strategy and how he articulated his views. Ditto for Sinema whose centrist voting record compensated for her refusal to distance herself from some very strange statements while in her 20s. Noem's weaknesses had more to do with failing to parch up already shaky fences after a very acrimonious GOP primary. Epstein's chances of keeping a House seat Republican were already on the fritz but essentially evaporated when she hired a "Jews for Jesus" rabbi to address a vigil following the Tree of Life massacre. But the fact that Virginia Democrats could not do any better than Cockburn is only exceeded by the bad joke mentality of Wallace's campaign, not to mention some of his beliefs.
Worst Comeback Attempt
Mark Begich (D-Alaska)
Alan Grayson (D-Florida)
Crescent Hardy (R-Nevada)
Nick Lampson (D-Texas)
Greg Orman (I-Kansas)
Dino Rossi (R-Washington)
The poor Lampson, who before losing his seat in Congress, was as talented as they come, couldn't even win an election as Jefferson County (Beaumont)Judge, an area that has long been his political base. Even with three statewide losses under his belt, one can hardly blame Rossi for thinking he could take a suburban Congressional district that hadn't elected a Democrat since its creation in 1982 but, unfortunately for Rossi, that streak went kaput as his losing streak stayed alive. Hardy did the best he could in a year and district that leaned against him but Grayson's challenge to Soto was emblematic of the pathetic, laughingstock that his final years in office had become. Begich's entrance into the Alaska governor's race just prior to the filing deadline was ill thought out and might have thrown the lid on a more plausible comeback opportunity down the road. But it was Orman declining to take a cue from other Independent candidates with zero chance (most notably Maine) for a time, put the Jayhawk State governor's race in serious risk of landing in Kobach's hands.
Political Loser Of The Year
John Garamendi (D-California)
Keith Ellison (D-Minnesota)
Kevin McCarthy (R-California)
Seth Moulton (D-Massachusetts)
Devin Nunes (R-California)
Paul Ryan (R-Wisconsin)
Okay, Garamendi's presence might be a little harsh but, the fact that the Californian did receive just 44 votes in a six-way contest for three posts on the House Democratic Whip team said that he couldn't even count on unanimous support from his delegation. That is telling considering not only his longevity in state politics but since each of the other five were well to his junior in Congress. In securing the Minnesota AG post, Ellison was able to take advantage of a good year for his party but, unless he is able to put to rest allegations of personal behavior, he may be enjoying a last hurrah. Moulton and other anti-Pelosi insurgents didn't know when to stop and heard about it back home. While that might not necessarily cost him his seat in a primary, it will vastly limit his chances at a statewide bid (his saving grace is that a viable opening might have been years away anyhow). Even as the number two, McCarthy never seemed to have a particularly dominant standing in the GOP caucus, and the loss of seven GOP colleagues is evidence of that. Nunes is one Californian still standing but his stock took a hit with what was viewed as a partisan performance as Intel Chair. But Ryan's overzealousness for going to bat for the administration regardless of what he views as soundness of the defense (and one couldn't put a gun to my head to convince me that he did serious questions) will reduce his place in history to below average status, as well it should.
Dumbest Contentions/Statements
"You're just supposed to believe somebody because they said it happened." – Kevin Cramer on Christine Blasey Ford's accusations of sexual harassment against Supreme Court nominee Brett Kavanaugh.
Ted Cruz's campaign releasing a jingle mocking O'Rourke's lifelong nickname Beto, a Spanish derivative of his birthname, "Robert," even though Cruz's own name, "Ted," was derived from Rafael Edward Cruz which as The Washington Post pointed out was "in another country, no less."
"Our state director is Indian American, but he does an amazing job. Our director of all constituent services, she's African American, but she does an even more incredible job than you could ever imagine." -Indiana Senator Joe Donnelly during a debate with his rival, Greg Braun
"Whatever you touches turns to gold." – Dean Heller to President Trump at a Nevada campaign rally days before the election
"If we work our butts off to make sure that we take back all three chambers of Congress, uh, rather, all three chambers of government: the presidency, the Senate, and the House." – Alexandria Ocasio-Cortez
"The only reason I'm a target is because Hillary Clinton won my district. I got 37,000 more votes than President Trump did. That means that the people in the 45th District identify with the policies that I support and support me because I'm in line with what they believe in." – California Congresswoman Mimi Walters
"I'm going to stomp all over your face with golf spikes." – Pennsylvania Republican gubernatorial candidate Scott Wagner on what he wanted to do to his rival, Governor Tom Wolf
Could an exhausted Donnelly have intended to say, "and," rather than, "but?" Pretty obviously. But that was still baffling. Likewise, I'm semi inclined to believe Ocasio-Cortez misspoke in the vein that candidate Barack Obama did when boasting about having visited "57 states with three more to go," but, I just can't be sure on that one (incidentally, a skit on George W. Bush joked that the government consisted of "the Supreme Court, Dick Cheney and me"). Walters was essentially arguing that she was invincible as she sought re-election, just prior to her loss. Remember, Cramer defended the context of Sean Spicer's assertion that "Hitler never used chemical weapons on his own people." I don't want to minimize the absurdness of Cramer's comments or the apparent embracement of violence in Wagner's remarks but, many in his own party attested to the fact that he is unhinged. But Heller, while needing every Trump voter in his fledgling bid for re-election, evidently forgot that he was running in a swing state that voted against the president. That came through on Election Day when Heller was unseated by a margin far larger than anyone expected.
Most Off-Their-Rockers
Lindsey Graham (R-South Carolina)
Steve King (R-Iowa)
Maxine Waters (D-California)
Ryan Zinke (R-Montana)
Some of these "public servants" changed over time while others always had an impulsive streak about them but Graham's newly-minted rebellious decorum was truly baffling, and disappointing for those who looked to him for comity, common-sense and solutions.
Worst Loser
Jeff Denham (R-California)
Yvette Herrell (R-New Mexico)
Gina Ortiz-Jones (D-Texas)
Bruce Poliquin (R-Maine)
Mimi Walters (R-California)
Even though her race was in a recount, Ortiz-Jones had little business attending new-member orientation in Washington when she was down 1,100 votes following the counting of all ballots. Walter's contention that Democrats were "trying to steal my seat" and Denham blaming "ballot harvesting" for losing might have had credibility if the election came down to a couple dozen votes – but the deficit of both was roughly 10,000. Herrell's campaigns still examining the late-processed Dora Ana's ballots in New Mexico nearly two months after the vote count concluded. I know Maine's ranked-choice system is unprecedented but it's also unmistakable that people remember how one loses a lot longer than how they win.
It's Not What It Used To Be
Florida
Ohio
Orange County, California
Rural America
Southern Suburbia
Williamson and Tarrant County, Texas
Rural America continues its stampede away from Democrats at all levels. An example: Oklahoma Democrats lost the last legislator from outside either suburban Tulsa or Oklahoma City (the Minority Leader was defeated, the other switched parties). To paraphrase John McCain on another matter: "They're gone, and their not coming back." Florida Democrats have to find a way to close a frustratingly low but persistent deficit which in this case was as low as .01%. Ohio could return in a wave but probably not until. But Republicans have arguably more serious problems. It took three generations for Orange County to turn Democratic and there's nothing to suggest it'll go back anytime soon. In Texas, Betomania caused seemingly impenetrably red Tarrant and Williamson Counties made the switch while Collin and Denton seem poised to follow, perhaps as early as 2020 (Fort Bend, Tom Delay's stomping ground, switched in '16). Oklahoma City tapped a Democrat for Congress for the first time in 40 years. The trend is also evident in the Southeast as GOP State legislative delegations in Gwinnett, Wake and Mecklenburg and even Cobb now have skeletal crews. Meanwhile, "suburban" Washington D.C. seems to be extending further into Virginia each year. Folks, that realignment is unmistakable.
Best Blogger/Political Analyst I Just Heard Of This Year
J. Miles Coleman @JMilesColeman
Jack Frost Curran @jackcurran49
Eli @elium2
Chris Luongo @politicsluo
Politicobsessed @politicobsessed
Drew Sawicki @senhorraposa
Teenaged Political Nerd @political_nerd
These are all talented, up'n'coming fellas for whom the future in commentary is so bright, they have to wear shades. All combine map-drawing of recent contests, in some cases down to the precinct, with very prescient commentary. Eli is an expert on anything Georgia. Coleman, the most senior of the cast, might have a leg-up with his puns that might invite a tomato or two to be thrown his way (it takes a victim to know one, I guess). My favorite example. Coleman once wondered that if newly elected California Congresswoman Katie Porter someday became House Speaker, would she be presiding over the "Porter House" (I responded by calling that an "A.1." quip). This is creativity one doesn't find anywhere else. And puns or not, the political arena is richer because they are a part of it. Looking forward to see what they all have in the year ahead.