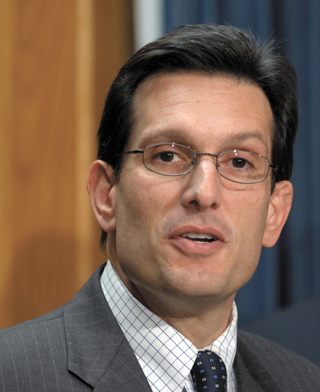 Get ready for another apology. GOP House bigwig Rep. Cantor has criticized conservative talk show host Rush Limbaugh and says the party needs more inclusive rhetoric.
("He must be a RINO!!"). Quick: calll your bookie and make your bets on when Cantor will apologize now:
Eric Cantor, the second-ranking Republican in the U.S. House, said his party needs to be inclusive and criticized some comments by talk-show host Rush Limbaugh as inappropriate.

"The Republican Party in its roots is a party of inclusion and we ought to be promoting that and making sure that voices are heard," Cantor, of Virginia, said in an interview on Bloomberg Television's "Political Capital with Al Hunt," airing today.

Cantor, when asked about Limbaugh's comments that "Adolf Hitler, like Barack Obama, also ruled by dictate" and his comparison of the administration's health-care logo to a swastika, said his comparisons were wrong.

"Do I condone the mention of Hitler in any discussion about politics?" Cantor said. "No, I don't, because obviously that is something that conjures up images that frankly are not, I think, very helpful."

He also took issue with some of the harsher rhetoric of Republican colleagues in the House.

Cantor, 46, said Republicans must stay unified if they are to win elections. "That's the lesson learned" from the Nov. 3 Republican gubernatorial victories in New Jersey and Virginia, and the loss of a New York congressional seat in a race that divided the party, he said.
(Hope Cantor's staff is ready to get a big case of tea bags…)
Joe Gandelman is a former fulltime journalist who freelanced in India, Spain, Bangladesh and Cypress writing for publications such as the Christian Science Monitor and Newsweek. He also did radio reports from Madrid for NPR's All Things Considered. He has worked on two U.S. newspapers and quit the news biz in 1990 to go into entertainment. He also has written for The Week and several online publications, did a column for Cagle Cartoons Syndicate and has appeared on CNN.