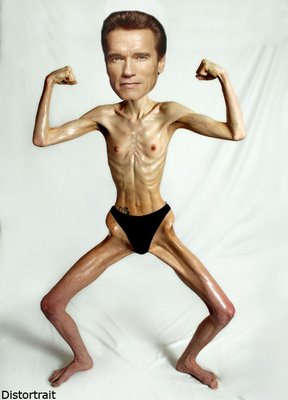 "No!"
That's the message some big banks will reportedly start giving on Friday when they are presented with California IOUs, the Wall Street Journal reports — in yet another sign of how far California's financial clout and status have fallen:
A group of the biggest U.S. banks said they would stop accepting California's IOUs on Friday, adding pressure on the state to close its $26.3 billion annual budget gap.

The development is the latest twist in California's struggle to deal with the effects of the recession. After state leaders failed to agree on budget solutions last week, California began issuing IOUs — or "individual registered warrants" — to hundreds of thousands of creditors. State Controller John Chiang said that without IOUs, California would run out of cash by July's end.

But now, if California continues to issue the IOUs, creditors will be forced to hold on to them until they mature on Oct. 2, or find other banks to honor them. When the IOUs mature, holders will be paid back directly by the state at an annual 3.75% interest rate. Some banks might also work with creditors to come up with an interim solution, such as extending them a line of credit, said Beth Mills, a California Bankers Association spokeswoman.

Meanwhile, on Monday morning, a budget meeting between Gov. Arnold Schwarzenegger and legislative leaders failed to produce a result..
But if the IOUs seem in danger of becoming as welcome to some big banks as the Governor's chair is to Alaska Gov. Sarah Palin, they have become hot items — although not quite as hot as tickets to Michael Jackson's memorial service in LA:
Glen Jones has collected stock certificates from the 1920s, centuries-old maps of the western United States, and is looking to acquire another document he says will have historical value: IOUs issued by California.

California, whose economy is the eighth-largest in the world, was forced to issue the notes last week for the first time since 1992 for everything from tax refunds to services and goods, as Governor Arnold Schwarzenegger and lawmakers remain deadlocked over how to fix a $26 billion budget deficit. The state said it plans to pay back the IOUs in October.

Jones, 39, an economist in Provo, Utah, with Minnetonka, Minnesota-based UnitedHealth Group Inc., posted an ad on the classified Web site Craigslist.org offering to buy the warrants for as much as twice as their face value, up to $100.

"I thought I would buy one as a souvenir of fiscal irresponsibility," Jones said in a telephone interview. "I figure it would be an interesting thing to have around when my grandchildren are fighting over my stuff after I'm dead and gone," he wrote in his ad.
(PSST! The fight might be bigger over the Jackson ticket…)
Joe Gandelman is a former fulltime journalist who freelanced in India, Spain, Bangladesh and Cypress writing for publications such as the Christian Science Monitor and Newsweek. He also did radio reports from Madrid for NPR's All Things Considered. He has worked on two U.S. newspapers and quit the news biz in 1990 to go into entertainment. He also has written for The Week and several online publications, did a column for Cagle Cartoons Syndicate and has appeared on CNN.