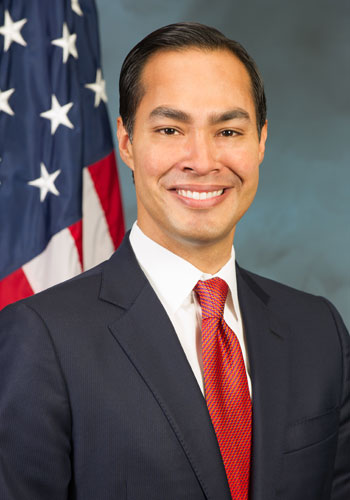 Update:
According to Politico.com, "Virginia Sen. Tim Kaine is emerging as the leading candidate atop Hillary Clinton's vice presidential short list…"
Politico:
Sen. Elizabeth Warren and HUD Secretary Julian Castro are also top prospects for the Democratic ticket — both representing nods to important Democratic constituencies.

But they have serious drawbacks…
Read more here.
Original Post:
According to a very recent piece in the Washington Post, Hillary Clinton — although "still studying a longer list" — is vetting three potential vice presidential candidates.
The three are: Housing and Urban Development Secretary Julián Castro, Sen. Elizabeth Warren of Massachusetts and Sen. Timothy M. Kaine of Virginia.
In what now seems an eternity ago, way back in January of this year I posited that with the first of the nation's caucuses scheduled to take place on February 1, it might be premature to talk about vice presidential running mates — but I went ahead anyway.
After mentioning a few possible candidates for the Trump ticket (all very unlikely today), I mentioned that The Democrat Cafe lists the "top 15 running mates" for Clinton.
Just for fun it might be worthwhile revisiting that list today, five months later.
The list includes names such as Charlie Crist, Evan Bayh, Bill Clark, Tom Vilsack, Mark Warner, Wesley Clark, Wendy Davis and even Bill Clinton.
But it also includes Joe Biden and two of the three on Hillary's alleged "short list": Tim Kaine and Julián Castro.
It is the latter, Julián Castro, "Secretary of Housing and Urban Development, three-term San Antonio mayor and an immensely popular Latino politician," whom I continued to "promote" in my piece where I quoted Bill Lambrecht at the San Antonio Express-News how Castro had been appearing on behalf of Clinton at various campaign stops, not only promoting Hillary but also offering his "compelling story:"
A candidate for national office needs a compelling story, and in Ottumwa, Iowa, a town like San Antonio with a river running through it, Castro offered his: raised by the activist daughter of an immigrant grandmother, one of twin brothers who made it to Stanford, and then to Harvard, en route to success.

"You can imagine, my grandmother never believed something like that would happen. She was so proud," Castro said.
According to Lambrecht it went over well in Iowa.
Remember the "balanced ticket" idea?
Again, Lambrecht:
Analysts point to the growing importance of the Latino vote in key electoral states as well as to the young voters Castro might bring to the quest of Clinton, 68 — or perhaps U.S. Sen. Bernie Sanders, 74.

Latino strategists view the choice of Castro as critical if Democrats expect to enliven the politically weak Latino population, which has grown to 55 million — 35 million of whom were born in the United States. But even though roughly 66,000 Latinos turn 18 in the United States every month, voter registration doesn't keep pace.
Also, back in January, the U.S. Hispanic Chamber of Commerce's endorsed Castro for vice president signifying "the enthusiasm surrounding him," according to Lambrecht.
Fast forward to June 22.
In today's Washington Post's "The 5-Minute Fix," Amber Philips lists the pros and cons on the three on Hillary's "short list."
On Julián Castro, "rising-star Latino politician," she writes:
Who he is: Secretary of Housing and Urban Development, former San Antonio mayor, brother to Rep. Joaquin Castro (D-Tex.)

Why he could work: He's got the right demographic profile — young, Hispanic — to help Clinton shape her campaign as the antidote to Donald Trump.

Why he might not: He's young (at 41, the youngest member of Obama's Cabinet) and arguably more inexperienced than the others, having never run a statewide campaign or dealt regularly with the national media.

Plus, he probably won't help Clinton win his home state of Texas, which is one of the reddest in the nation.
Well, the cons seem to outweigh the pros at this point, but the general election is still young and — to be frank — I would not mind the "older," more experienced" senator from Massachusetts.
Lead photo: Courtesy Dept. of Housing and Urban Development
The author is a retired U.S. Air Force officer and a writer.