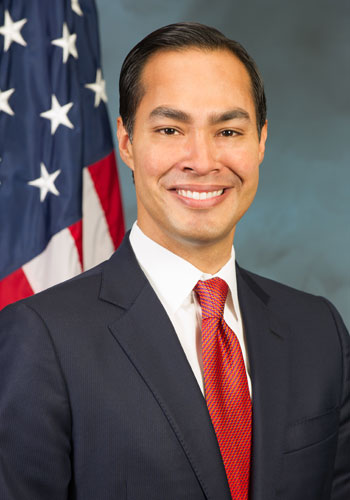 With the first of the nation's caucuses scheduled to take place only tomorrow, it may be premature to talk about vice presidential running mates.
Typically, presidential candidates announce who their vice presidential picks are in July and August, just prior to the national party conventions.
During the most recent elections, Romney picked Ryan as his running mate on August 11, 2012, Obama selected Joe Biden on Aug. 23, 2008 and McCain struck out with Sarah Palin on Aug. 29, 2008.
The earliest recent announcement of a vice presidential running mate occurred when John Kerry's choice of John Edwards was leaked to the press on July 6, 2004.
The final pick depends on many political factors: How to best "balance the ticket" geographically and regionally, demographically, experience-wise, etc., with an eye on "swing states" and, more recently, with consideration given to race, gender and even religion.
But of course candidates do have their "short lists" well before the conventions and even if they do not, rumors and speculation as to who their running mates will be are early and abundant.
Many names of possible running mates for the two leading candidates — Clinton and Trump — have been floated.
At one time Trump mentioned Oprah Winfrey as being a great running mate: "I think Oprah would be great. I'd love to have Oprah," Trump told ABC's George Stephanopoulos.
Ben Carson, who is fading fast in the polls, had been mentioned as a possible running mate to Trump.
Last November, Trump came "as close as he ever will to naming his Vice Presidential running mate:" Senator Ted Cruz. That love affair may have wilted recently, only to be perhaps replaced by his new soul mate Sarah Palin.
That is, unless he succumbs to the pleas of Santorum or Huckabee who attended Trump's recent side show in Des Moines and who, according to "Jake," are "just begging" to be his VP:
Santorum and Huckabee are, as far as I can tell, good, Christian people in their private lives, but the lure of power and politics has distorted them so much that they are reduced to begging a narcissistic billionaire who doesn't think he's sinned and cannot name his favorite book of the Bible for a spot as Vice President. They might not be down on their knees, but this is the political campaign equivalent of it.

It's a disgrace to watch.
How about Hillary Clinton?
There is no shortage of guesses, speculation and recommendations about and for her running mate.
The Democrat Cafe lists the "top 15 running mates," including her husband, former president Bill Clinton for whom it is "technically" possible to be her running mate.
However, one name that has long been considered to be at or near the top of Hillary Clinton's short list is Julián Castro, Secretary of Housing and Urban Development, three-term San Antonio mayor and an immensely popular Latino politician.
Last weekend, according to Bill Lambrecht at the San Antonio Express-News, "Hillary Clinton tapped Castro…to generate excitement in three states for her hard-pressed campaign for the Democratic presidential nomination."
Castro has been appearing on behalf of Clinton at various campaign stops, not only promoting Hillary but also offering his "compelling story:"
A candidate for national office needs a compelling story, and in Ottumwa, Iowa, a town like San Antonio with a river running through it, Castro offered his: raised by the activist daughter of an immigrant grandmother, one of twin brothers who made it to Stanford, and then to Harvard, en route to success.

"You can imagine, my grandmother never believed something like that would happen. She was so proud," Castro said.
According to Lambrecht it went over well in Iowa.
Remember the "balanced ticket" idea?
Again, Lambrecht:
Analysts point to the growing importance of the Latino vote in key electoral states as well as to the young voters Castro might bring to the quest of Clinton, 68 — or perhaps U.S. Sen. Bernie Sanders, 74.

Latino strategists view the choice of Castro as critical if Democrats expect to enliven the politically weak Latino population, which has grown to 55 million — 35 million of whom were born in the United States. But even though roughly 66,000 Latinos turn 18 in the United States every month, voter registration doesn't keep pace.
Last weekend, the U.S. Hispanic Chamber of Commerce's endorsed Castro for vice president signifying "the enthusiasm surrounding him," says Lambrecht. Interestingly, "The nation's largest network of Hispanic business enterprises did not endorse a presidential hopeful."
Cristobal Alex, president of the Latino Victory Fund, "believes that Castro's presence on the ticket could make the difference not just at the top but in contests around the country where Latinos are running," says Lambrecht and quotes Alex:
As we travel the country from Iowa to Nevada to Florida, what is most evident is the appeal Julián has with young millennial Latinos and Latinas. The fact that you have someone who connects with millennials in a meaningful way is a reason to take a look at him very seriously."
But it is not all settled for Castro.
There are other political factors and possibilities. For example:
Might U.S. Sen. Tim Kaine of Virginia, who became fluent in Spanish as a missionary in Honduras, appeal to Clinton? Or perhaps Sen. Cory Booker of New Jersey, a fast-rising African-American leader known for eloquence and passion?

Among questions that could influence a running mate selection: Will Clinton need to move left to meet the Sanders challenge? Might concerns about terrorism weigh heavily on voters' minds closer to the election? Could worries sprout about forming the first major party ticket without an Anglo male? And will the Democratic nominee need to gird support in the Midwest, or perhaps in a battleground such as Virginia, by picking someone who could bring electoral votes?
Democrats may have to wait several more months more before finding out who their next vice president might be because — as Erik Smith, an adviser to the Obama presidential campaigns, says — "a vice presidential nominee is really a reflection on the moment and time when that decision is made; what a nominee needs at that time."
Lead photo: Courtesy Dept. of Housing and Urban Development
The author is a retired U.S. Air Force officer and a writer.