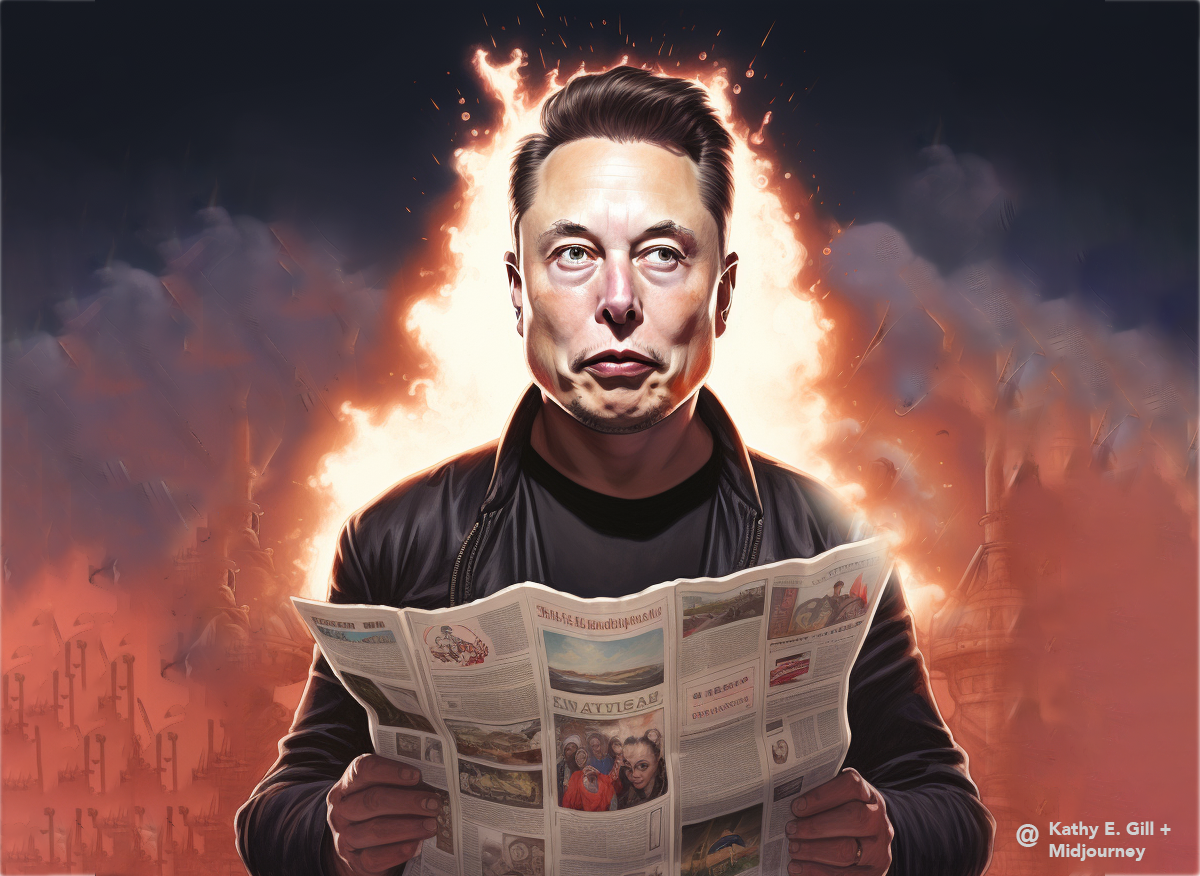 Researchers "risk paying too little attention" to Twitter ("X") as it "rapidly changes into something new and frightening."
On Wednesday, Elon Musk endorsed an antisemitic tweet (screenshot). The fallout from that endorsement ("the actual truth") has been swift and brutal, financially.
The warning appeared in Nature earlier in November, accompanying an article that highlighted a "small [group] of persons who exercise disproportionate power and influence." Over the three-day period midnight October 7 to midnight October 10, Pacific, these seven accounts had a reach of 1.6 billion views on 1,834 tweets related to the conflict between Israel and the Occupied Palestinian Territories.
Over the same period, "topic-relevant tweets" from the top seven professional news sources had only 112 million views on 298 tweets (an average of 376K per tweet).
Seven rando accounts had 1,600,000,000 views and 611 tweets per day (about one tweet every two minutes).
Six professional news organizations had 112,000,000 views and 99 tweets per day (about one tweet every 15 minutes).
Combined, the seven "new elites" accounts have less than 1% of the followers of the top six news organizations … but 14 times their combined reach.
Due to that algorithmic manipulation, Nazi-themed tweets have been showing up next to major advertisers, according to research by MediaMatters. They provided screenshots of ads for Apple, Bravo, IBM, Oracle and Xfinity "next to posts that tout Hitler and his Nazi Party."
What might account for the miss-match between follower count and views? It suggests systemic algorithmic bias, a bias that could be the result of attention from Musk, who has 160 million followers.
And attention he got after endorsing an antisemitic tweet ("the actual truth") on Wednesday.
The response has been swift and brutal, financially.
The Atlantic summarized thusly:
On Wednesday night, "the world's wealthiest man…affirmed the deadliest anti-Semitic conspiracy theory in recent American history.
On Thursday, IBM told the Financial Times it had "suspended all advertising on X while we investigate this entirely unacceptable situation… [we have] zero tolerance for hate speech and discrimination." [Aside: IBM built the computers that Hitler used to document Jewish citizens in WWII.]
Friday, Apple, Comcast/NBC Universal, Disney, Lionsgate, Paramount Global and Warner Brothers Discovery announced they were suspending their Twitter ad buys, according to news reports. According to Axios, of "Ebiquity's 31 major brand clients that advertised with X last August, only two remained spending with the platform as of September."
The European Commission has also suspended its advertising.
And the White House condemned the antisemitism.
See the details at WiredPen: Has Musk finally crossed his Rubicon?
.
Talk to me: Facebook | Mastodon | Twitter
Known for gnawing at complex questions like a terrier with a bone. Digital evangelist, writer, teacher. Transplanted Southerner; teach newbies to ride motorcycles. @kegill (Twitter and Mastodon.social); wiredpen.com