Of Rupert Murdoch, British Politicians, Police & Rotten Apples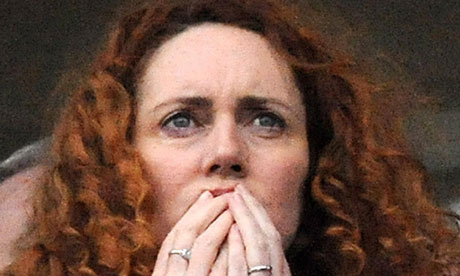 The New Yorker sums up the murky media Mughal Murdoch scandal thus: "Rupert Murdoch and his people have claimed that the newspaper scandal in London was caused by a few rotten apples. Now that a very large apple, Rebekah Brooks, has been arrested, it is clear that it is the entire barrel that is rotten." Brooks is a former News International chief. Meanwhile London's police chief resigned last night, putting more pressure on prime minister David Cameron over his personal links to the phone hacking scandal.
The former Murdoch chief executive, Rebekah Brooks, has been bailed after being arrested on charges of conspiring to intercept communications and corruption, thought to be related to payments to police. The former head of News International was released at midnight local time (9am AEST), 12 hours after she was arrested by appointment at a London police station, the Metropolitan Police said in a statement. More here…
The 43 year-old Brooks is the 10th person arrested since the Metropolitan Police re-opened its phone-hacking probe in January. She is the most high-profile News International figure to have been arrested so far. The arrest of Mrs Brooks, who has worked for the British arm of the Murdoch media empire for more than 20 years, raises the possibility that James Murdoch, Rupert Murdoch's son, could also be required to meet police overseeing the phone-hacking inquiry. See here…
Meanwhile Sir Paul Stephenson resigned as Metropolitan Police Commissioner over phone hacking scandal …More here...
In the United States, News Corp., as an American company, will, among other things, have to explain whether it has violated the Foreign Corrupt Practices Act … More here….

Here's the latest: Murdoch's Wall Street Journal hits back at the BBC and the Guardian … See here…
Why is American mainstream media not taking much interest in this ongoing scandal? Murdoch scandal accounted for 53% of links on Twitter, but only 6% of mainstream coverage…" See here….
Other insinuations against mainstream media … here…
By the way, have you read this: "RUPERT MURDOCH – A PORTRAIT OF SATAN" … See here…
And this… "Don't let the politicians turn the British press into an American-style lapdog of the Establishment" … see here…