Cartoons: NO RIDING WITH MILO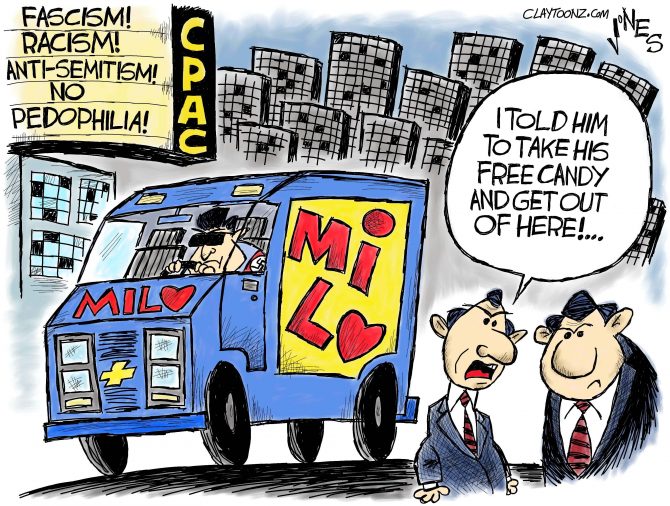 No Riding with Milo
by Clay Jones
Filthy, retched, disgusting, deplorable, and horrible conservatives love to quote Milo Yiannopoulos. After today, not so much.
Milo is an author, kinda-sorta journalists for scary right wing publications, rabble-rouser, public bully, and outspoken proponent for hate, bigotry, racism, and fascism. Apparently none of that was too much for Breitbart, Simon & Schuster, or the Conservative Political Action Conference (CPAC).
In the past Milo received a lifetime ban from Twitter for racist bullying of actress and comedian Leslie Jones for her role in Ghostbusters. Over the weekend videos, that were available for years, surfaced of Milo condoning pedophilia, joking about a teenage sexual encounter with a Catholic priest, and argues about age-of-consent laws. Charming fellow.
Over the past few weeks he has ignited protests at universities where he was scheduled to speak by people who really didn't want him there. It's not that they're against free speech. They're against providing the platform for a guy who once said "feminism is cancer" and referred to Leslie Jones as a "black dude." Even though he is gay he's said that being gay is "detrimental to humanity," "gay men should get back in the closet," "aberrant" and a "lifestyle choice guaranteed to bring gay people pain and unhappiness." Really charming fellow.
Milo was scheduled as the keynote speaker for the upcoming CPAC event which will also include Donald Trump, whom Milo refers to as "Daddy." Though CPAC is totally fine with racists and fascists speakers, the pedophilia thing has crossed the line for them. Maybe because it's a really touchy subject since so many Republicans have been caught with young boys.
Simon & Schuster was set to release his autobiography (yeah, people really wanted to read that thing), for which Milo received a $250,00 advance. That book, appropriately titled "Dangerous," (ironically enough, also the title for a Michael Jackson album) has been cancelled. It's more tainted than the movie The Interview.
It's gotten so bad that even Breitbart….BREITBART…is considering axing him where he serves as one of their editors. How horrible do you have to be that Breitbart, the alt-right fake news website formerly run by Steve Bannon and magnet for racist comments, doesn't want anything to do with you?
Over the weekend Milo appeared on the Bill Maher show where Larry Wilmore told the guy to "go f*ck himself." And that was before the pedophilia stuff came out.
I really hope this cartoon doesn't offend the wrong people. I really don't have an issue with Chevrolet.
Clay Jones can be reached at [email protected]