Cartoon and Column: HECKUVA JOB, TRUMPIE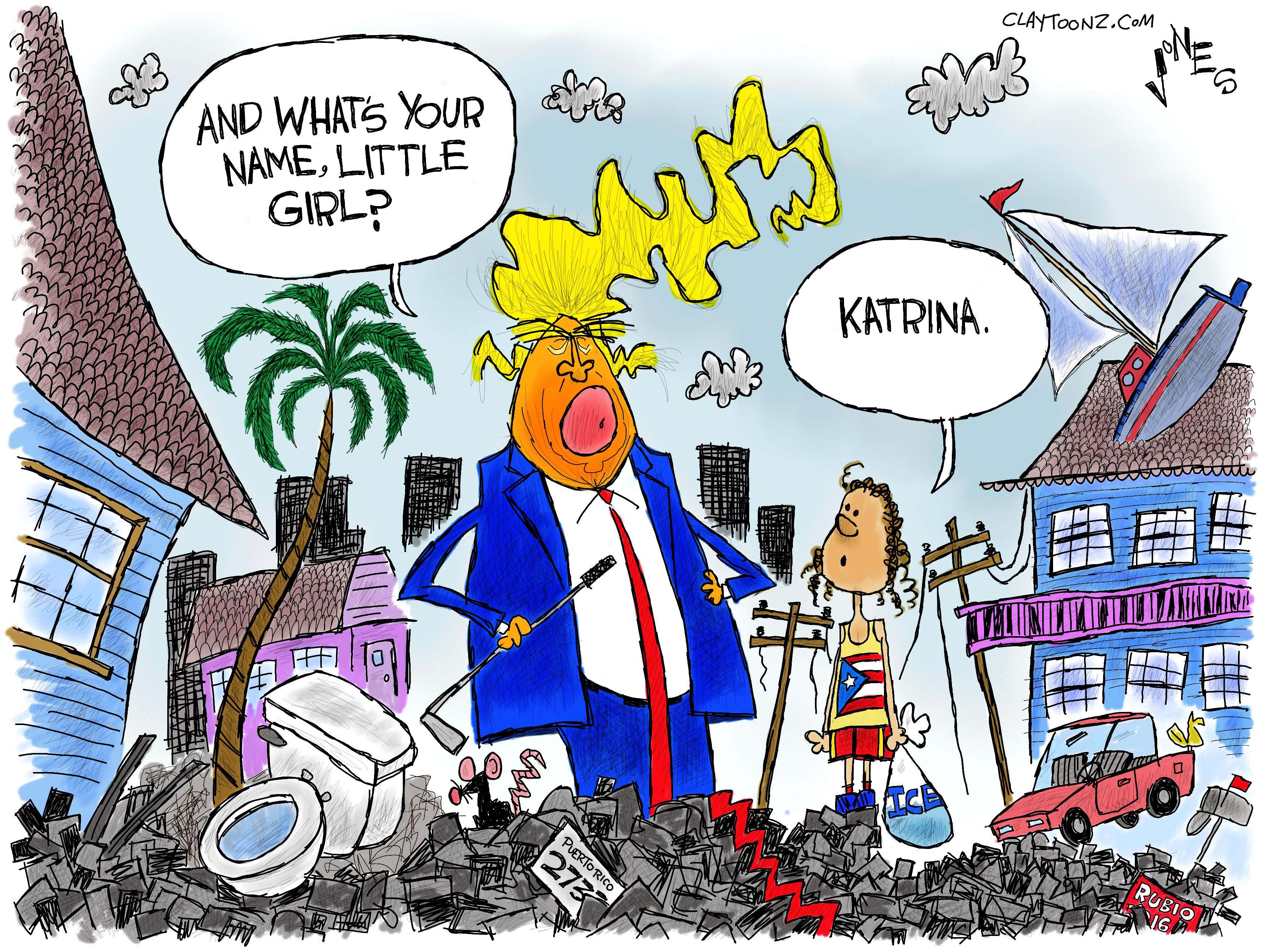 With Puerto Rico officially a disaster from Hurricane Maria, people starving and dying, going without electricity, money, water, food, and with a flash flood watch in effect, Donald Trump wants to assure all of us one thing. He's doing a great job.
During the recovery effort for New Orleans and the Gulf Coast of Louisiana and Mississippi in 2005, President George W. Bush said to FEMA director Michael Brown, "you're doing a heckuva job, Brownie," despite the fact "Brownie" was doing an incredibly crappy job. It was a category five of crappiness.
My friend and fellow cartoonist, Lalo Alcaraz joked that when Trump visits Puerto Rico on Tuesday, he will say, "I'm doing a heckuva job, brownies." I wish I had thought of that.
Bush was overseeing a disastrous recovery effort and dishing out praise to people unworthy of it. In contrast, Trump is praising himself. Trump is taking issue with reports from the media the job he's doing isn't all that great. Trump and the sycophants defending him aren't just having trouble with the facts. They're also tone-deaf. People need to focus more on humanity and less on cult worship.
When not lavishing praise on himself, and informing us that others are giving him compliments, he's informing us that Puerto Rico is an island in the ocean surrounded by water and it's currently in massive debt. He suggested their debt will determine how much effort the federal government will put into the recovery effort. Trump said, "Ultimately the government of Puerto Rico will have to work with us to determine how this massive rebuilding effort — it will end up being one of the biggest ever — will be funded and organized, and what we will do with the tremendous amount of existing debt already on the island." Over 50 percent of Americans don't know Puerto Ricans are American citizens, and Trump may be among that 50 percent.
The good news is, Trump promised "we will not rest until the people of Puerto Rico are safe," and then he went to New Jersey for a golfing weekend.
A "good-news story" is exactly how acting Homeland Security Director Elaine Duke described the relief effort. Carmen Yulin Cruz, mayor of San Juan took issue with Duke's description of the situation. Cruz said, "We are dying, and you are killing us with the inefficiency. I am begging, begging anyone that can hear us, to save us from dying."
Trump needs to stop listening to his sycophants, and to himself. He needs to listen to Mayor Cruz and treat the citizens of Puerto Rico as if they're as much as American citizens as the people of Houston and Florida because they are. He needs to focus less on attacking the NFL, the press, praising himself, Puerto Rico's debt, and his weekend golf outing. I would suggest he treat Puerto Rico the same way he treated Houston and Florida, but I'd rather he did a better job than that. Perhaps he can take some inspiration from the way President Obama reacted to Hurricane Sandy. Trump needs to stop being tone deaf and practice some empathy, while also throwing every resource possible to that island in the ocean surrounded by water.
Puerto Rico is quickly turning into Trump's Katrina. Trump's failed presidency has finally come down to losing lives. Trump's critics have wondered how the president would fare with his first crisis. Just like his presidency, he's failing.
Creative note: I used this idea several years ago when I was with The Free Lance-Star. It was during the Obama administration and I can't remember exactly how I used it. I can't find the original because it's in a friend's attic across town, and FLS's new ownership has deleted the archives that were online and contained the 14 years worth of cartoons I drew for them. But, in doing this cartoon I figure I could steal from myself. I'm sure it's much more applicable to today's situation than it was when I used it previously.

Clay Jones can be reached at [email protected]