Yoga Guru Pattabhi Jois Passes Away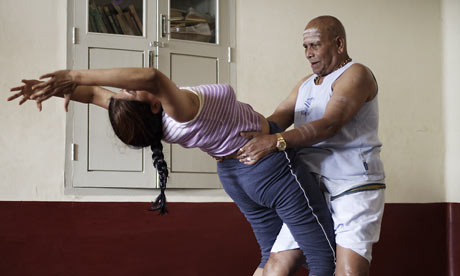 Indian yoga guru Krishna Pattabhi Jois, pictured above aged 90 instructing a female student, passed away Wednesday. Jois, 93, brought the physically challenging form of yoga to the west, and counted among his followers Madonna, who included the traditional ashtanga chant on her Ray of Light album, and the actor Gwyneth Paltrow, reports The Guardian.
"Ashtanga practitioners perform a series of yoga postures, known as asanas, daily and in strict sequential order. Beginners carry out the primary series, moving on to the secondary series.
"Although the yoga positions are believed to be thousands of years old, it was Pattabhi Jois who became the most famous teacherof the system in the west. He left his native India in 1975 to teach classes in California, and has visited the UK several times, teaching up to 300 students at a time." More here…
The BBC reports: "Introduced to yoga at a demonstration in 1927 at the age of 12, Jois immersed himself in the discipline, studying under the guru Krishnamacharya who had revived the ancient practice of yoga in the early years of the 20th century." More here…
Donate to The Moderate Voice
Share This