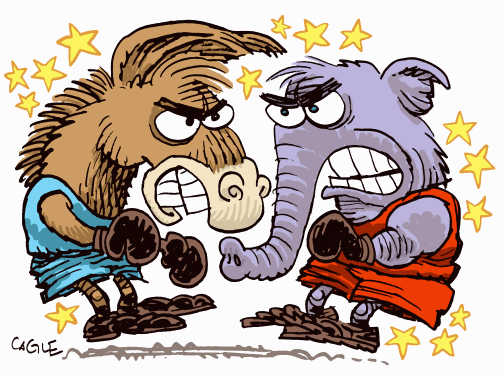 Hillary Clinton is being praised for The Speech which is leaving Obama supporters relieved, Clinton supporters ecstatic over its delivery and positive feedback, and Republicans suspicious or disappointed because she strongly called for unity. It's just one of the topics buzzing Around The Campaign 2008 Sphere on blogs. Here's a cross section of campaign-related blog links:
A PLEA FOR PARTY UNITY FROM A PRO-CLINTON BLOGGER who is not making a demand that Barack Obama place Hillary Clinton on the ticket. And he made the call for unity before her speech yesterday, which led to some pro-Clinton supporters now saying unity will be ok with them since Hillary urges them to come together. Yet another thoughtful post from Tom Watson.
SPEAKING OF BEFORE CLINTON'S SATURDAY SPEECH, A LOT OF PEOPLE WERE DUMPING ON CLINTON AFTER HER TUESDAY SPEECH but Gary Farber had made a plea even then for Clean Slate Day and here's why.

A LOT OF PRO-HILLARY BLOGGERS SAY THEY WILL SUPPORT OBAMA now that Clinton has urged them to. One is The Democratic Daily's Pamela Levy, but she can't be dismissed as someone who takes her marching orders from Clinton. Levy was a strong supporter of John Kerry's and has remained one of the Internet's most thoughtful pro-Clinton bloggers (which is why her blog is always a joy to read).

YOU COULD PREDICT THAT SOME FOLKS ON HILLARY CLINTON'S STAFF WILL INSIST THEY DIDN'T CONTRIBUTE TO HER DEFEAT by turning the "inevitable" candidate into the "evitable" candidate — but believe it or not Mark Penn is now saying just that.
SO NOW OBAMA IS OFF AND RUNNING? Red State.com says in an appearance in Virginia Obama was off and limping…
BUT OBAMA IS DOING SOMETHING DIFFERENTLY: He's mapping a nationwide push to go after GOP strongholds.
WHAT SHOULD EVERY PRESIDENTIAL CANDIDATE SAY? What Libertarian Bob Barr said..

IS OBAMA THE DEMOCRATIC PARTY'S "trophy wife?" A MUST READ at Pajamas Media.
My personal response to this piece: Just as I would reject any appeal for this independent voter's vote on the grounds that Obama is an African-American and is therefore entitled to my vote (or the Democratic party's nomination) on the basis of race, suggestions still being made that Clinton was entitled to the nomination don't fly. Rather, in the short term and future, Clinton supporters should point to the content of her speech yesterday, her impressive performance in debates, excellent record as a Senator who responds to constituents, firm grasp of issues, political nimbleness — and the fact that the United States is way behind other countries who've had woman as chief executives. No one is ENTITLED to the nomination or higher office because of his/her race or gender or religion (take THAT Joe Lieberman) and appeals for votes or sympathy fall flat on some (like me).
HOW OBAMA WON AND HILLARY LOST is examined by former Bush associate Mathew Dowd. Here's his opening:
A year ago, Hillary Clinton was 30-points ahead over any rival in the Democratic primary. She had outraised everyone at that point by more than a two to one margin. She had the backing of the majority of the Democratic establishment. She had the backing of a popular former president who happened to be her husband. And she lost.

So what happened?

Like any story, the reasons and causes aren't easily reduced to a one paragraph explanation and there were multiple causes for why Clinton lost. I will reflect on just on a few from my perspective.

This is a race that Clinton could have won and should have won, and came very close. And her gender ultimately didn't have much to do with the loss.

The following is my attempt at explaining what happened:
Read the post to find out his reasons. I agree with all of his reasons, particularly the ones about change and a changed electorate. But especially with #5: When books are written about Hillary's campaign, it will be noted by serious analysts that she would have fared far better if she had bought a case of duct tape and used it on Bill. Go back and trace the Hillary Clinton campaign. She was JUST emerging from his shadow into a skilled national politician in her own right in debates and on the stump when Bill stopped being the largely-silent spouse and jumped into the fray. And, yesterday, she emerged squarely OUT of his shadow, found her OWN voice in her speech in terms of content, delivery and eloquence…and even her critics cheered.
THE SO CALLED MICHELLE OBAMA "WHITEY" TAPE/DVD has generated satires on the Internet and warnings from the blog that seems to want it pushed into American political discourse — after all, that IS the issue Americans care about as they can barely fill their gas tanks, file for unemployment insurance, and write letters to their sons and daughters in Iraq — that it is real and will come out by October. Anything is possible in American politics, where discrediting and demonizing is now a fine art. But the always individualistic Hart Williams thinks "Obama's attackers have created a new kind of fallacy: not 'Guilt by Association' but 'Guilt by Free Association." Read his post (Warning: It contains some adult language.)

SPEAKING OF THE POLITICAL GET A LIFE DEPARTMENT, when Barack Obama and his wife Michelle gave a fist bump most people with lives shrugged. But some saw something perhaps sinister. Read Political scientist Steven Taylor's look at this "issue." P.S. Even if a talking (empty) head on a news network uses it to hype an upcoming segment, it illustrates how American politics and some journalism is increasingly mired in the petty and in the use of "high concept" negative imagery.
SOME AFRICAN-AMERICAN RESPONSES TO BARACK OBAMA'S ACHIEVEMENT comes via Shay at Booker Rising who got detailed responses from her relatives. A MUST READ. Booker Rising has long been one of TMV's favorite blogs. It MIScharacterizes itself as a "news site for black moderates and black conservatives" because it is so tastefully and thoughtfully done and has so much diverse content that it is a daily required reading news site for political junkies anywhere…
IF YOU'RE SOMEONE WHO CAN UNDERSTAND BOB DYLAN, FYI he has endorsed Barack Obama (and some still find it hard to understand what he said when he said that…).
FORMER GOVERNOR MIKE HUCKABEE HAS SOMETIMES PUT HIS FOOT IN HIS MOUTH but he helped get some lodged food out of a candidate's windpipe. Quite classy — except for the lame comment made after by another GOPer.

AND SINCE YOU READ THESE BLOG POSTS then consider how blogging has changed…

UPDATE:
YET ANOTHER SUGGESTION OF ENTITLEMENT: The newest one is that if Obama doesn't pick Hillary Clinton for Vice President Obama will be dividing the party. Question: if the person who gets the Vice Presidential slot is the one who got the next largest number of votes, then why bother with Veep selections? Or hasn't it been that the Presidential nominee balances political needs and then makes a decision. There is no entitlement to the V.P. slot.