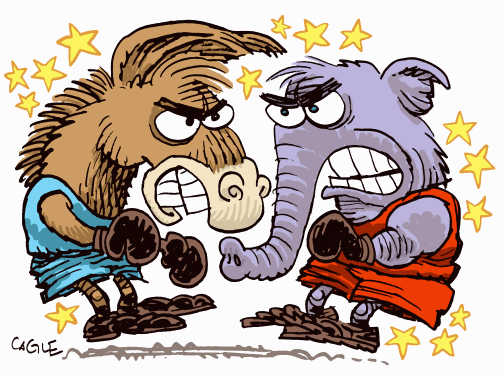 This is the big weekend when the Democratic party apparatus has to decide on what to do about Michigan and Florida and Hillary Clinton is scrambling. Barack Obama is scrambling, too…away from another pastor. And John McCain is scrambling….away from George Bush (unless he needs to be with him to raise money). Here's our linkfest/roadmap taking you to sites with varying viewpoints.

WILL THERE BE CLINTON DEFECTIONS AT THIS WEEKEND'S DNC MEETING? A top Clinton official suggests there could be — which means the Clinton camp will lose (and likely appeal). The Clinton strategy is to keep the candidacy alive no matter what in case something explosive comes out on Obama. DETAILS HERE. (Will we see something suddenly and conveniently pop up on the Drudge Report right before the convention?…)
THE CLINTON CAMP IS NOT DISCOURAGING A MASSIVE DEMONSTRATION TO PRESSURE THE DNC (and as we noted yesterday there are reports the Clinton ranks are happily accepting McCain and Huckabee supporters who have found a strange, sudden and compelling interest in how the DNC rules and being part of the crowd). Some such as Michelle Malkin think it'll be a circus. She looks at it here and writes: "Get more popcorn ready. Who needs Indiana Jones?"
STILL, HILLARY CLINTON HAS GOTTEN A BIG ENDORSEMENT and this one may mean the nomination is hers. (If he wants Hillary, so will I!)
HILLARY CLINTON IS EXPECTED TO WIN PUERTO RICO BY A BIG MARGIN but there are now signs of apathy in Puerto Rico.
BUT THE REPUBLICANS HAVE ALREADY PUNISHED MICHIGAN AND FLORIDA AND THERE WAS NO OUTCRY THERE so what does this suggest about the Democrats?
SCOTT MCCLELLAN'S REVELATIONS: Just what do they tell us about presumptive GOP nominee Senator John McCain's judgements?
BARACK OBAMA REPRESENTS THE NEW POLITICS TO A LOT OF PEOPLE but is there an old politics hard-ball side to him as well that he has displayed in the past?
JIM WEBB FOR OBAMA'S VICE PRESIDENT? If Senator Barack Obama gets the Democratic nomination, there is a good chance he won't go for Senator Hillary Clinton as his Veep (that would mean getting Bill Clinton along with her which would be akin to asking for bird flu). There's now a boomlet for Senator Jim Webb. But could it be that Webb would be a great Vice Presidential candidate but a lousy Vice President?
SPEAKING OF VICE PRESIDENT on the GOP side could it be Vice President Sarah Palin?
ASIDE FROM RUPERT MURDOCH SUDDENLY BECOMING INTERESTED IN OBAMA another HIGHLY prominent Republican who isn't now beloved by George Bush says he's "intrigued' by Obama.
BUT OBAMA CONTINUES TO HAVE A BIG PROBLEM with white women voters.
MANY DEMOCRATIC BLOGGERS ARE ANGRY AT THE DEMOCRATIC PARTY because they haven't been accepted as among those to cover the convention and some wonder (or think they know) why. Here's one reaction (with some adult language similar to what a reader suggested I do this morning..)
CAN WE EXPECT A SERIOUS DEBATE BETWEEN OBAMA (if he is the nominee) AND MCCAIN? Here's Pajamas Media's guess.