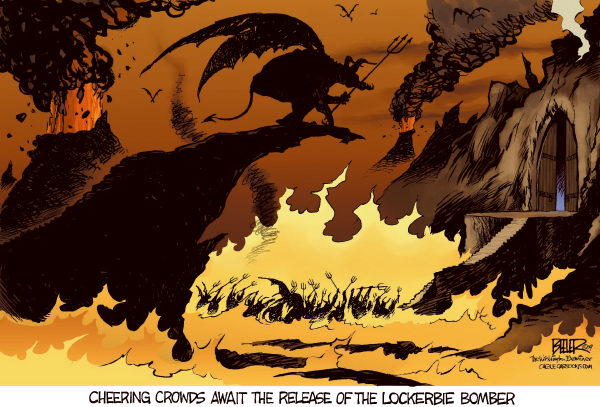 Will the release of the convicted Lockerbie bomber — an action that sparked howls of outrage in Scotland, among many in Great Britain and particularly in the United States — topple the Scottish government? It appears that it could well lead to a 'regime change" in Scotland:
Scotland's government faces a fight for its survival as the furor over its decision to free the Lockerbie bomber escalated last night.

Opposition parties north of the Border are preparing to hold a confidence vote over the decision by Kenny MacAskill, the Scottish Justice Secretary, to free Abdul Baset Ali al-Megrahi. Alex Salmond, the First Minister, has confirmed that he would resign if the Holyrood vote went against him.

The development comes after a weekend of fierce criticism from the United States of the decision on the ground of compassion to return al-Megrahi to Libya, where he was fêted as a hero on his return.

Admiral Mike Mullen, the Chairman of the Pentagon's Joint Chiefs of Staff, said he was appalled by the freeing of al-Megrahi, echoing the earlier attack by Robert Mueller, the FBI Director, who accused Scotland of "making a mockery of the rule of law" and giving "comfort to terrorists around the world". Threats by Americans to boycott Scottish goods and services on the back of the al-Megrahi decision are being taken seriously by the British Government.

Alistair Darling, the Chancellor, who is standing in for the Prime Minister, has told aides that the prospect of an American boycott was of concern and "something that we need to keep an eye on".

Mr Brown has been criticised by David Cameron, the Conservative leader, for refusing to make any statement on al-Megrahi. The Prime Minister had discussed the possible release when he met Muammar Gadaffi, the Libyan leader, at a G8 summit in Italy last month.
Of course al-Megrahi is going to "prove" his innocence in — you GUESSED IT — a book, that will likely line his new-non-prison-issued pockets:
Abdul Baset Ali al-Megrahi, the Lockerbie bomber, is writing his autobiography to "proclaim his innocence" by disclosing new information behind Britain's deadliest terrorist attack, The Times has learnt.

Abdurrhman Swessi, Colonel Gaddafi's official envoy to Scotland, disclosed yesterday that al-Megrahi was working on a book that would detail his life behind bars and reveal all he knows about the bombing in 1988 of Pan Am Flight 103, which killed 270 people.
Will he then sell the movie rights to a big Hollywood producer or TV network? Meanwhile, a new website is calling on Americans to punish Scotland by skipping traveling to that country.

Arizona Senator John McCain now says he warned Libya's leader not to welcome the convicted terrorist back with a hero's welcome — a warning that went unheeded:
Sen John McCain (R.-Ariz) said that he told Libyan Leader Colonel Muammar Gaddafi last month that "it would be a grave mistake to give" convicted terrorist Abdel Basset Ali al-Megrahi "a hero's welcome" on his return to Libya.

McCain visited Libya last month, where he tweeted, "Late evening with Col. Qadhafi at his 'ranch' in Libya – interesting meeting with an interesting man."

Megrahi, a Libyan intelligence agent, had been the only person convicted in the 1988 bombing of Pan Am Flight 103, which blew up over the Scottish town of Lockerbie in 1988, killing all 259 of the mostly American passengers. A Scottish court freed Megrahi, who's terminally ill with prostate cancer, on ostensibly humanitarian grounds earlier this month, after he'd served just eight years of his sentence – prompting widespread accusations that the release was in fact related to oil and gas contracts. Saif al Islam, Col. Gaddafi's oldest son, told a Libyan TV station that the case of Megrahi was ""always on the negotiating table."
Writes Iaian MacWhirter in Heralds Scotland:
So, where does this leave Lockerbie? Well, without any "closure", clearly. Absent an appeal, as urged by the Scottish Criminal Cases Review Committee, there can be no re-evaluation of the soundness of the evidence against Megrahi. The Scottish government insist that they didn't want Megrahi to drop his appeal – but perhaps they didn't try all that hard to stop him. After all, compassionate release means that the Scottish legal system need not now be brought into question again over the Lockerbie verdicts. Many influential voices in Scotland, including Dr Jim Swire, the father of a Lockerbie victim, believe that Megrahi was wrongly convicted.

The conspiracy theories will reverberate for decades. There have been suggestions that it was Syrian-backed Palestinians who were really responsible for the bombing of Pan Am flight 103. It is claimed that new evidence suggesting this has been suppressed by the British government. Public Interest immunity certificates have been placed on these papers preventing publication on the grounds of national security. Unless there is a public inquiry, these documents will never be revealed, and none of the governments involved – here or abroad – seem willing to launch one.

Where does it leave Scotland? Well, as the fog of recrimination clears, it seems that the worst charge against the Scottish government is one of being soft on convicted mass murderers. Many believe that Megrahi should have been executed for his crimes; that he forfeited the right to live when he triggered the device that killed 270 people in 1988. But that isn't how we see things here.

It may be Scotland against the world, but that doesn't mean Scotland is wrong. And history will confirm that Scotland did not act alone.
The cartoon by Nate Beeler, The Washington Examiner, is copyrighted and licensed to appear on TMV. All Rights Reserved. Unauthorized reproduction prohibited.
UPDATE: But is all of the international outrage political chest-beating? Could the Scottish government's reasoning be correct? Could the convincted terrorist really be on borrowed time and enmeshed in more complex situation than seems apparent? Be sure to read Steve Hynd in full.
Joe Gandelman is a former fulltime journalist who freelanced in India, Spain, Bangladesh and Cypress writing for publications such as the Christian Science Monitor and Newsweek. He also did radio reports from Madrid for NPR's All Things Considered. He has worked on two U.S. newspapers and quit the news biz in 1990 to go into entertainment. He also has written for The Week and several online publications, did a column for Cagle Cartoons Syndicate and has appeared on CNN.