Will Congressmen Hardy and Jolly Remain So After Likely Defeats
A few weeks ago, the Capitol Hill newspaper Roll Call rated the most endangered members of the House of Representatives. The top two were both Republicans, Crescent Hardy of Nevada and David Jolly of Florida. Consider the irony. Guys named Hardy and Jolly may be on the verge of losing their seats. I can't pass up the chance at levity by saying that if this occurs, both Hardy and Jolly will be, shall we say, saddened?
First for a little background. Both men find themselves in districts where neither the political and ethnic demographics favor their re-elections. But this has not kept either from trying, and while, odds are that both will probably be forced to deliver concession speeches on Tuesday, it is not a foregone conclusion.
Let's take Hardy first.
The incumbent has not been immune from making baffling statements that can sometimes that, during his first campaign for the seat, hampered his efforts to get on firmer ground. But there is also evidence that, in his single term in Congress, he has recognized the need to broaden his horizons, which has meant opposing his party when he felt it went against his district's interest. Most recently, he called for Trump to step aside following the release of the "Access Hollywood" audio.
Among his comments: "Can I say that without getting in trouble like (Mitt) Romney? The 47 percent is true," he told an audience in 2014? "It's bigger now." On welfare recipients, he asked, "If somebody pulls up in a welfare district in a big fancy Escalade, do you think they need welfare at that time? I believe what the founding fathers said: 'We're entitled to equal rights, not equal things.'" And in 2014, he called the fatal standoff between federal officials and ranchers at the Clive Bundy ranch "unfortunate" but noted it "reflect(s) a long-standing problem with federal government overreach."
It was in part because of his proclivity for shooting from-the-hip that Hardy, even as a State Assemblyman, was dismissed when he challenged freshman Congressman Steve Horsford in 2014. But in fairness, another reason was that the Clark County anchored district was just not drawn to be super competitive. But the Nevada Democratic Party utterly collapsed in 2014 and though Horsford did carry Clark by a microscopic margin, Hardy swept the six rural counties.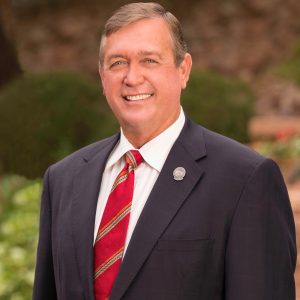 Photo via twitter.com/rephardy
Unlike other Congressman, Hardy has not limited himself to friendly audiences. He has conducted a ferocious outreach all over the district, including to what The Las Vegas Sun calls "unlikely supporters," such as forums that primarily consist of minorities. Hardy admitted as much that abandoning his ethnocentrism was a necessity to serving his people. At one event, he said, "That's how you learn, by shutting your mouth, listening and trying to understand the issues. "I'm not a black man, so I don't understand. I'm here to understand and try and listen the best I can and get educated." And organizers have given him credit for trying.
Hardy hasn't completely been immune to a head-scratching headline here and there. This year, he expressed skepticism over the location of an electric car company, Farady Futures to North Las Vegas, because he worried that the Chinese could "steal intellectual property" (the relocation has been promoted by a prominent Chinese businessman). Nevada's Republican Governor and senator shot down Hardy's statement.
After a bruising battle, Democrats nominated State Senator Ruben Kihuen. His bid was aided immensely by the support of Senator Harry Reid and it was widely expected that the legendary "Reid Machine" would lock up the seat. But Hardy has refused to go down without a fight and the limited polling has shown him surprisingly competitive, if not slightly ahead. In particular, he has hit Kihuen for kickbacks to a Vegas councilman by his firm, the Ramirez Group (Kihuen has not been accused of wrongdoing).
Hardy might find himself able to hang on in a less challenging environment. But Republicans have been stunned by the large increase in the Latino early vote, and on the other side, his views on Trump may cause him backlash from the GOP standard bearer's strongest supporters. So Hardy likely goes down with his party's ship but has successfully retooled his image so that the door may not be closed on a return in one capacity or another.
Since capturing his St. Petersburg based seat in a ferociously contested and nationally watched special election in 2014, Jolly has used a few creative gimmicks to garner headlines. This September, he brought a bucket full of mosquitoes on the House floor to draw attention to the chamber's inability to pass funding to combat the Zika virus. On another occasion, he vowed to stop raising money completely. But he did little to endear himself to his Republican colleagues when he detailed fundraising practices on CBS's "60 Minutes." Referring to Congress as a "telemarketing firm," Jolly detailed how members were expected to raise $18,000 a day. He talked about how members would skip vacations to be sequestered in a room dialing for dollars. He used that to promote his "Stop Act," which would prohibit members from directly soliciting donations. That did not sit well with his colleagues who angrily and in a rare public rebuke of a colleague of their party, pushed back. And it had consequences. Not only did they deny Jolly's portrayal, they have done almost little to assist his campaign. One called it "a performance is going to be Emmy worthy."
In 2015, Jolly had decided to seek the U.S. Senate seat being vacated by Marco Rubio. As it became clear Rubio would try to stay in the Senate, Jolly returned to the race. But he faced a big hurdle. A court-ordered mid-decade remap boosted the margin President Obama would have taken from 50% to 55%. Worse, Jolly had to deal with the entrance of a former Governor who hails from the area. But Crist has his own problems, and that's exactly what gives Jolly a fighting chance.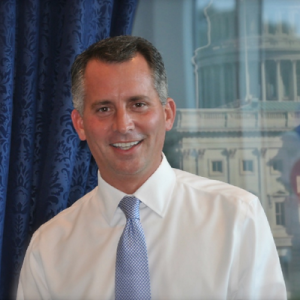 Photo via twitter.com/usrepdavidjolly
Crist was a very popular Governor for four years. He was also at the time a Republican. By 2013, he was an Independent and, in 2014, when he tried to reclaim his old office, he was a Democrat. This caused Crist enormous problems in his comeback attempt and was a prime factor in his 1% loss to incumbent Governor Rick Scott. After the remap, he acquiesced to Democratic entreaties to seek the Congressional seat. But it has not been a cakewalk. In particular, Crist's relationship with the areas sizable African-American community has been troublesome. He is haunted by his former nickname, "Chain Gang Charlie," which dated back to a trip to Alabama in 1995 when, as Florida's Attorney General, he had hoped to bring chain gangs to Florida. He has also been hurt by a refusal to former ally, an African-American Republican turned Democrat, who was running for a State Senate seat in the district. As a result, his backing among African-Americans has eroded somewhat.
The Presidential winds and high turnout should propel Crist to win this seat for the Democrats but, unless he carefully uses the coming two years to tend to fences, he might be at serious risk in an environment not as favorable.