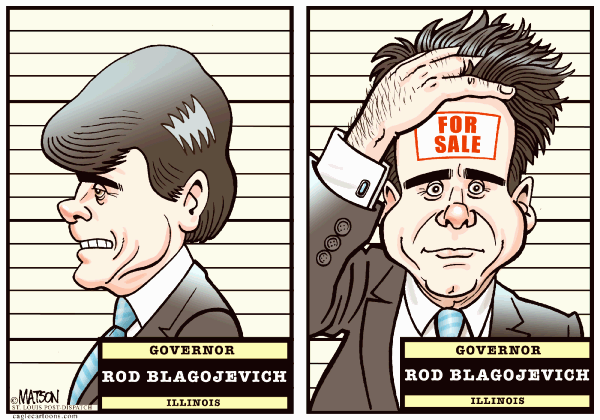 ,/center>

President Elect Barack Obama is unscathed by the unfolding scandal involving Illinois Governor Rod Blagojevich's Senate Seat For Sale arrest because the record shows he was never close to the governor and kept a distance.

President Elect Barack Obama could well be involved because he comes from the same state and worked within that political system and who knows what else will come out? Just remember how he sat there for years and listened to Rev. Wright. And what about his friendship with William Ayers? He has hung around some pretty sleazy people, hasn't he?

Pick a dart and throw it at your favorite version — because that's where the big scandal of SENATE SEAT FOR SALE involving Illinois' Governor whose private vocabulary involves lots of four letter words now seems to be heading.

The country's recent near-total post-election focus on bigger issues such as terrorism, the ailing economy, corporate bailouts and the even the more mundane political races in Georgia and Minnesota have now been overshadowed in new and old media terms by a breaking story again highlighting the nature of 21st century politics: the facts were not even totally out yet when some emails were being circulated asking what Obama knew and when did he know it.

If you thought Campaign 2008 was over…think again.

Some of the questions now become:
1. What are the facts in the case?
2. What's the reality of the Governor's role in Illinois and his actual relationship with other elected Democratic officials? Did they like him or consider him a blight on the state and politics?
3. If the facts yet don't point to the President-Elect being involved, are Americans really ready now to go back into campaign mode anyway?

A look at some key media stories underscores where the case is and where it could be heading.

For instance, Reuters says Obama is now seen as "untouched" by the scandal. Some key quotes:
"Obama is not related to the corruption pattern in Chicago," said political scientist Dick Simpson of the University of Illinois in Chicago. "He has not been pressing for any person to replace him in his Senate seat."

U.S. Attorney Patrick Fitzgerald, announcing the charges, also said Obama was in no way implicated.

……between Obama and Blagojevich had long been tense, with Obama pointedly not including his own governor in campaign events. That should help Obama, analysts said.

"Obama had the good sense to stay far, far away from Blagojevich and all of his people," said Democratic consultant Dane Strother.

"You never saw Blagojevich in Obama's camp, you never saw his name during the campaign. Obama's people were plenty smart enough to stay way away from Blagojevich and all the people around Blagojevich," he said.

Jay Stewart, director of the Better Government Association, a Chicago watchdog group, agreed: "This is all about Rod, it's not about the president-elect," he said.
Reuters also notes that the RNC quickly sent out a press release on Obama and the Governor:
The Republican National Committee issued a statement saying Obama had advised and supported Blagojevich's 2006 re-election, four years after he became the first Democratic governor of Illinois in nearly 30 years.

"Given the President-elect's history of supporting and advising Gov. Blagojevich, he has a responsibility to speak out and fully address the issue," said RNC chairman Mike Duncan.
Business Week has a post about happy conservatives and a very busy Bush Justice Department:
In the wake of Illinois Governor Rod Blagojevich's arrest, many in the conservative community are hoping for a scandal that reaches all the way to Obama. The Bush Administration Justice Department is "all over this," says one GOP source.

The view from within the Bush Administration is that "this is bigger than the news media has yet picked up on," he says. One conjecture is that they expect that the phone records will show that Blagojevich talked to Obama, and perhaps to Axelrod and others.

Of course, that's not necessarily nefarious. Any contact could have been entirely benign. After all, Blagojevich apparently called Obama a "motherf****" for not playing along with his schemes. But the potential problem for Obama is that he's already gone on record as saying: "I had no contact with the governor or his office."

"You can be sure that this will be pursued," says the GOP source. If the phone records (or other evidence) show communications between the now-disgraced governor and the President-Elect, Obama "has got himself a potential scandal. The conservative community is already all over this like ticks on a hound."
For a good summary of the controversy so far, read the L.A. Times' Andrew Malcolm.
FOOTNOTE: This scandal may go on for a while. The Governor reportedly insists he did nothing wrong (tape, shmape…) and has no plans on resigning.
Meanwhile, a mini-controversy has broken out on a statement Obama senior adviser David Axelrod made on Fox News on Nov. 23 saying Obama had talked with the Governor about a Senate replacement. Alexrod now says he was mistaken. Writes The Atlantic's Marc Ambinder:
Again — it'd be more unusual if Obama hadn't talked to Blagojevich. Was Axelrod mistaken? Was he referring to a staff-level contact? Did the discussion occur before the election?

These questions have become somewhat burdensome for the Obama staff, especially since the president-elect has long considered Blagojevich to be a clot in the artery of Democratic power. Axelrod, too, has been privately critical of the Illinois governor, a former client. The touchy context for this indictment is the larger circle of Chicago political insiders who Obama befriended on his freeclimb to power. A long trial will expose to the public many unsavory Chicago political traditions — the same traditions that John McCain haltingly tried to turn into a political issue during the presidential race.
Writing in The Huffington Post, Edwin Eisendrath paints a portrait of a Governor whose style has been evident for some time now — one reflecting the style of some past (and convicted) Governors of Illinois:
Two years ago I took on Mr. Blagojevich in the Democratic Primary. It was already clear back then that he was deeply involved in the kind of pay-to-play politics that have tainted our state for too long. In January of 2006 I described how the governor had raised $2,667 per hour as governor. I described in detail how the public record already made clear that his fundraising interfered with the business of the state.

Cynics say the people of Illinois are not ready to clean up the state. Not true. Almost a quarter-of-a-million Democratic voters stood with me two years ago, and that was against an incumbent Democrat in a time when attention was focused on Republican mistakes in Washington. Since then we've elected Barack Obama President, giving courage to many that change is possible. Now, as the horrible revelations in the complaint against Governor Blagojevich sink in, change isn't just possible, it's certain.
He outlines how it can begin:
We demand his resignation and if it is not forthcoming tonight, the legislature must convene to impeach him immediately. Similarly, as the process of Senate appointment is tainted, the legislature must immediately act to stop an appointment by changing the law. There are several options ranging from establishment of a special election to denying the appointment power to a governor out on bond in a criminal case.

Fundamental change takes time. I knew two years ago that change was possible. Now it is certain. Despite the terrible embarrassment of having two governors in a row hauled away by the feds, I know we can do better. This old book must be closed now.
Fair enough. But will the book be closed on Campaign 2008? Or is what surfaced ASAP in emails and on talk radio a sign that the book has been yanked wide open again?

UPDATE: The AP weighs in:
Though Barack Obama isn't accused of anything, the charges against his home-state governor – concerning Obama's own Senate seat no less – are an unwelcome distraction. And the ultimate fallout is unclear.

As Obama works to set up his new administration and deal with a national economic crisis, suddenly he also is spending time and attention trying to distance himself from Illinois Gov. Rod Blagojevich and charges that the governor was trying to sell the now-vacant Senate post.

The president-elect was blunt and brief in addressing the case on Tuesday: "I had no contact with the governor or his office, and so I was not aware of what was happening" concerning any possible dealing about Blagojevich's appointment of a successor.

It's Obama's first big headache since his election last month, and Republicans were anything but eager to let it go away.

Said Rep. Eric Cantor of Virginia, the new GOP House whip: "The serious nature of the crimes listed by federal prosecutors raises questions about the interaction with Gov. Blagojevich, President-elect Obama and other high ranking officials who will be working for the future president."
Go to the link to read the entire piece.
Joe Gandelman is a former fulltime journalist who freelanced in India, Spain, Bangladesh and Cypress writing for publications such as the Christian Science Monitor and Newsweek. He also did radio reports from Madrid for NPR's All Things Considered. He has worked on two U.S. newspapers and quit the news biz in 1990 to go into entertainment. He also has written for The Week and several online publications, did a column for Cagle Cartoons Syndicate and has appeared on CNN.