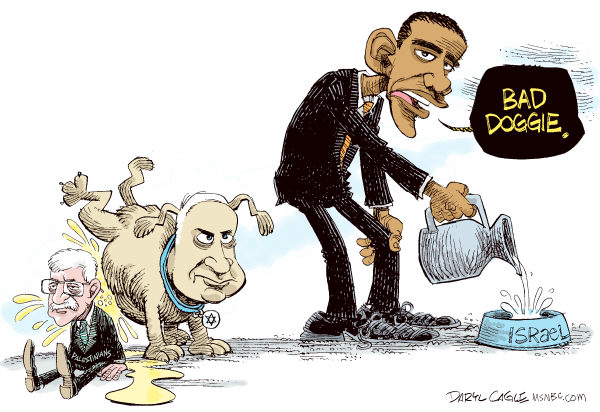 As America's news media and political class focus largely on health care reform, the ongoing political polemics between Republicans and Democrats, Eric "The Tickler" Massa, and reports of Rahm Emanuel's exercise of literal naked political power, a major story is unfolding that's of historical significance: growing tensions between Israel and its Prime Ministers Benjamin Netanyahu and the White House which feels the Israeli P.M. and his government virtually gave the Middle East peace process the political finger.
In recent days Israel has been lambasted by Vice President Barack Obama, Hillary Clinton and now, this morning, by President Barack Obama's chief advisor David Axelrod — signs of a U.S. Israeli relations chill brought on by what some consider to be an action specficially timed by Israel to send Washington a message. If so, Washington is now sending the message back to Tel Aviv — multifold. (Those who think the timing of what occurred in Israel was mere happenstance seems akin to a Rabbi believing THIS would visit his home in on Sunday April 4.)
Even though the United States and Israel have largely remained allies for decades, Netanyahu and his government through either transparent political intentions or mind-numbing oversight have now set it up so in the eyes of the world — and Washington policymakers — it looks like it was sending Washington a message on the peace process and specifically slapping U.S. Vice President Joe Biden in the face.
The latest twist came earlier this weekend when Secretary of State Hillary Clinton — whose rating in domestic polls and international political stock is rising in her Obama administration job — blasted Israel in no uncertain terms for . The Wall Street Journal reports:
Secretary of State Hillary Clinton levied a blistering rebuke of Israel, telling Prime Minister Benjamin Netanyahu the two countries' historic alliance could be adversely affected if his government doesn't more aggressively embrace the Middle East peace process.

Mrs. Clinton delivered her démarche during a tense 45-minute call with Mr. Netanyahu Friday morning, according to U.S. officials briefed on the exchange.

The conversation followed what the Obama administration is calling Israel's "insulting" public snub of Vice President Joe Biden during his official trip to Jerusalem this week.

During the visit, Israel's interior minister announced plans to build 1,600 new Jewish homes in contested east Jerusalem. The Palestinians protested the settlement activity and indicated they might back out of renewed peace talks that the Obama administration has been brokering.

Mrs. Clinton "spoke this morning with Prime Minister Bibi Netanyahu…to reinforce that this action had undermined trust and confidence in the peace process and in America's interests," State Department spokesman P.J. Crowley said Friday.

He added: "The secretary said she could not understand how this happened…and she made clear that the Israeli government needed to demonstrate not just through words but through specific actions that they are committed to this relationship and to the peace process."

On Friday afternoon, Israeli Ambassador Michael Oren was summoned to a meeting with Deputy Secretary of State James Steinberg.

U.S. officials described President Barack Obama as "livid" over the treatment of Mr. Biden in Jerusalem. They said Mr. Obama's anger was among the reasons Mrs. Clinton made the call. The Israeli embassy declined to comment.
Meanwhile, Obama's top advisor David Axlerod essentially backed up and echoed Clinton's comments on a Sunday morning news show:
The President's top adviser David Axelrod told me that approval of new housing units by Israel in the Arab section of Jerusalem during Vice President Biden's trip there last week was an "affront" and an "insult". "What it did was it made more difficult a very difficult process," Axelrod said in my "This Week" interview. Axelrod added that the move "seemed calculated to undermine" the so-called proximity talks going on between the Palestinians and the Israelis.

Axelrod said a clear message was delivered to Israel over the flap. "Israel is a strong and special ally. The bonds run deep. But for just that very reason, this was not the right way to behave. That was expressed by the secretary of state, as well as the vice president. I am not going to discuss what diplomatic talks we've had underneath that, but I think the Israelis understand clearly why we were upset and what, you know, what we want moving forward."

The issue, Axelrod said, is a "flare point throughout the region" and puts U.S. interests at risk. "It is important for our own security that we move forward and resolve this very difficult issue," Axelrod said.
Israelis aren't quite used to hearing Washington policymakers speak that way about their nation — a fact underscored by the Israel PM's quick efforts to reassure the Israeli public and try to soften Washington's ire byby expressing regret. But there were no signs that Netanyahu was going to move to undo the act that has fostered U.S-Israeli tensions.
In his first public remarks on what Israeli commentators called his most serious crisis with Washington since taking office a year ago, he gave no sign he would meet Palestinian demands to cancel a project for 1,600 new settler homes.

"I suggest not to get carried away and to calm down," Netanyahu told his cabinet, after a reprimand by U.S. Secretary of State Hillary Clinton and written statements issued by the prime minister's office that failed to calm the dispute.

"There was a regrettable incident here, that occurred innocently," Netanyahu said, referring to an announcement by a government ministry during a visit last week by U.S. Vice President Joe Biden, of planned construction in an area of the West Bank that Israel has annexed to Jerusalem.

The timing of the disclosure, after Palestinians agreed to indirect peace talks, embarrassed Biden and raised questions over whether Israel's settlement policy could harm U.S.-Israeli security cooperation on the question of Iran.

"It was hurtful and certainly it should not have happened," Netanyahu said of the announcement by the Interior Ministry, controlled by the religious Shas party, a member of a governing coalition dominated by pro-settler parties, including his own.

A senior U.S. official forecast "a dicey period here in the next couple days to a couple of weeks" as Palestinians demanded reversal of the settlement plan.
Palestinan leaders have hailed Washington's blunt response:
The Palestinian Authority on Saturday hailed the rare US condemnation of Israel over the Jewish state's plan to build more settler homes in annexed east Jerusalem.

The PA "welcomes the statements from US Secretary of State Hillary Clinton and the Quartet condemning the Israeli government decision to build settlements in the eastern sector of Jerusalem," chief negotiator Saeb Erakat said.

"We want these positions to become binding and for Israel to scrap its settlement decisions, especially its plan to build 1 600 homes in Jerusalem," he told AFP.

"We want a total halt… we want to stop this Israeli policy that is useless and destructive for the peace process, especially for the US administration's honest efforts to relaunch real and serious negotiations."
The Australian adds this additional info and perspective:
ISRAELI Prime Minister Benjamin Netanyahu has summoned his inner cabinet to an unusual late-night meeting to order a probe after furious American reaction to the announcement of housing construction in East Jerusalem during US Vice-President Joe Biden's visit.

Mr Netanyahu's move yesterday came after US Secretary of State Hillary Clinton lashed out at the housing announcement, calling it "insulting" to Washington. "It was just really a very unfortunate and difficult moment for everyone – the United States, our Vice-President, who had gone to reassert our strong support for Israeli security – and I regret deeply that that occurred and made that known," Mrs Clinton said.

…..Some Israeli commentators believe that Mr Netanyahu will now be obliged to accept a de facto freeze on Israeli housing construction in East Jerusalem. In announcing a 10-month freeze last year on settlement construction on the West Bank he specifically excluded East Jerusalem, which Israel captured from Jordan in the 1967 Six Day War. Unlike the rest of the West Bank, East Jerusalem was formally annexed by Israel, which argues that no one can dispute Israel's right to build on what is now its sovereign territory.

The announcement during Mr Biden's visit of plans to build 1600 more housing units in East Jerusalem, in addition to the tens of thousands already built, was denounced by Israeli media as grossly provocative, an assessment much of the Israel public agreed with.

During Mr Biden's speech to students at Tel Aviv University following the incident the largest hand went not to his warm words about Israel but to his mention of the condemnation he had issued of the building project.

Mr Netanyahu, who last year declared for the first time his readiness to accept a Palestinian state alongside Israel and to impose a de facto freeze on settlement construction, has been attempting to offset the impact of these concessions on his right-wing coalition partners by building projects in East Jerusalem.

Over the weekend, he called German Chancellor Angela Merkel and Italian President Silvio Berlusconi to express regret at the incident.

"I even apologised to Vice-President Biden," he said. "But I was not in any way aware of the building plan ahead of the announcement."
Meanwhile, the Israeli newspaper Haaretz reports this development:
The Jerusalem District Planning and Building committee has canceled two meetings planned for this week, apparently out of concern that any more decisions on construction might result in further tensions with the United States.

As reported in Haaretz last week, the committee had already pulled from its agenda discussion of all Israeli construction over the Green Line.

The Interior Ministry has said that the meetings were canceled due to technical reasons, as the director of the committee Ruth Yosef had been invited to overlapping Knesset sessions.

Interior Minister Eli Yishai denied last week having ordered the committee to change its agenda following the recent crisis with the U.S. ? but committee members nevertheless have received a new schedule, on which all meetings pertaining to controversial construction areas were erased.
The copyrighted cartoon by Daryl Cagle is llicensed to run on TMV. Unauthorized reproduction prohibited.
Now you can follow Joe Gandelman on Twitter.
Joe Gandelman is a former fulltime journalist who freelanced in India, Spain, Bangladesh and Cypress writing for publications such as the Christian Science Monitor and Newsweek. He also did radio reports from Madrid for NPR's All Things Considered. He has worked on two U.S. newspapers and quit the news biz in 1990 to go into entertainment. He also has written for The Week and several online publications, did a column for Cagle Cartoons Syndicate and has appeared on CNN.