Washington Post Will Sell Newsweek: The End of an Era?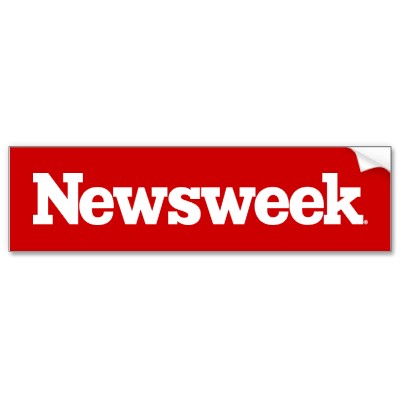 The Washington Post today announced that it's going to put Newsweek up for sale — marking the end of an era. The question becomes: will the end of an era mean the beginning of a new one for the magazine, or is it effectively over?
It's no secret that the magazine has been losing millions for some time now. Due to this — and the changing media environment where readership has gone to Internet websites and weblogs, advertising dollars are more scarce due to the economy, competetion from "faster" forms of media such as 24/7 news/analysis cable, Twitter, weblogs — the magazine recently tried to reinvent itself as a lively weekly that offered more analysis and long-form thematic reporting than the Newsweek of old with its many sections on the week's events and trends. And (like ABC News) it tried to trim costs with hefty layoffs
But it's clear the trending has led to this:
The Washington Post Co. announced Wednesday that it has retained Allen & Company to explore the possible sale of NEWSWEEK magazine. The newsweekly, which has struggled in recent years, was launched in 1933 and purchased by The Washington Post Co. in 1961.

Washington Post Co. Chairman Donald E. Graham came to New York to tell the magazine staff at a 10:30 a.m. ET meeting on Wednesday. "We have reported losses in the tens of millions for the last two years," he said. "Outstanding work by NEWSWEEK's people has significantly narrowed the losses in the last year and particularly in the last few months. But we do not see a path to continuing profitability under our management."

Graham said the company decided to go public with the news to invite as many potential buyers as possible, and said the sale could be completed within a few months. "Our aim will be–if we can do it–a rapid sale to a qualified buyer," he said. "We're a public company and we have to consider the price offered. But we'll have a second and third criteria: the future of NEWSWEEK and the future of those who work here."

In a later meeting, NEWSWEEK Editor Jon Meacham told the editorial staff that he continues to believe in the mission of the company. Meacham said he would do everything he could to ensure the continuation of the magazine, including personally pitching potential buyers. He also reminded the staff that NEWSWEEK wasn't closed today, but was put on the market.
The piece on Newsweek continues:
Graham added, "If anyone should take the blame for this ending, it is me—for not seeing early enough and reacting in the right way to the changes that have come to our industry. But as a former member of this staff, I will always be proud to have been part of NEWSWEEK. And, I will be doing what I can to assist its future and yours."

To that end, NEWSWEEK Inc. Managing Director Ann McDaniel told the staff: "Because we don't have a secret buyer waiting in the wings, because no deal is imminent, some things are unknown. I do hope that you get to stay together as the great team that you are. In case that doesn't happen though, let me make one thing perfectly clear: Any employee, business or editorial, in good standing at the time of the sale, who does not get an offer from the new owner, will get the severance, notice, dismissal and RIF pay described in the contract and in NEWSWEEK's severance policy on the intranet. If you are new to NEWSWEEK, and remain in good standing through the sale, you will get four months of pay."

McDaniel told the staff she was saddened by the news, but that the company has made significant strides in the last year. "Our industry is changing," she said. "NEWSWEEK has changed along with it, and today's announcement reminds us that we must continue to grow, to adapt, to find new ways of serving readers, users and advertisers. I am incredibly proud of what we –really what you–have done in the past year. We are a better magazine, both domestically and internationally. We're a better Web site, and we'll be even stronger after the upcoming launch of our redesigned site. Advertisers like what we are doing and are paying a higher premium for it. Our business processes are better than they have ever been."
Newsweek has some 1.5 million subscribers in the United States and Canada. It publishes 11 editions in more than 190 countries. its' websiteattracts 5.1 million unique users. And both print and web editions have won various awards. The WaPo's Howard Kurtz:
Post Co. chief executive Donald Graham delivered the news Wednesday morning in a conference call with Newsweek staffers, saying no buyers have yet been identified. There was a stunned silence on the line as Graham revealed that Allen & Co., an investment banking firm, has been hired to broker the sale.

Financial losses have been mounting at Newsweek, which has lagged in its competition with Time magazine and which launched a controversial redesign in an effort to position itself as a publication that focused more on opinion and analysis than the week's news.
Newsweek's advertising sales slumped 30 percent to $241 million last year on a 26 percent plunge in ad pages sold, according to Publishers Information Bureau data. That compares with an 18 percent ad revenue decline in the magazine industry.

"It's apparent that the weekly news magazine business doesn't have a terribly bright future," John Morton, president of Morton Research Inc. in Silver Spring, Maryland, said in an interview. "There's been a fundamental change in how people read news and how they get their news and that's primarily from the Internet."
Washington Post fell $6.77, or 1.4 percent, to $495.93 at 11:25 a.m. in New York Stock Exchange composite trading. The stock had gained 14 percent this year before today.

Washington Post has also trimmed sections and closed bureaus at its namesake daily newspaper. The Washington Post's average daily circulation fell 13 percent in the six months through March, compared with an 8.7 percent decline across the industry.
In an interview last year, Newsweek's editor, Jon Meacham, told the New York Times: "If we don't have something original to say, we won't. The drill of chasing the week's news to add a couple of hard-fought new details is not sustainable."

In an effort to reduce Newsweek to a more manageable size, the publisher deliberately cut its circulation, which had been as high as 3.1m per week, to 1.5m by raising cover prices and ending deep discounts on renewals. During 2009, some 44 Newsweek employees accepted voluntary redundancy packages.

A stalwart on newstands in the US and around the world, Newsweek was founded in 1933 by Thomas Martyn, a former foreign editor at Time magazine, with a cover price of 10 cents per copy. The magazine has been a longstanding rival of Time and of the London-based Economist.
Two Personal Notes:
1. The Moderate Voice was honored during campaign 2008 to be included on www.newsweek.com's The Ruckus campaign political news group blog, which included a cross section of blogs that were invited to post their political reporting and analysis.
2. I grew up in the newsmagazine environment. My late father Richard Gandelman did a lot of printing for Time Inc. We had people from the Time corporation at our house often. I even went into NYC with my father several times as he went on business to the towering Time building. Even so, my father subscribed to both magazines. I became a huge fan of Newsweek, Times and U.S. News and, overseas, of The Economist. I today subscribe to Newsweek and to another newsmagazine that has a totally different approach, The Week.
The social and media context have now changed, making it very difficult for newsmagazines. Part of it is the political culture: some people today simply will not read anything unless they a)agree with it in advance b)know it does not contain anything they disagree with in advance. Also, just as newspapers were effectively battered by television evening news broadcasts, there's just too much news readily available (even on cell phones) for many younger people to want to read a magazine that comes out with a lot of info they already have largely read. So Newsweek became a nifty, journalistically downsized product — yet, it was not the same Newsweek. For that matter, Time Magazine cannot be compared to what it was 10 or even five years ago.
Newsmagazines used to be downright essential to those who wanted to know more beyond regular, hard news or newspaper analysis; now they are not and cannot catch up in a literal race against time to get their content out….all within the context of a bad economy.
There is a shakedown occurring in many areas of media and technology — and news of the Newsweek sale marks a watershed.
SOME OTHER REACTION:
I honestly believe that Time and Newsweek are a blight on our civilization, primarily because they mask warmed over conventional wisdom as something more serious. I say that not because I dislike magazines but because I believe that if Washington Monthly, American Prospect, and the Economist (not my favorite, but it is the best conservative magazine that I am aware of) had the same influence that Time and Newsweek have had, we would be in a much better place politically.
Lord knows the Washington Post Co. has enough trouble just balancing out the economic black hole that is the Washington Post. They can't deal with Newsweek's losses, too.
—Mediaite's report, which should be read in full, says it wasn't as bad as reported:
The writing was on the wall a few weeks back when news broke that Newsweek would be moving its staff, from its brand-new and cushy Tribeca offices, to its more mundane confines in Midtown Manhattan. These would be the offices that they JUST MOVED INTO last June, and the fact that Kaplan would be taking over…well, it just reinforced what everyone already knew. Kaplan is another subsidiary of the Washington Post company, that has become a cash cow best known for its higher education programs, professional training courses and test preparation products. So it would make sense for them to have the coolest offices.

But while moving was admittedly a pain, sources within the magazine spun this as a smart move, not just because it solved a serious space problem for Kaplan, but also saved Newsweek significant money each year. Cynics might see this as a "cheap" and effective way to quickly improve the bottom line, ostensibly to impress prospective buyers.

…Sources close to the title tell us that the first quarter of 2010 was also encouraging – ad sales efforts met their budget and print ad numbers for the months of March and April, perhaps owing as much to the end of the ad recession as anything else. The bottom line is that Newsweek is seeing ad revenues return to pre-recession levels, and combined with a rather dramatic reduction in losses, the weekly news title is moving very close to hitting their break even target for 2011.

One would have to think that selling Newsweek when it is growing and in a stronger media market is preferable to selling it in a down market like last year, which is probably why the decision was made now. Newsweek is a very big brand, and a much stronger asset than others that have been sold recently (BusinessWeek, Philly Inquirer).
—RBR:
Usually when somebody tries to sell you a magazine, they're talking a single issue or a subscription. But the Washington Post is trying to sell Newsweek lock, stock and barrel, and has brought Allen & Company on board to help find a buyer.

Newsweek is an iconic title, but like many print titles has fallen on hard times, and was headed in that direction even before the financial meltdown made itself felt on the media back in the Fall of 2008.

WaPo is making no bones about the fact that Newsweek is a troubled property
Choire Sicha at The Awl is reporting that Newsweek editor Jon Meacham "said that he will be lining up financiers and trying to make a bid to buy the magazine himself. He has already had inquiries from some very well-off types this morning."

Perfect timing: We're sure this will make for good fodder when Meacham goes on "The Daily Show" tonight.
–Marketwatch:
The news that the Post Co. may unload the money-losing Newsweek should hardly come as a shock. All over the industry, big names, new and old, have been vanishing, such as Gourmet and Portfolio. BusinessWeek received a stay of execution when Bloomberg stepped in at the 11th hour and acquired the publication from McGraw-Hill (MHP 32.00, -0.67, -2.05%) .

Traditionalists have bemoaned the changes that Bloomberg has put in place. They seem to forget that without Bloomberg's involvement, BusinessWeek would probably have disappeared by now.

Time magazine (TWX 32.06, -0.61, -1.87%) , Newsweek's rival over the decades, should draw no satisfaction from this news. Who knows? Time Warner may lower the boom on Time one of these days.

It has been apparent that Time is facing the same problems as Newsweek. Although both newsweeklies have (finally) begun to embrace the Internet, they did so too late in the game to achieve significant progress.

In the 21st century, the key question that media companies will face is this: Is my product relevant?
—The Awl says Meecham may even try to buy the magazine himself:
In today's meeting, at which the announcement was made that Newsweek was being put up for sale by the Washington Post Company, the magazine's editor Jon Meacham said that he will be lining up financiers and trying to make a bid to buy the magazine himself. He has already had inquiries from some very well-off types this morning. Tonight's "Daily Show" appearance—he's been booked for ages—should be really something! Meacham is currently talking to reporters and juggling calls, so expect more soonish.
In corporatespeak, this is equivalent to hastily scrawling out a "Going Out of Business–Name Your Price" sign and plastering it on the front window….

Ah. Here's Time's grave-dancing statement right now, via a press release: "TIME continues to be healthy and profitable, and a trusted source of news, reporting and analysis for millions of people in America and around the world in print, online and on the iPad. We had a highly profitable year last year and will have an even more profitable one this year."
As a one-time Newsweek correspondent myself (based in Washington DC and then Los Angeles), this is a sad day indeed. On the other hand, the mag isn't even hiring journalists anymore..
Looks like the Washington Post has decided to send Newsweek to one of President Obama's death panels. The company, which makes a fair share of its money from the Kaplan test prep service, has decided it is no longer interested in losing money on Newsweek. It hired Allen & Company "to explore the possible sale" of the newsweekly…
Graham is stating that the magazine is defunct, and the only thing that's worthwhile about it is the brand. So, who wants to buy the corpse called Newsweek and re-animate it into whatever they imagine?

And when you think about it, Newsweek doesn't really have any other assets to sell, does it? Much has been made recently about the whiplash faced by staffers as they keep being forced to move offices repeatedly. So the sale of Newsweek will really just be to whomever wants to control the name, the URL, and the archives – not to some private equity firm that wants to make a mint by flipping their expensive headquarters.

We've seen this happen recently to other titles. Consider Conde Nast's sale of Portfolio to bizjournals and the corporate parent of the National Enquirer, AMI, acquiring RadarOnline.com. The properties that followed them had the same name, and in some cases a comparable design, but did not in any way resemble what we had come to expect from Portfolio and Radar.
It's been a long, hard road for Newsweek as newsmagazines have been especially hard hit with a changing news landscape. While the demand has move increasingly towards "quick" and "fast", Newsweek, along with TIME and U.S. News & World Report, has struggled with how to adapt its longview journalism. U.S. News underwent a major editorial and staff restructuring over the past few years after deciding to become a monthly in late 2008.
The numbers plus Graham's frank words—and common knowledge about the magazine's woes—raise the immediate questions: who would want Newsweek and why? Unfortunately, Bloomberg already has a weekly mag but think along the same lines. Either someone needs the imprint and brand a Newsweek brings and can get a cents-on-the-dollar deal good enough to make it worth the risk a la BusinessWeek and Bloomberg, or someone who believes strongly enough in Newsweek's potential for success with a massive correction to the cost structure and can raise the money. Editor Jon Meacham told the staff today he is trying to make a bid of his own, according to The Awl.
This news comes as yet another blow to the struggling print journalism industry. Post Co. Chariman Donald E. Graham said in a statement, "Newsweek is a lively, important magazine and website, and in the current climate, it might be a better fit elsewhere.'' Here's hoping.
Vanity Fair: How's morale?

Anonymous Newsweek Employee: Mood's not bad here, surprisingly!

VF: Is this a total surprise, or no?

A.N.E.: Yes. Well, no one knew, but any business school kid could have predicted …

VF: Are people equating the sale with layoffs?

A.N.E.: Yes. No buyer will take the whole shebang, right? No one knows if there will be layoffs before the sale or after, though.

VF: So do you get the sense that people have been looking around for plan B?

A.N.E.: Individually? Yeah. Oh yeah, [we've] lost a ton of people lately.
To keep tabs on this story, go to Mediagazer.