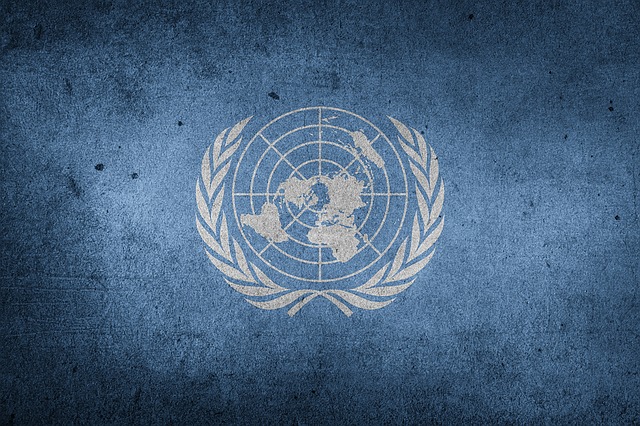 Preoccupied by quagmires in Syria, North Korea and elsewhere, the Trump administration and other governments are heading towards their biggest mistake by allowing the United Nations to weaken further.
This is happening at a time when global military expenditures far exceed $1.5 trillion a year and there are 15,000 nuclear weapons and countless conventional weapons in the world.
"There is exaltation and glorification of military power, forgetting to mention the shocking costs of conflicts on people," UN Secretary-General Antonio Guterres told ongoing meetings of top world leaders on human rights and disarmament in Geneva.
Taboos about chemical weapons and nuclear weapons tests have been broken and "weapons of war are sold and commercialized like ordinary consumer products," he said.
Despite these perils, the UN, which has successfully reinforced peace among the great powers for more than 70 years, is being undermined.
American backing, including budget payments to the UN, has plummeted under President Donald Trump.
The UN is flawed but weakening it is arguably the most dangerous thing for world peace, prosperity and social justice that the US and other world powers, including Europeans, Russia, China and India can do.
The non-partisan Guterres named four priorities: conflict prevention, upholding humanitarian principles, promoting sustainable development and dealing with future threats. He said he was preparing a new world initiative tying all of these into a global vision and agenda for disarmament.
Among negatives, he warned that "consideration is being given to using nuclear arms as tactical weapons for combat, opening extremely dangerous perspectives."
"Beyond that, new technologies are speeding up completion of new types of autonomous and remote-controlled weapons that defy existing normative frameworks."
"War has left fields of battle and entered the hearts of cities and villages. Governments and non-state militias are using powerful explosives in populating zones and killing more and more civilians."
Alongside his warnings came a passionate call to action by UN Human Rights chief Zeid Ra'ad Al Hussein, for this year's celebration of the 70th anniversary of the Universal Declaration of Human Rights.
"Today oppression is fashionable again; the security state is back, and fundamental freedoms are in retreat in every region of the world. Shame is also in retreat. Xenophobes and racists in Europe are casting off any sense of embarrassment," he said.
Referring to the utter cruelty of modern wars in the middle of cities and villages, he had strong words for the five veto-holding powers (P5) of the UN Security Council – US, Russia, China, Britain and France.
"Second to those who are criminally responsible – those who kill and those who maim – the responsibility for the continuation of so much pain lies with the five permanent members of the UN Security Council. So long as the veto is used by them to block any unity of action, when it is needed the most, when it could reduce the extreme suffering of innocent people, then it is they – the permanent members – who must answer before the victims."
France backed by Britain and 115 countries has proposed a code of conduct on the use of the veto. "It is time, for the love of mercy, that China, Russia and the United States, join them and end the pernicious use of the veto," Zeid said.
"Many in New York view (the Human Rights Council) condescendingly as that weak, emotional, Geneva-centered, pillar — not serious enough for some of the hardcore realists in the UN Security Council."
They should remember that "it is accumulating unresolved human rights violations, and not a lack of GDP growth, which will spark the conflicts that can break the world."
"For it is the worst offenders' disregard and contempt for human rights which will be the eventual undoing of all of us," he warned.
Both Guterres and Zeid spoke very strong words but their calls were plaintive. They can achieve almost nothing if governments, especially the US, do not cooperate.
UN ambassador Niki Haley has threatened several times to quit the UN Human Rights Council, which despite its flaws is still the only official forum authorized to investigate governments and hear evidence against them.
Regrettably, the core beliefs of governments seem to be veering towards how to build fortresses around their people's advantages, rather than how to build a peaceful world where all persons should rightly expect to live with dignity and without denial of their rights as humans.
UN-system agencies have helped significantly to alleviate the human costs of conflicts, under-development, poverty, hunger, racism, violence against women and children, and egregious human rights violations.
The UN is the only non-partisan universal body still trying to glue together a rapidly fragmenting global family of nations.
But its leaders are now reduced to helplessly ringing more alarms as rifts widen in cooperation among governments and atrocities continue in Syria and elsewhere.
With increasingly awful problems plaguing the world, a weakened UN system would be devastating for the 137 developing countries (as listed by the World Bank) among the 193 UN member states.
Trump has stabbed holes in the fabric of that international cooperation, but he did not cause the underlying distrust among nations and his dagger is not the only one widening those holes.
Resolutely, he is coercing the world order away from cooperation towards competition in which each country puts its own interests and people first regardless of detriment to others.
But the major European powers of Britain, France and Germany are not resisting. They, too, are more closely minding their own concerns but with less frankness than Trump.
As revisionist powers, Russia and China favor only the kind of multilateral cooperation that erodes American and European influence in their neighborhoods and among developing countries.