Tuesday Potomac Primaries: More Barack Obama "Omentum" And End Huckabee "Miracle" Dream?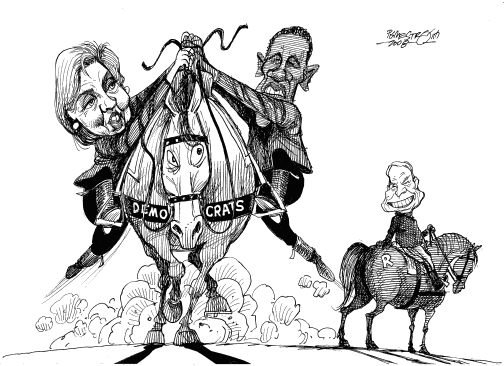 When voters to go the polls today in Potomac Primaries to vote in Virginia, Maryland and DC, they will likely answer two key political questions:
(1) Will the recent momentum gathered by Democratic Senator Barack Obama (which might as well be called Omentum) in his neck-and-neck battle with Senator Hillary Clinton for the 2008 Democratic party Presidential nomination continue? If it does, some analysts are now saying Clinton's highly-touted March "firewall" for primaries in Texas and Ohio — particularly in Ohio – could be at risk.
(2) Are Republican conservatives going to continue to send presumptive GOP nominee Arizona Senator John McCain a stern message bordering on virtual rejection at the polls by voting for former Governor Mike Huckabee and give Huckabee more raw material to keep his belief in a "political miracle" (that he is somehow propelled to the Heavens of the nomination while McCain burns in political also-ran you-know-where) alive?
It's a big day for BOTH parties: if Obama can keep up his "omentum", and win by impressive margins, not only do some analysts say there is a chance it could pierce Clinton's upcoming firewall, but it could cause Superdelegates to consider whether they really want to be in a position where they give the nomination to someone who did poorly in the primaries. Be sure to read TMV columnist Shaun Mullen's MUST READ post on the history and impact of brokered conventions.
And, on the Republican side, if Huckabee again garners lots of anti-McCain votes, it will likely mean McCain has to accelerate his fence-mending efforts — and will be a further indication that to win in November McCain will have to run much more to the right in the general election…and could then risk some support he has traditionally gotten from independent and Democratic voters.
The acutely close — and unpredictable — nature of the Democratic race is underscored by a piece by the Washington Post's Dan Balz titled "8 Questions the Potomac Primary Could Answer." The main answer: a lot will remain up in the air. It must be read IN FULL, but here are the questions and a short summary:


1) Will a Sweep by Obama Make Him the Front-Runner? Not until the day Hillary steps aside.
2) Will the Clinton-Obama Race Split the Party? "Not until it does" since unlike the GOP's problem, the Democrats aren't suffering an ideological split.
3) Will Edwards Endorse Someone Soon? It is likely and he could have some impact.
4) Will Obama Catch Clinton Among Superdelegates? "Yes if he keeps winning."
5) Does a Long Democratic Contest Help McCain? "Of course."
6) Will McCain Prove He Can Win Over Conservatives? "This remains Topic A in Republican circles, and Virginia's results will help answer the question."
7) How Long Will Huckabee Keep Going? "Huckabee's low-budget campaign continues to surprise, which is incentive enough to keep going. Strategists offer a variety of answers as to when he might quit…."
8 ) Which Local Politicians Will Be on the VP Short List? (Read that yourself..)
So, more than ever, it is evident that Super Tuesday did NOT settle the contests as its designers originally hoped. Indeed: there is the prospect that the battle in at least one of the two major parties could go right down the the wire, all the way until August. The result: today's Potomac primaries take on increased importance.
The Los Angeles Times notes the political context for Democrats. The vote comes amid conflicting numbers about who is ahead:
With four fresh states in his pocket from weekend voting, Sen. Barack Obama shifted his campaign focus today to the geographic heart of the very government he has railed against on the stump: Washington, D.C., Virginia and Maryland.

The voting Tuesday could catapult Obama into the delegate lead for the Democratic presidential nomination, although a clear total of how many delegates each candidate has amassed has been elusive.

The Associated Press this morning gives the lead to Sen. Hillary Rodham Clinton of New York with 1,136 to 1,108 for Obama of Illinois. But the website Real Clear Politics gives Obama a five-delegate lead. Both include so-called "super delegates" — elected officials and party leaders whose choice is personal and not tied to primary or caucus results.

All three contests Tuesday play to Obama's campaign strengths, with high numbers of well-educated and high-income voters, and large numbers of African American voters. Obama has also led Clinton in recent polls in Virginia and Maryland.

In fact, the next several contests are in states in which Obama is expected to do well before heading into the March 4 contests among voters that tend to favor Clinton: older and blue-collar Democrats in Ohio and Latinos in Texas.
But the Times also notes that Clinton's support in her "firewall" states could wane if Obama wins big. And the Obama camp is going to battle Clinton in Texas: it has announced it's buying time for TV ads.
On the Republican side, most analysts believe it is over in terms of the nomination but a new Survey USA Poll in Virginia shows Huckabee gathering momentum. Still, it's a winner take all state and there are — so far — no signs McCain will lose it.
But could the conventional wisdom be wrong — AGAIN?
The Los Angeles Time's Top of the Ticket blog gives what would normally be described as a journalistic "hedge" but in this wild election season amounts to a reality check:
We've been here before. The pending question is: Will we be fooled again?

The story line is in place for today's "Potomac primaries" in Maryland, Virginia and D.C., a narrative determined by other recent contests, the body language from each of the Democratic presidential campaigns and — most influential — the polls. Based on all of this, it should be another shining Barack Obama moment.

But in his mind, and those of his aides, there must linger a memory of New Hampshire.
It recounts the history of the New Hampshire vote, which pollsters, pundits and bloggers (including TMV) would love to forget.

So now comes another chance for Obama to put some real daylight between himself and Clinton.

….The polls are arrayed with rare unanimity, showing him with substantial leads in Maryland and in Virginia (a big Obama victory in D.C. is a foregone conclusion). Team Clinton, meanwhile, is feeling the heat, trying to focus the attention of supporters on battles that are three weeks away.

In a campaign season that has defied one forecast after another, perhaps tonight the results finally will match the expectations. If not, there are any number of pollsters, in particular, who should start considering another line of work.
And you can see the "narrative" from the press reports. Such as:
Democrat Barack Obama hopes to extend his winning streak over rival Hillary Clinton on Tuesday, when voters in three battlegrounds make their choices in a close and bruising Democratic presidential race.

Republican front-runner John McCain and his last major challenger, former Arkansas Gov. Mike Huckabee, also square off in Virginia, Maryland and the District of Columbia as McCain tries to move closer to clinching the party's nomination.

In the Democratic race, Obama is favored in all three contests as he and Clinton battle for the 168 pledged convention delegates at stake in the voting.

Obama easily swept four weekend contests in the states of Maine, Louisiana, Nebraska and Washington, edging past Clinton in the race for pledged delegates who select a party nominee.

Among Republicans, McCain has built a nearly insurmountable lead in delegates to the nominating convention and became the likely nominee last week with the withdrawal of his top rival, former Massachusetts Gov. Mitt Romney.
When Virginians go to the polls today, Barack Obama is counting on overwhelming support in places such as Church Hill, the historic center of Richmond's black community, with its multicolored row houses.

He is also counting on a strong turnout in places such as Alexandria, George Washington's historic hometown of redbrick mansions, now a largely white enclave of lawyers and venture capitalists.

Obama describes his candidacy as attracting people of all races and backgrounds, but his recent string of successes has been powered by growing support among two groups – blacks and upper-income liberals, especially men. Those constituencies, building on his early backing from groups such as young voters and people in rural communities, have put Obama in a good position to overtake Hillary Clinton today in total delegates, according to analysts.

Virginia, Maryland, and the District of Columbia, voting today in the so-called Potomac Primary, fit the profile of states Obama has been winning. A victory in Washington, D.C., with a large majority of black voters, is considered a foregone conclusion. But Virginia, where blacks account for 27 percent of the Democratic electorate and self-identified liberals are 34 percent, is also likely to be fertile ground for Obama. And Maryland, with 39 percent blacks and 32 percent liberals, should be as well, according to analysts.
—U.S. News & World Reports' Political Bulletin blog takes note of the media political context:
Democrats go to the polls today in the Potomac Primary, voting in Virginia, Maryland and DC. The consensus in the media this morning is that Barack Obama, who swept the weekend contests, is set to continue his winning streak today. Media coverage of today's primaries is also heavily skewed toward the Obama campaign this morning, with coverage of the Clinton campaign focused on later primaries.
People in and around Washington DC are voting in primary polls which could see Democrat Barack Obama keep his momentum over rival Hillary Clinton.

Senator Obama is aiming to win the Democratic presidential nomination contests in Maryland, Virginia and DC.

Senator Clinton is looking ahead to primaries in Ohio and Texas in March in the hope of reversing her fortunes.

In the Republican race, John McCain is seeking to bolster his front-runner status after two weekend defeats.

Polls suggest Mr McCain has the edge over Mike Huckabee, who won in Kansas and Louisiana on Saturday.

But correspondents say the Arizona senator still has some work to do to unite his party, amid continuing criticisms from leading party members who have questioned his conservative credentials.
Mr. Obama is expected to energize blacks, who make up nearly 20 percent of voters in the state. But Larry J. Sabato, director of the Center for Politics at the University of Virginia, said black voters might, in fact, play an even greater role because in the past they had turned out in disproportionately greater numbers than other groups, as much as 35 percent.

Mrs. Clinton, on the other hand, expects to do well in suburbs and the state's economically struggling rural southwestern region, where unemployment is high. She easily won majorities last Tuesday in many rural counties in Missouri and Tennessee, which share some of Virginia's demographic and cultural traits.

The state has open primaries, so no party registration is required to vote on Tuesday, and Mr. Obama has shown more of an ability to attract independent and Republican voters. Mark R. Warner, a former Democratic governor, has said he will not endorse a candidate, but Gov. Tim Kaine and Mayor L. Douglas Wilder of Richmond, who was the nation's first elected black governor, have backed Mr. Obama, saying he is best equipped to beat whomever the Republican Party nominates.

Like elsewhere, younger voters in Virginia have flocked to Mr. Obama.
Barack Obama is poised to chalk up three more wins over Hillary Clinton today in Maryland, Virginia and Washington, D.C., that would give him a clear delegate lead in the Democratic nomination race.

Obama packed arenas in Baltimore and College Park, Maryland, yesterday while Clinton pursued voters in smaller settings. Polls in all three jurisdictions show Obama the favorite to win a majority of the 168 delegates at stake.

"You're looking at a groundswell," said Keith Haller, president of Potomac Inc., a Bethesda, Maryland-based political consulting company not affiliated with any campaign. The Illinois senator will win the capital overwhelmingly, and in Virginia and Maryland, the "yield for Obama is likely to be more significant than just splitting the delegates."

Obama will be building on the momentum he gained after winning in four states over the weekend — Maine, Nebraska, Louisiana and Washington — and having battled Clinton to a draw in 22 states on Feb. 5.
Barack Obama is today set to open up a clear lead over Hillary Clinton in primary contests around Washington in what could decisively alter the dynamic of the Democratic race for the White House.

Obama was the favourite in all three contests today – Washington DC, Virginia, and Maryland – which would extend to eight his string of victories over Clinton since Super Tuesday.

It could also for the first time give him a measurable lead in the complicated delegate tally, with 238 delegates at stake in today's three contests, as well as 11 more from Democrats Abroad, whose votes are due today.

A poll for the Associated Press yesterday indicated the turn in fortunes, with Obama on 46% against Clinton's 41%.

That momentum for Obama could escalate Clinton's problems in fundraising and organisation, undermining her hopes of coming back with big wins in the Texas and Ohio primaries on March 4.

The Obama camp begins airing television ads in Spanish and English throughout Texas today, taking advantage of the $32m (£16m) it raised in January. The Clinton campaign raised only $13m last month, and advisers said yesterday they may not run ads in every media market.
The bottom line: An Obama loss or very narrow win(s) tonight will dramatically change the emerging press narrative — which is another phrase for "conventional wisdom"…which has shifted abruptly several times so far in the race towards the November 2008 election for the White House.
UPDATE: Slate's John Dickerson says not to believe the growing conventional wisdom that Mrs. Clinton is doomed. He makes a convincing case, citing several reasons. Here's the beginning and the end of his piece, which must be read IN FULL:
The best news for Hillary Clinton's campaign may be that it's headed over a cliff. In a campaign season where conventional wisdom has been so wrong so often, she can take heart that the current view among the political class is that Obama is marching unstoppably toward the nomination.
And the end:
If Obama scores some upsets in states he's not supposed to win, he may be able to convince a big chunk of superdelegates that he's the candidate, and that'll be the end of it. But if the race remains close, the backroom battle seems to favor the Clintons. They have more ties to these party insiders, and they know how to play the game (that's in Part 1 of the arguments Obama is making against them). Obama can stir a crowd of 20,000, but it's the Clinton team that can make the insider case. For example, when Clinton talks about being able to fight the Republican attack machine, party insiders who have seen the combat up close may be apt to buy the argument that despite Obama's inspiring language, only the Clintons understand what's necessary to combat the GOP.

In a race where so much that seemed certain has not been, any struggling candidate can find a reason to persevere, especially perhaps a candidate who was once seen as inevitable. Of course the race's switchbacks have now become such a predictable part of conventional wisdom that it may be time now for the undulations to stop and for momentum to start playing a role again. In that case, Clinton is doomed.
Now read it from beginning to end and all of the stuff in between.