Trump's Misplaced Anxiety (UPDATED)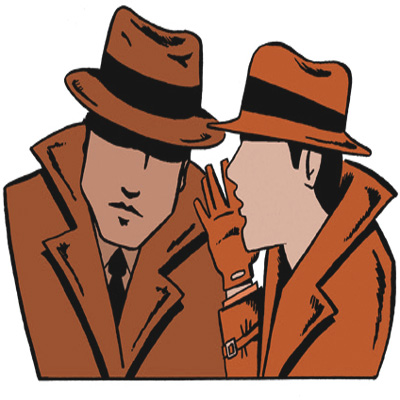 UPDATE:
Former FBI Director James Comey this morning answered Trump's tweets that referred to our investigative agencies as "Criminal Deep State":
Facts matter. The FBI's use of Confidential Human Sources (the actual term) is tightly regulated and essential to protecting the country. Attacks on the FBI and lying about its work will do lasting damage to our country. How will Republicans explain this to their grandchildren?
Original Post:
My wife takes possession of the new issues of Vanity Fair immediately upon their arrival and I don't get to read them until a month or so later.
When I finally got to see the March issue, an article titled "Spy Anxiety" caught my attention. It is about how the rise of "former K.G.B. lieutenant colonel and judo master" Vladimir Putin has made the Cold War "hot again" and is making FX's The Americans and others of the genre that gave us The Spy Who Came in from the Cold, The Manchurian Candidate and, more recently, Bridge of Spies also hot.
In The Americans, one encounters, in addition to spies, "expert infiltrators," "F.B.I counter-intelligence agents" and of course sex.
So, why did the Vanity Fair piece with references to spies, infiltrators, Putin, sex, etc. catch my attention?
Perhaps it had something to do with the ongoing Mueller investigation into Russian interference in our elections, into collusion and obstruction of justice and with all the cloak-and-dagger activities and sexual escapades associated with the investigation and the Stormy Daniels and similar "incidents."
Come to think of it, it probably has more to do with the recent desperate and outlandish conspiracy theory by Trump and his co-conspirators suggesting "the FBI, working on orders from the Obama administration, implanted a spy into the Trump campaign in order to help Hillary Clinton's campaign."
Here are some partial tweets and remarks by Trump, the man with "spy anxiety," albeit spy anxiety not directed at our real enemies but instead at those agencies whose job is to ensure that our country is safe and that that no one is above the law.
Apparently the DOJ put a Spy in the Trump Campaign. This has never been done before and by any means necessary, they are out to frame Donald Trump for crimes he didn't commit.
I hereby demand, and will do so officially tomorrow, that the Department of Justice look into whether or not the FBI/DOJ infiltrated or surveilled the Trump Campaign for Political Purposes – and if any such demands or requests were made by people within the Obama Administration!
Very shortly after the latter tweet, the Justice Department announced "it would ask its own inspector general to consider whether, as the president alleges, federal law enforcement officials 'infiltrated or surveilled' Trump's campaign for 'Political Purposes' — and possibly at the behest of the 'Obama Administration!'"
Bloomberg writes,
So, if Trump's Sunday tweet surprised you, if you thought that the power and the majesty of the office he inhabits were going to change him, and if you thought that the president would put respect for the law ahead of his own self-interest, well, now you know better.
Well, today we know even better as Trump enablers immediately jumped on the "spy" conspiracy and, according to Gabriel Sherman at Vanity Fair, Trump's team "is attempting to build the case that anti-Trump forces in the F.B.I. entrapped his advisers using informants to plant evidence about Russian collusion."
The New York Magazine adds, "Let this roll around in your mind for a moment. Trump is not merely accusing the FBI of planting a spy, but of planting evidence."
Spies? Informants? Infiltrators? American, not Russian?!
Apparently that is the job for House Republican leaders – no Democrats have been invited — to divine on Thursday as they meet to review records Trump-defender-in-chief Nunes has demanded from the Justice Department "including the unredacted memo outlining the scope of Special Counsel Robert Mueller's authority and the name of an informant the FBI used when it began a counterintelligence investigation of Trump's campaign in 2016."
Spy anxiety?
It seems Trump's anxiety would be more logically caused by his old buddy Putin, his new-found friend Kim Jong Un, his old paramour Stormy Daniels and other ghosts – past and present — or by what Cohen, Flynn, Papadopoulos, Manafort, Gates and many others might say or might have said to a certain Special Counsel who is starting to even scare Frank Bruni at the New York Times, rather than by imaginary "spies."
The New York Magazine perhaps says it best:
You might think this is all so unhinged Trump could not possibly believe it, but then, you would have to explain Trump's longtime infatuation with the conspiracy theories he imbibes in his binge-watching of Fox News, where hours of air time can pass by without the appearance of anybody who is hinged. And you might also think Trump could not get his party to go along with this theory, to dismiss all the evidence of culpability as having been fabricated by a pro-Obama cabal in the FBI. But then you would be ignoring how far down the Trump rabbit hole the Republican Party has gone so far.
Lead image, credit: Credit, AJC1