Trump supporters are from Mars, Clinton backers from Venus
For voters, 2016 is about more than a personality clash between Donald Trump and Hillary Clinton.
New research shows that the gaping divide in the presidential race derives from much more than voters' distaste for one candidate or the other. Supporters of Hillary Clinton and Donald Trump see America in very different ways. This pertains to what their concerns are, plus America's standing compared to a half-century ago.
These two groups of political combatants can't even agree on what the persistent problems are that face the United States as the Obama presidency comes to a close.
A Pew Research Center poll found that 66% of Trump backers say immigration is a "very big problem" while just 17 percent of Clinton voters felt the same. On terrorism, the numbers showed 65 percent of Trump folks labeled it a very big concern, while just 36 percent of Clinton backers agreed.
What about the gap between the rich and poor? The divide was 71-30% with Clinton's supporters. Protecting the environment splits along a 43-16% difference, again with Clinton backers out front on the issue. Take a look at the Pew chart below to get a fuller picture.
The differences of opinion may not be surprising, but the margins are astounding.
Even the possibility of a historic election, with our first woman president, can't bring these two groups together. Most registered voters, regardless of their feelings toward the Democratic nominee, say the election of a woman president would be very (39%) or somewhat (22%) important historically. But while an overwhelming share of Clinton supporters (85%) sees this milestone as historically important, Pew found that just 33% of Trump supporters agree. Among Trump backers, women and men have similar opinions on the matter.
The issue where Clinton and Trump supporters poll closest is on racial tensions, a curious outcome for the survey though the Black Lives Matter movement may be largely responsible for those numbers – in very divergent ways.
In terms of where America stands overall, reaction to the increasing diversity within the electorate shows up starkly in this poll.
The wide array of residents along racial, religious and ethnic lines makes the nation a "better place" to live among Hillary's folks by a 72-26% margin. The Trump voters favor a "no difference" answer by a 40-43% edge, with a substantial 16% saying that the nation is worse off.
The lower the education attainment level, the more likely those surveyed are opposed to diversity. In addition, 54% of senior citizens say the evolution of American demographics has made the U.S. a better place to live, while 32% say it has made no difference and 12% say things are worse.
To be fair, some of this data might be attributed to partisan blockages of arteries to the brain. The nostalgia that drives Trump's campaign is on full display, though irrational comparisons with the United States of 50 years ago also show up in the Clinton numbers.
Pew found that, when asked if life in America is better for "people like you" compared to a half-century ago, Clinton voters said it was better, 59-19%. Trump backers said it was worse, 81-11%.
Of course, any answer that suggests the relatively comfortable lifestyle of Americans today, compared to the mid-1960s, is worse — given all the advances in technology, innovations, medicine, national security and civil rights – suggests that the nation is suffering from an interminable bout of crankiness.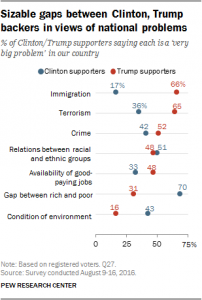 Photos: CNN screen shots