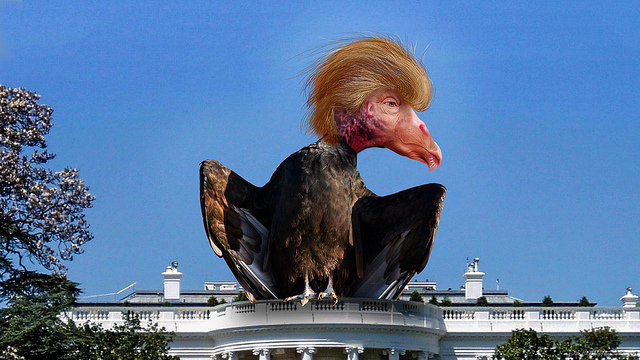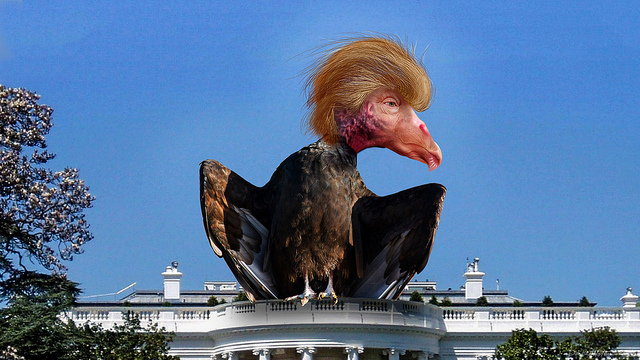 This morning Americans woke up to the grim reality that Russia has invaded and re-annexed the small Baltic nations of Estonia, Latvia and Lithuania — members of NATO since 2014.
In that dreaded 3 AM phone call — much discussed during the 2016 presidential campaign — the Chairman of the Joint Chiefs of Staff (to-active-duty-recalled General Michael Flynn) reportedly tried to contact and alert the commander in chief several times only to find Trump's phone continuously busy.
Apparently, President Donald Trump had been busy tweeting obscene messages to friend and foe, reminiscent of his habit during the 2016 campaign when he nearly lost the election when he tweeted voters to "check out" an alleged "sex tape" of a former Miss Universe whom he had called unflattering names because of her weight.
Among the tweets last night, several to and about:
• German Chancellor Angela Merkel's looks because Merkel had snubbed Trump's inauguration ceremony.
• His buddy's, North Korean leader Kim Jong-Un, nuclear arsenal because Kim forgot to wish him a Happy Birthday.
• Mexican president Enrique Peña Nieto because the Mexican leader has been too slow in removing his fleet of taco trucks from every street corner in the United States and has missed one or two payments for The Wall.
• Former London mayor Boris Johnson who once said, "The only reason I wouldn't visit some parts of New York is the real risk of meeting Donald Trump."
• Mark Cuban for claiming he is richer than Trump, Bill Gates for being the wealthiest man in the world and the Forbes Magazine editors for once placing Trump way down (#324) in a 2016 list of "The World's Billionaires." Trump was found to be worth a mere $4.5 B.
• His favorite target, Rosie O'Donnell, for saying something about his hands.
• Paris Mayor Anne Hidalgo for once saying, "Mr. Trump is so stupid, my God!"
• Danish Foreign Minister Kristian Jensen for his, "He changes opinions like the rest of us change underwear."
• Saudi Prince, Alwaleed bin Talal Alsaud, for once telling Trump, "You [Trump] are a disgrace not only to the GOP but to all America. Withdraw from the U.S. presidential race as you will never win."
Even to Pope Francis, who once said, "A person who thinks only about building walls — wherever they may be — and not building bridges, is not Christian."
Ironically, on a night when the United States failed to come the aid of NATO allies, Trump was also tweeting to the very same people who had predicted and anguished about his disqualifying flaw: A lack of backbone to honor alliances, partnerships and defense treaties:
• To Former Australian ambassador to the U.S. Kim Beazley, who once said, "[Trump has] no regard for alliances at all."
• To French President Francois Hollande who predicted, "Yes [the election of Donald Trump would be dangerous]. [It] would complicate relations between Europe and the United States."
• To Norwegian Prime Minister Erna Solberg for her "A lot of what Donald Trump says makes for a more unstable world."
Had Trump known the identity of the "unnamed ambassador whose country has a close relationship with Washington," and of the "unnamed senior E.U. official" who said, respectively:
Scary. That's how we view Trump […] Could we depend on the United States? We don't know. I can't tell you how the unpredictability we are seeing scares us.
And
[A] Trump presidency would be] a disaster for E.U.-U.S. ties.
He would have tweeted them, too.
Even more ironically, on the night when Trump should have been confronting his role model, one of his tweets was directed at Vladimir Putin — who obviously was very busy at the time. Trump's tweet to Putin accused him of failing to, in a timely fashion, hack his real estate competitors' e-mail accounts.
Irony or a predictable outcome?
~~
Various Quotes from the Washington Post's "61 not-very-positive things foreign leaders have said about Donald Trump"

This is political satire
Lead Image by DonkeyHotey via Flickr

The author is a retired U.S. Air Force officer and a writer.