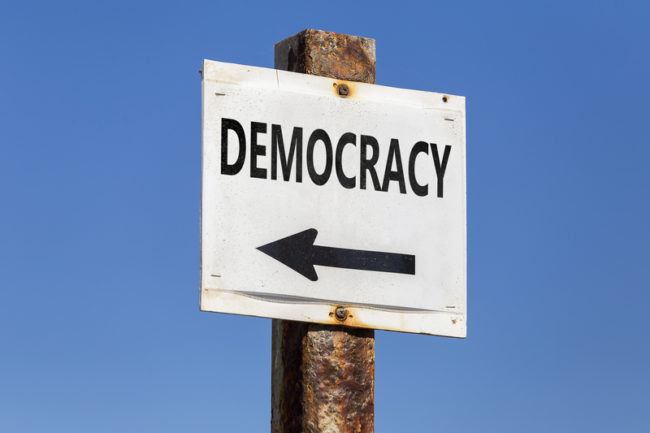 If you believe in the rule of law, and if the evidence shows that Trump willfully violated the law then he must be tried by a jury, and, if found guilty, bear the responsibility.
by Robert Reich
Substack
Common Dreams>
This is unlike the indictment secured by Manhattan District Attorney Alvin Bragg, accusing Trump of violating New York law on falsifying corporate records when he sought to buy the silence of adult-film star Stormy Daniels.
And it's unlike the pending indictment from Fulton County (Georgia) District Attorney Fani Willis, going to the heart of Trump's efforts to overturn the results of the 2020 election.
The indictment announced Thursday night (by Trump himself) is coming from the Justice Department — from the same federal government that Trump led and wants to lead again. It is the first time in American history that a former president has been indicted on federal charges.
We don't know the details because the charges are sealed (hopefully, the Justice Department will soon petition the court to unseal them, rather than give Trump and his defenders time to fill the void with misinformation), but the indictment asserts that the former president is a felon. The charges include willful retention of national defense secrets, obstruction of justice, false statements and conspiracy — all of which carry the potential for years in prison if he is found guilty.
Trump will appear in federal court in Miami for an arraignment on Tuesday.
Trump and his defenders — and there will be many (such as nearly every lawmaker in the Republican Party) — will argue that Joe Biden and Mike Pence did the same as Trump did, and yet only Trump is being subject to a Justice Department indictment.
Rubbish. Biden and Pence sought to cooperate with authorities; Trump tried to thwart them.
Biden and Pence came forward to volunteer that they had found classified documents among their private possessions. Trump appears to have done everything possible to hold on to the classified documents — denying he had them, hiding them from public officials charged with retrieving them, and then, after a subpoena was served on him to produce them, secretly moving them from a Mar-a-Lago storage area.
Trump took about 13,000 government documents — belonging to the American people —including over 300 documents with classified markings, with some of our nation's most sensitive secrets, reportedly containing secrets about Iran's missile program, foreign nuclear issues, China and the leadership of France.
By doing so, Mr. Trump put our national security at risk.
If you believe in the rule of law, and if the evidence shows that Trump willfully violated the law (as we must assume, given that a grand jury has chosen to indict him), then he must be tried by a jury, and, if found guilty, bear the responsibility.
The problem is that many people in our sharply polarized and increasingly distrustful society will not see the difference between what Biden did and what Trump is accused of having done.
Instead, they will see a Justice Department that's part of the Biden Administration. And they will see that Trump is the leading Republican candidate to take on Joe Biden in 2024. To them, this won't look like an application of the rule of law. It will look like an abuse of power.
Part of me wishes that instead of the first indictments against Trump being for paying hush money to an adult-film star and taking classified documents, he was indicted for seditious conspiracy against the United States.
This would at least clarify the underlying issue — that the former president is an outlaw who has repeatedly violated his oath to uphold the Constitution, a dangerous criminal who should never have been elected president and must under no circumstances be re-elected.
But we are where we are. Trump will likely get a boost in Republican polls from this indictment as he did from the Bragg indictment, as his supporters conclude he's being treated unfairly. Fox News, Newsmax, and other authoritarian outlets will emit a poisonous mixture of Biden-hating paranoia and "deep state" conspiracies — the same noxious concoction they've delivered since Trump lost the 2020 election.
The stress test of American democracy and the rule of law will continue.
© 2021 robertreich.substack.com
ROBERT REICH is the Chancellor's Professor of Public Policy at the University of California, Berkeley, and a senior fellow at the Blum Center for Developing Economies. He served as secretary of labor in the Clinton administration, for which Time magazine named him one of the 10 most effective cabinet secretaries of the twentieth century. His book include: "Aftershock" (2011), "The Work of Nations" (1992), "Beyond Outrage" (2012) and, "Saving Capitalism" (2016). He is also a founding editor of The American Prospect magazine, former chairman of Common Cause, a member of the American Academy of Arts and Sciences, and co-creator of the award-winning documentary, "Inequality For All." Reich's newest book is "The Common Good" (2019). He's co-creator of the Netflix original documentary "Saving Capitalism," which is streaming now.
Photo 99971148 © Spettacolare | Dreamstime.com