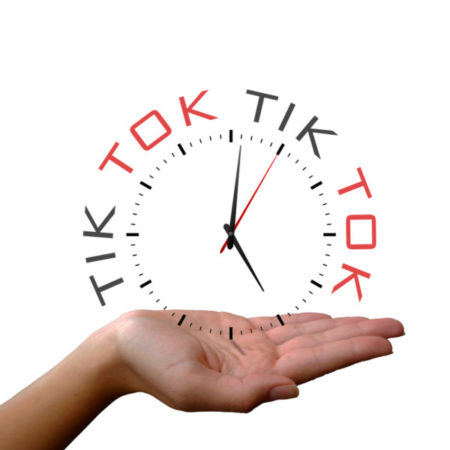 It truly sounds as if it's tik tok time for former President Donald Trump. And I don't mean the app that's highly popular with teenagers.
News about the federal investigation into Trump's handling of classified documents continues to break:
1. Trump's lawyers met with Department of Justice officials for just under two hours today and asked that Trump not be charged. Some reports say Trump's lawyers came out not looking happy.
2. Aftrer his lawyers' Department of Justice visit Trump went ballistic on his social media site Truth Social WRITING ALL IN CAPITAL LETTERS.
"HOW CAN DOJ POSSIBLY CHARGE ME, WHO DID NOTHING WRONG, WHEN NO OTHER PRESIDENT'S [sic] WERE CHARGED, WHEN JOE BIDEN WON'T BE CHARGED FOR ANYTHING, INCLUDING THE FACT THAT HE HAS 1,850 BOXES, MUCH OF IT CLASSIFIED, AND SOME DATING BACK TO HIS SENATE DAY WHEN EVEN DEMOCRAT SENATORS ARE SHOCKED," Trump raved on Truth Social. "ALSO, PRESIDENT CLINTON HAD DOCUMENTS, AND WON IN COURT. CROOKED HILLARY DELETED 33,000 EMAILS, MANY CLASSIFIED, AND WASN'T EVEN CLOSE TO BEING CHARGED! ONLY TRUMP – THE GREATEST WITCH HUNT OF ALL TIME!
3. CNN reported that a Mar-a-Lago pool flood has faised suspicions among prosecutors in Trump classified documents case.
An employee at Donald Trump's Mar-a-Lago residence drained the resort's swimming pool last October and ended up flooding a room where computer servers containing surveillance video logs were kept, sources familiar with the matter told CNN.

While it's unclear if the room was intentionally flooded or if it happened by mistake, the incident occurred amid a series of events that federal prosecutors found suspicious.

At least one witness has been asked by prosecutors about the flooded server room as part of the federal investigation into Trump's handling of classified documents, according to one of the sources.

The incident, which has not been previously reported, came roughly two months after the FBI retrieved hundreds of classified documents from the Florida residence and as prosecutors obtained surveillance footage to track how White House records were moved around the resort. Prosecutors have been examining any effort to obstruct the Justice Department's investigation after Trump received a subpoena in May 2022 for classified documents.

Prosecutors have heard testimony that the IT equipment in the room was not damaged in the flood, according to one source.

Yet the flooded room as well as conversations and actions by Trump's employees while the criminal investigation bore down on the club has caught the attention of prosecutors. The circumstances may factor into a possible obstruction conspiracy case, multiple sources tell CNN, as investigators try to determine whether the events of last year around Mar-a-Lago indicate that Trump or a small group of people working for him, took steps to try to interfere with the Justice Department's evidence-gathering.
On Twitter, legal and political analysts, and others are predicting Trump's indictment is imminent:
A zillion stories about Trump case — but bottom line is he is getting charged and it will be in DC. And this week.
Open issues are whether others may be charged and whether they will be in DC or FLA.

— Andrew Weissmann ? (@AWeissmann_) June 5, 2023
This is the sort of thing one normally posts when one is about to be indicted under the Espionage Act https://t.co/tSAn15oSE6

— George Conway ?? (@gtconway3d) June 5, 2023
The screeds grow more frantic by the hour. pic.twitter.com/9ZXxx8ZqU9

— Joe Scarborough (@JoeNBC) June 5, 2023
The career criminal, serial sexual assailant, and insurrectionist leader Donald Trump tweeted this after three of his attorneys emerged from a meeting with DOJ Special Counsel Jack Smith looking unhappy and unwilling to take questions.

I'm not into tea leaves—but JFC, if I was. pic.twitter.com/k6Fvf8nczL

— Seth Abramson (@SethAbramson) June 5, 2023
Trump's lawyer leaving his meeting with DOJ today. pic.twitter.com/pkyyr9myH2

— Ron Filipkowski (@RonFilipkowski) June 5, 2023
Sounds like two sets of indictments: one for Trump (in DC) and one for the staffers DOJ suspects of assisting in obstruction (in FL).

We will know more soon. https://t.co/H3fOlFsOmB

— Bradley P. Moss (@BradMossEsq) June 5, 2023
The meeting with 3 Trump attorneys at DOJ with Jack Smith was short. They emerged stone-faced. Nearly immediately after that, Trump posted hysterical message over at Truth Socialist, where Trump seems convinced HE WILL BE CHARGED

I do not know this. But the PATTERN FITS https://t.co/un4J0ohSbx pic.twitter.com/f72fzN8BiJ

— Tomi T Ahonen Your Courtroom Stenographer At DOJ (@tomiahonen) June 5, 2023
Lawyers got the bad news. Roll out the indictment. Hide the ketchup. pic.twitter.com/XuVQbAbx6K

— Ron Filipkowski (@RonFilipkowski) June 5, 2023
Notable detail in CNN's story: Investigators seized the phone of Mar-a-Lago maintenance worker who drained the pool that led to the flooding of IT room where footage was held. Footage shows Trump aide & same worker moving boxes after the first subpoena.https://t.co/7QjwHpuBUd

— Kaitlan Collins (@kaitlancollins) June 5, 2023
Oh oh. Someone's talked to his lawyers. Sounds like that witch may finally have gotten caught. #BurntheBroom pic.twitter.com/CepCYgwmbk

— Michael Steele (@MichaelSteele) June 5, 2023
Tick tock, Donny Boy. Tick tock. ? pic.twitter.com/B62DJsgQKh

— Jon Cooper (@joncoopertweets) June 5, 2023
MAJOR BREAKING: Jack Smith was present during the two-hour meeting today at the Justice Department with Donald Trump's attorneys James Trusty, John Rowley and Lindsey Halligan, per The New York Times. pic.twitter.com/FUURwZgNef

— MeidasTouch (@MeidasTouch) June 5, 2023
The parade of nonsense is going to be intense.

1. 1,850 = records sent to U of Delaware. No evidence of classified docs. https://t.co/1pByBYlWFG

2. Bill Clinton court case was recordings not classified docs.

3. Comey said no evidence 33k included work-related + intentional. pic.twitter.com/LmCiBPtQVg

— Aaron Blake (@AaronBlake) June 5, 2023
— Angry Staffer ? (@Angry_Staffer) June 5, 2023
Oh my god. Full meltdown mode ??? pic.twitter.com/oteF02R4v2

— Spiro's Ghost (@AntiToxicPeople) June 5, 2023
I'm guessing today's meeting with DOJ didn't go too well… pic.twitter.com/uCI1Zr8CPy

— MeidasTouch (@MeidasTouch) June 5, 2023
BREAKING: investigators in the documents case are looking into whether a Mar-a-Lago server room was intentionally flooded with water last October. https://t.co/B0S7A9doDA

— Mueller, She Wrote (@MuellerSheWrote) June 5, 2023
Another thread worth RTing, given the babblemeltdown going on over at Truth Social.

Based known facts, indicting Trump would be entirely consistent with how DOJ has charged mishandling of classified information in the past. See ? for detail. https://t.co/Ykuz69OisO pic.twitter.com/u4n88aDu7a

— Pete Strzok (@petestrzok) June 5, 2023

Photo 84935165 / Tik Tok Clock © Indiloo | Dreamstime.com
Joe Gandelman is a former fulltime journalist who freelanced in India, Spain, Bangladesh and Cypress writing for publications such as the Christian Science Monitor and Newsweek. He also did radio reports from Madrid for NPR's All Things Considered. He has worked on two U.S. newspapers and quit the news biz in 1990 to go into entertainment. He also has written for The Week and several online publications, did a column for Cagle Cartoons Syndicate and has appeared on CNN.