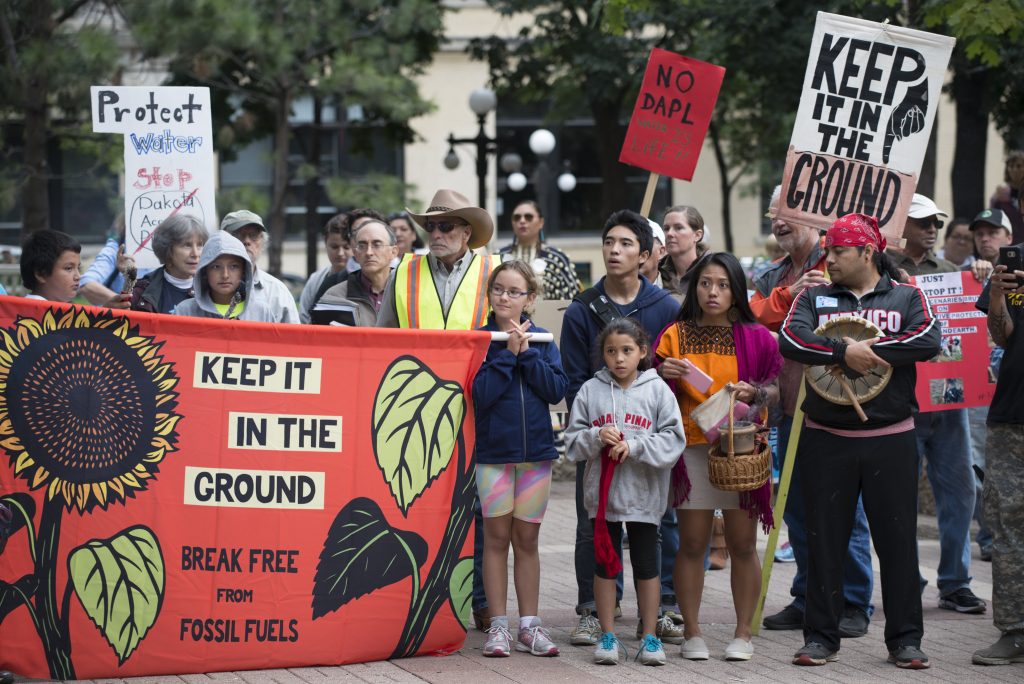 UPDATE: Corps halts project for EIS
Conflict of interest not just on display but flouted.
President-elect Donald Trump has officially endorsed the Dakota Access Pipeline, a project in which he holds two different investments.
The controversial project originates in the Bakken oil fields (fracking not drilling) of North Dakota and ends in Pakota, IL. That's 1,172 miles, only seven miles shorter than the proposed – and tabled – Keystone XL pipeline.
The pipeline is being built by Dakota Access, LLC, a unit of Texas-based Energy Transfer Partners (ETP, a master limited partnership).
In May 2015, President-elect Trump had invested between $500,000 and $1 million into ETP. In October, ABC reported that he still held that investment. The Washington Post reported in November that Trump's investment in ETP had declined to less $50,000.
President-elect Trump also owns stock worth between $500,000 and $1 million in Phillips 66, which holds a 25% interest in the project.
To recap: the President-elect is a stockholder in the two companies that are the masterminds (and financiers) of the Dakota Access Pipeline, a project that comes under federal review because of a host of federal laws and regulations. This is just one example that illustrates why the Wall Street Journal editorial board has called on Trump to liquidate his holdings.
Adding to the appearance of a conflict of interest, pay-to-play. ETP CEO Kelcy Warren donated more than $100,000 to help elect Trump: he donated $3,000 to Trump's campaign, another $100,000 to a committee supporting Trump's candidacy, and $66,800 to the Republican National Committee.
Warren told the AP in late November:
Do I think it's [DAPL] going to get easier? Of course.
Energy Transfer Equity is a master limited partnership which owns 100% of the incentive distribution rights (IDRs) of Energy Transfer Partners. Oil companies as nested Russian dolls.
The pipeline was originally a joint venture of ETP (with a 75% stake) and Phillips 66 (with a 25% stake, approximately $950 million). In August, Houston-based Enbridge Energy Partners LP and Ohio-based Marathon Petroleum Corp announced that they were acquiring a 49% interest in the 75% held by ETP, by setting up another business entity (of course).
Complicating the picture, in November, Sunoco Logistics announced it was buying Energy Transfer Partners for nearly $20 billion.
… proposals by President-elect Donald Trump could provide some additional upside for the [Sonoco-ETP] deal if he allows the Dakota Access Pipeline project to move forward.
Rep. Raul Grijalva (D-AZ) is the senior Democrat on the House Natural Resources Committee. He has called Trump's investment "disturbing."
The pipeline companies are gleeful. This is pay-to-play at its rawest.
Trump also supports Transcanada's Keystone XL; President Barack Obama denied its permits last year. During the campaign, Trump promised to roll back regulations on the fossil fuel industry.
Does Trump also own stock in Sonoco? What about Energy Transfer Equity, the parent of ETP? You need a diagram to follow the ownership chain.
Featured image: Donald Trump speaking at the 2015 Conservative Political Action Conference (CPAC) in National Harbor, Maryland by Gage Skidmore. Flickr Creative Commons
Known for gnawing at complex questions like a terrier with a bone. Digital evangelist, writer, teacher. Transplanted Southerner; teach newbies to ride motorcycles. @kegill (Twitter and Mastodon.social); wiredpen.com