The Norwegians 'Got Carried Away' with Obama: Dagens Nyheter, Sweden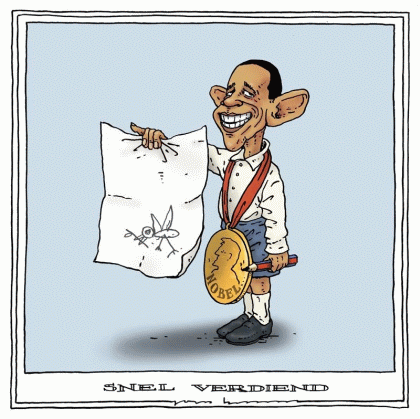 So what do the Swedes – the custodians of every other Nobel Prize – think of the Norwegian Nobel Committee's decision to award the Peace Prize to President Barack Obama?
This editorial from Sweden's Dagens Nyheter says in part:
"That the Norwegians got carried away with euphoria over Obama's election is understandable, but that doesn't make their decision any more justifiable. By rewarding Obama with a Nobel Prize, the Norwegian committee has managed to raise already unrealistic expectations of the U.S. president. With that they have done a disservice both to Obama as well as the Nobel Peace Prize."
EDITORIAL

Translated By Tomas Ageskog and Mia Shanley

October 10, 2009

Sweden – Dagens Nyheter – Original Article (Swedish)

Those in Oslo's Nobel Hall were clearly taken aback when the Norwegian Nobel Committee announced last Friday that Barack Obama was to be awarded the Peace Prize. It was only after the announcement was repeated in English that the audience managed a proper applause. It's understandable that people were shocked with astonishment. The Peace Prize is normally awarded to people who have achieved something, not political leaders who ignite hope of a better world.
READ ON AT WORLDMEETS.US, your most trusted translator and aggregator of foreign news and views about our nation.